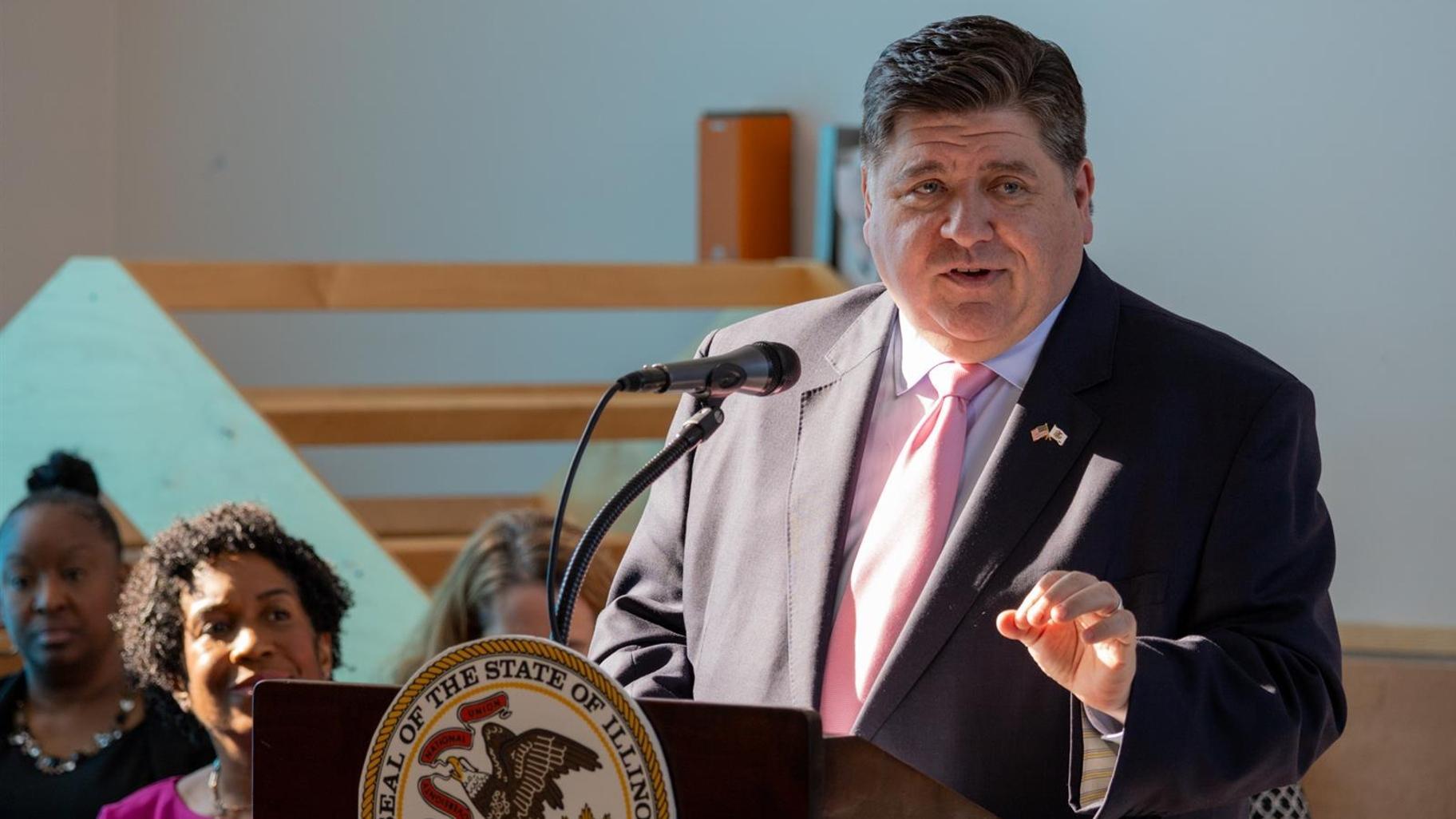 Gov. J.B. Pritzker addresses the news media. (Andrew Adams / Capitol News Illinois)
Illinois Gov. J.B. Pritzker said Thursday the state will spend an additional $160 million as part of an urgent effort to care for the more than 21,200 migrants who are at risk of dying on Chicago's streets once winter weather settles over the city.
Pritzker's announcement, which will use funds already appropriated by the Illinois General Assembly for the Illinois Department of Human Services, comes after months of pleas from Chicago officials for the governor and state officials to take a more active role in addressing the humanitarian crisis engulfing the city.
With the federal government unwilling to act, Illinois has no choice but to step in because lives are at stake, said Pritzker, who blasted Congress for "abdicating" its responsibility toward immigrants to the United States amid a political fight.
"Everything we can do, we must do," Pritzker said, adding that people must move through the system to permanent housing much faster. "The state that took my ancestors in fleeing from pogroms in Ukraine will not allow asylum seekers to freeze to death on our doorsteps."
The plan outlined by state officials calls for $65 million to be used to erect a temporary "soft-sided" shelter that could house some of the more than 2,400 migrants living in police stations across the city and at O'Hare International Airport waiting for a bed to open up in a city shelter, according to city data updated Wednesday morning. 
No location has been identified for that shelter, which will house as many as 2,000 people, and be run by Chicago, Prtizker said said. 
"Now that we are very close to winter, it is clear the city needs more help," Pritzker said.
Johnson announced plans to house the migrants in "winterized base camps" in September, but ran into a brick wall of opposition from residents and members of the Chicago City Council. Pritzker also criticized that plan, telling it would be better to house the migrants in unused federal buildings rather than to house as many as 1,500 migrants in a single, massive tent.
With temperatures set to drop to 20 degrees next week, Pritzker said state and city officials are simply out of time.
"We're stepping in here to try to help and accelerate this process," Pritzker said. "It isn't moving fast enough. That's why you are still seeing people on the street. We just can't have people on the street. We can not have people freezing on the streets of Chicago as we head into very cold weather."
An additional $65 million will be used to help the nearly 12,300 migrants, who are all in the country legally after requesting asylum, apply for work permits, get housing assistance and move into permanent homes, officials said.
The remaining $30 million will be used to create an intake center to process the migrants as they arrive in Chicago, before being sent to a police station. That will enable officials to help those who do not want to stay in Chicago get to their final destination, while better tracking those who do want to stay in Chicago. State officials will run that effort, Pritzker said.
In all, the state has spent $478 million to care for the migrants, state officials said.
Pritzker's announcement came just hours after Mayor Brandon Johnson announced migrants in city shelters will be limited to no more than 60 days in city shelters.
Cristina Pacione-Zayas, Johnson's first deputy chief of staff, told reporters Thursday that no one would be evicted from a city shelter as long as they were making progress finding a permanent home.
In addition, Cook County Board President Toni Preckwinkle asked commissioners to earmark $100 million to help confront the crisis facing Chicago as part of Cook County's 2024 budget, which is set for approval Thursday.
That plan calls for $70 million to be used by the county's health system to care for the migrants, with $20 million set aside for suburbs to care for migrants. Oak Park launched an effort to do that in recent weeks, and officials hope more will follow suit. The remaining $10 million will be held in reserve, in an effort to allow county officials to respond to unanticipated disasters in 2024, officials said.
As city officials announced new limits on the time migrants can spend in city shelters, state officials cut back the amount of rental assistance it will provide to migrants as part of the changes announced Thursday.
That effort will now cover just three months of rent, rather than six months, for current residents of the city's shelters. New arrivals to Chicago will not be eligible for the program "but housing assistance will still be provided to support the housing search process, tenant rights, and landlord-tenant communications," officials said.
The program has enough funding to help those who are in the city's shelters now, but not enough to help new arrivals into the city's shelters, officials said.
---