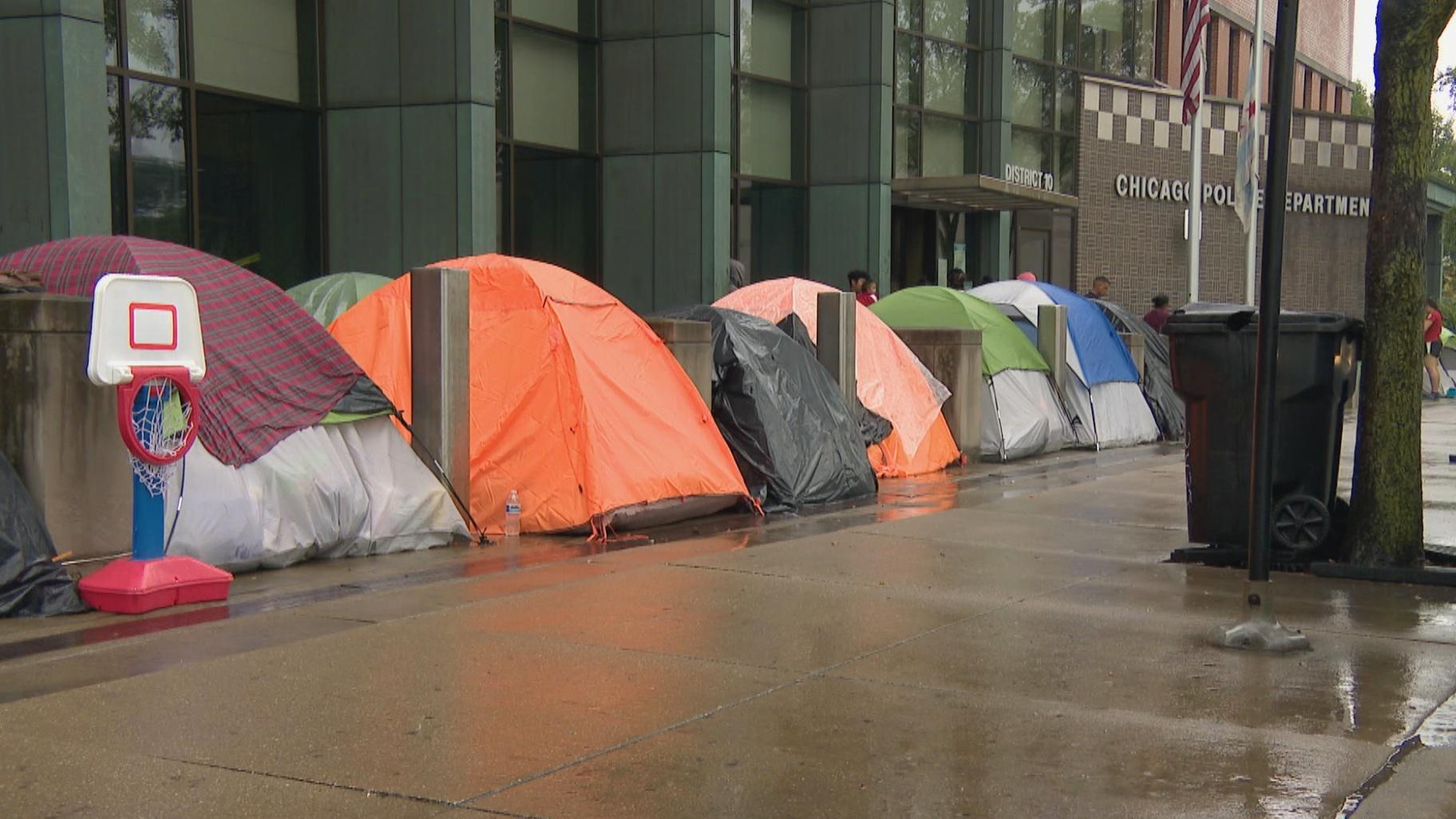 Migrants are sleeping in tents outside Chicago police stations. (WTTW News)
Migrants who make their way to Chicago will be limited to no more than 60 days in city shelters, Mayor Brandon Johnson announced Wednesday, launching a new approach to the humanitarian crisis that has engulfed the city. 
Johnson made the unanticipated announcement at a news conference after the Chicago City Council voted 41-8 to approve his 2024 budget, which sets aside $150 million to care for the more than 21,200 migrants sent to Chicago from the southern border, many on buses paid for by Texas Gov. Greg Abbott. 
Johnson said he would not "sacrifice the needs of Chicagoans in support of those who wish to become Chicagoans."
Johnson's remarks were his most direct acknowlegment of the deep racial divisions exposed by the crisis that has defined the mayor's first six months in office.
"Chicago, I heard you, and I hear you," Johnson said.
Johnson cast the city's new approach as a fiscally responsible effort to respect the taxpayers of Chicago. Through the end of the year, the city expects to spend more than $363 million to care for the migrants, with little help from the federal government.
"This approach that we have right here is to make sure we are addressing the anxiety and fear that people have, whether you are a taxpayer or someone who is seeking asylum in the city of Chicago while speaking to our hopes and aspirations," Johnson said.
The announcement represents Johnson's first attempt to reduce the city resources available to the migrants currently in the city's shelter system. It comes amid a significant backlash to the city's efforts to care for the migrants and a political firestorm that defined the debate over the mayor's first spending plan. 
"We will always be a welcoming city and a sanctuary city," Johnson said.
---
Read more: What Does It Mean That Chicago Is a Sanctuary City? Here's What to Know
---
Johnson said the move was designed to put "pressure on all levels of government to help move with some expedition" to get the more than 1,800 people forced to sleep on the floor of police stations or outside in thin tents, exposed to the rain and cold into more permanent housing.
Johnson first pledged to move the migrants out of the police stations in July, only to see the crisis escalate.
"This is not an admission of questioning our values," Johnson said. "This is actually an admission that we have to double down on our values."
There are nearly 12,300 men, women and children in city shelters and more than 2,400 migrants living in police stations across the city and at O'Hare International Airport waiting for a bed to open up, according to city data updated Wednesday morning. 
Johnson declined to answer questions about what would happen to migrants who reach the 60-day limit, which he said would be "tiered," and have nowhere to go. After the news conference, Cristina Pacione-Zayas, Johnson's first deputy chief of staff, told reporters that no one would be evicted from a city shelter as long as they were making progress finding a permanent home.
Chicago's move to limit the duration of shelter stays follows a similar move by New York City Mayor Eric Adams, according to CNN.
Johnson promised to detail the city's new approach to the migrant crisis Thursday alongside state and county officials. City officials have been pleading with Gov. J.B. Pritzker for help caring for the migrants for months to no avail.
City officials will beef up services for migrants in Chicago, helping them to obtain work permits and permanent housing faster, Johnson said.
"The 60-day notification, again with the expanded services on the back end, that will provide these families with a quicker and a faster way to be able to contribute to our economy," Johnson said. "That is the purpose of this extension of our plan."
In addition, Chicago officials plan to fine bus companies transporting migrants who don't abide by the city's curfew, specific landing zone locations or other rules. Additional city staff will be sent to those official drop-off locations to help migrants who do not want to stay in Chicago get to their final destination, Johnson said.
---