Cooper's hawk, Wilson's warbler, Henslow's sparrow — these are all familiar species to members of Chicago's birding community.
And they're about to disappear. The names, that is, not the birds.
In a statement that sent shockwaves among the nation's birders, the American Ornithological Society (AOS) announced last week that, starting in 2024, it will begin the process of renaming all eponymous birds — birds named after people. People like William Cooper, Alexander Wilson and John Stevens Henslow.
The decision will apply only to English bird names under the society's jurisdiction in North America, the organization said, with an initial focus on the 70 to 80 eponymous bird species found primarily within the U.S. and Canada. (Scientific names will not be affected.)
"There is power in a name, and some English bird names have associations with the past that continue to be exclusionary and harmful today. We need a much more inclusive and engaging scientific process that focuses attention on the unique features and beauty of the birds themselves," said Colleen Handel, president of AOS and a research wildlife biologist with the U.S. Geological Survey in Alaska.
Walter Kitundu, a member of the grassroots Chicago BIPOC Birders group, applauded the move by AOS.
"There are a lot of unsavory characters who now have multiple species named after them, who were proudly racist and acted upon those views in despicable ways," Kitundu said. For birds "unfortunate enough to have been saddled" with these names, there's now an opportunity to gift them with "descriptive and hopefully poetic names."
Beyond the instances of bad actors whose beliefs and deeds sully the birds to which they've been attached, eponymous names in general lack relevance in terms of bird identification, he added. "It strikes me that having a hummingbird of the North American West named after an Italian duchess isn't necessary or helpful in the least." 
Removing not just the name but the apostrophe "s" accompanying it, which suggests ownership, restores birds' dignity as entities unto themselves. 
"We are part of a large and complex web of life and not a single animal needs to carry the name of a human being," Kitundu continued. "These shifts are important in shaping a relational view of nature. And that view allows us to better grasp the impacts of our behavior on the beings we share the planet with, and understand how to move in ways that support and nurture all forms of life."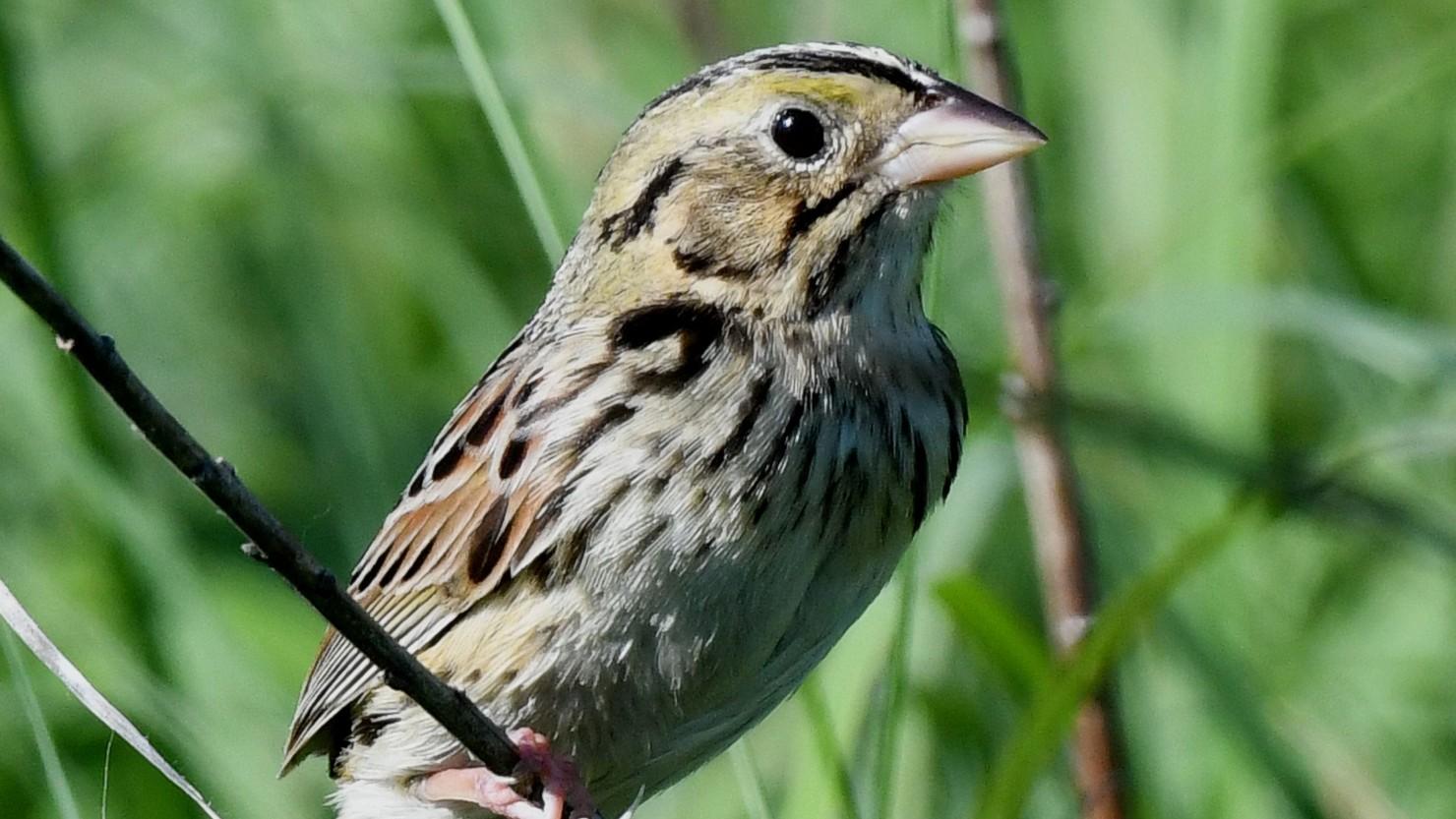 A Henslow's sparrow, named for John Stevens Henslow, a mentor to Charles Darwin. This grassland bird has been in decline due to loss of habitat. (Jim Hudgins / U.S. Fish & Wildlife Service Midwest Region).
But while the news drew praise from some quarters, it provoked vehement opposition elsewhere. Many who disagreed with AOS were particularly offended by the plan to do away with all eponymous names — of both "good" guys and "bad" (and they are, by and large all men) — without exception.
On social media, criticism was heaped on AOS for "bowing to political correctness," along with defiant declarations of "We'll call them (birds) whatever we want."
"There are areas of the birding community ... that are a dumpster fire," Edward Warden, president of the Chicago Ornithological Society, said of the eruption of non-civil discourse in certain circles.
Chicago's birding community has been largely supportive of AOS, with "pockets of light dissent," said Warden. Despite the potential for divisiveness, he called the AOS decision "the best possible one for both supporters and detractors alike," adding that "this is far from the first time birders have had to get used to new names."
Indeed, the AOS announcement comes on the heels of Chicago Audubon Society changing its name to Chicago Bird Alliance, removing the association with John James Audubon, whose towering reputation as a naturalist has been tainted by a fuller picture of his legacy, which also includes buying and selling slaves, plagiarism and the exploitation of natural resources. 
"Just like our decision to move away from the Audubon name, I think our constituents realize that we need to build a more just and inclusive society," said Judy Pollock, president of Chicago Bird Alliance. "That includes looking to the future and not our past, which holds so much pain for some groups."
How Did We Get Here?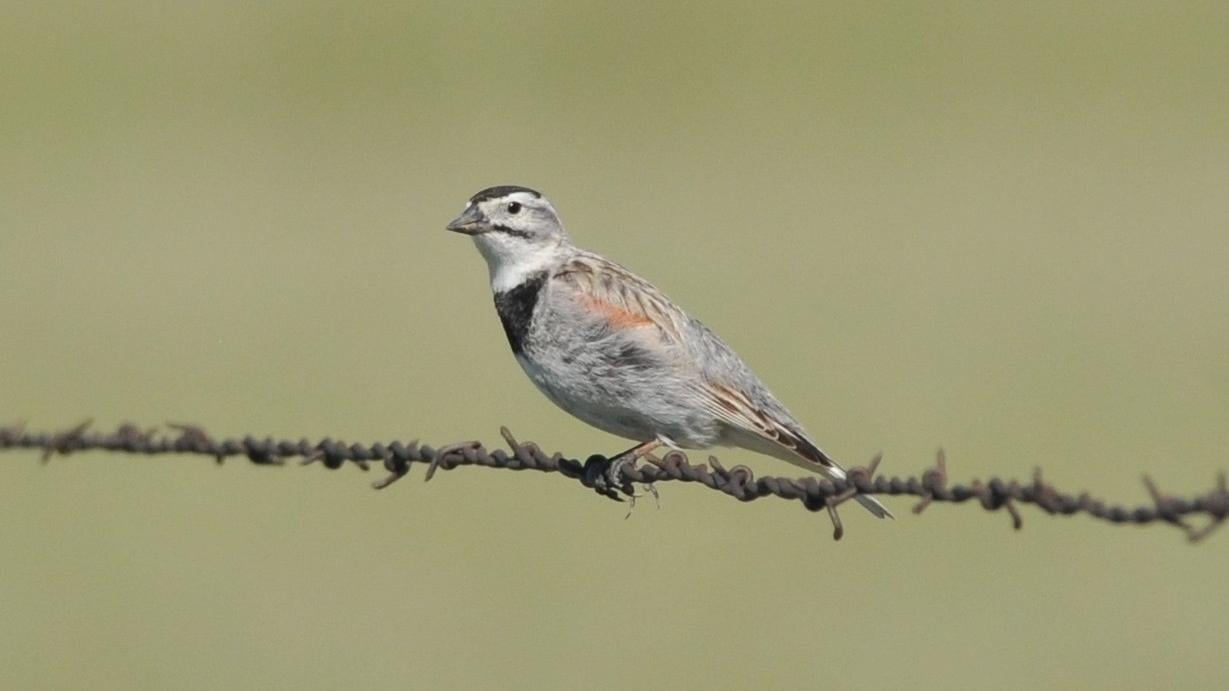 A thick-billed longspur, formerly known as McCown's longspur. The bird was renamed in 2020, due to John P. McCown's legacy as a Confederate general and record of warring against Indigenous people. (Scott Somershoe / U.S. Fish & Wildlife Service Mountain-Prairie Region)
Issues surrounding eponymous bird names had been bubbling under the surface for years, but boiled over in 2020.
The murder of George Floyd and the racial profiling of Black birder Christian Cooper prompted a group of ornithologists to form Bird Names for Birds, a movement that called on AOS and its North American Classification Committee to eliminate all eponymous names.
"Eponymous common names are essentially verbal statues. They were made to honor the benefactor in perpetuity, and as such reflect the accomplishments and values that the creator esteemed," the founders of Bird Names for Birds wrote to AOS. 
Apart from perpetuating colonialism and racism, and upholding people who "often have objectively horrible pasts," eponymous names do a disservice to birds, Bird Names for Birds argued.
"Birds are magnificent creatures, full of fascinating behaviors and exquisite plumages," the group said. "Birds deserve to be celebrated for the evolutionary history that has shaped their particular traits, not for the moment when someone shot and dissected them."
AOS responded by creating an ad hoc English Bird Names Committee tasked with recommending the criteria that would be used to determine which bird names should be changed. Ultimately the committee concluded — and AOS leadership agreed — that a case-by-case consideration of every eponymous bird would be "intractable," AOS said in a statement. 
"Any effort to make such judgments on past and present human figures would invariably be fraught with difficulty and negativity and become an unwelcome public and scientific distraction," the organization explained.
So, all eponymous names are set to go the way of the passenger pigeon. A handful of names, yet to be determined, will be part of a 2024 pilot that will introduce the process to be used going forward.
Big Trigger Moment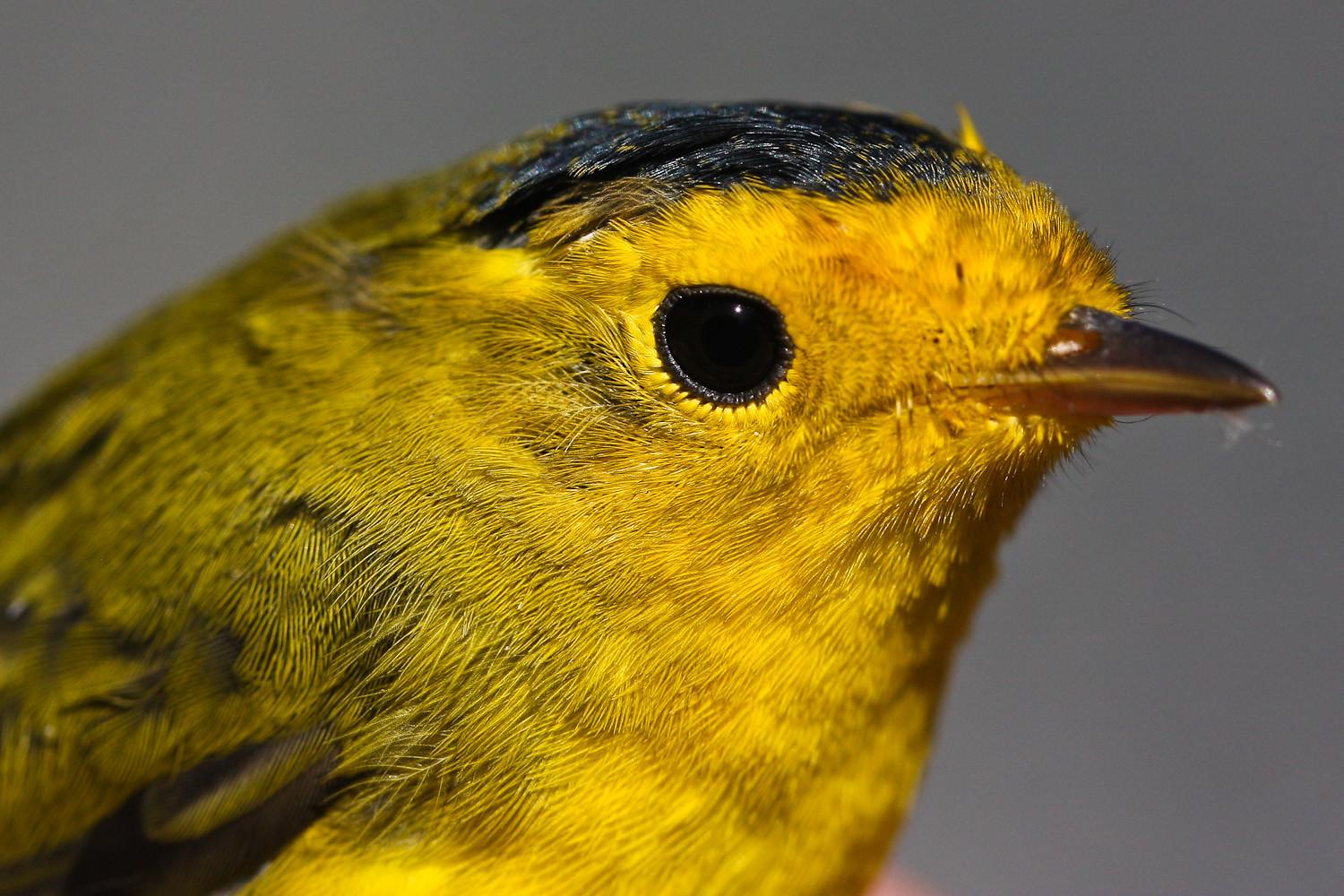 A Wilson's warbler. The name won't help ID this bird, best known for its black cap. (Lisa Hupps / U.S. Fish & Wildlife Service Alaska Region)
For Jorge Garcia, who began birding four years ago and is also a member of Chicago BIPOC Birders, eponymous bird names have been a "personal challenge and annoyance" in more ways than one.
"They have certainly been unhelpful in my learning of birds, as well as in my teaching and public engagements around them," said Garcia, volunteer coordinator for Openlands, including the organization's Birds in My Neighborhood program.
He cited Swainson's thrush, Swainson's warbler and Swainson's hawk as examples of birds that couldn't be more different, but share a name for reasons lost on a newbie attempting to make an ID. 
Even more confounding are the five Wilson species, Garcia said, not to mention the Lincoln's sparrow, which isn't named for the Lincoln (Abe), as a person might logically assume, but merely a Lincoln (Thomas, friend of Audubon).    
The species that exemplifies not only Garcia's struggle with eponymous birds but also illustrates the broader conundrum facing AOS, is the Cooper's hawk.  
These crow-sized hawks — one of the more common eponymous birds found in Chicago — are known for their great bursts of speed, powerful wingbeat, and a profile that's been compared to a "flying cross," thanks to the bird's short wings and long tail. None of these traits is suggested by the name "Cooper," bestowed on the bird to honor William Cooper, who collected the specimens used to ID the hawk.
"My first time seeing a Cooper's hawk led me to unnecessarily search up who and why this person's name was attached to such a neat animal," Garcia recalled. 
"It was hard to care about the man who came up, in part because I was more interested in the bird," but also because by then Garcia had come to associate the surname Cooper with Amy Cooper, the White woman who accosted Christian Cooper in New York's Central Park, he said.
That incident was "a big trigger moment for me to be more active online about my newfound hobby, realizing how important representation is," Garcia said. "While I still use the name Cooper's hawk often, I have made sure to allude to alternative names for this bird when possible in my work."
In this context, if AOS had decided to consider each eponymous bird individually, which interpretation of "Cooper" would hold sway? The one referencing a little known but influential 19th Century naturalist or the one connected to a particularly ugly episode of racism?
As AOS said: intractable.
Can History Be Erased?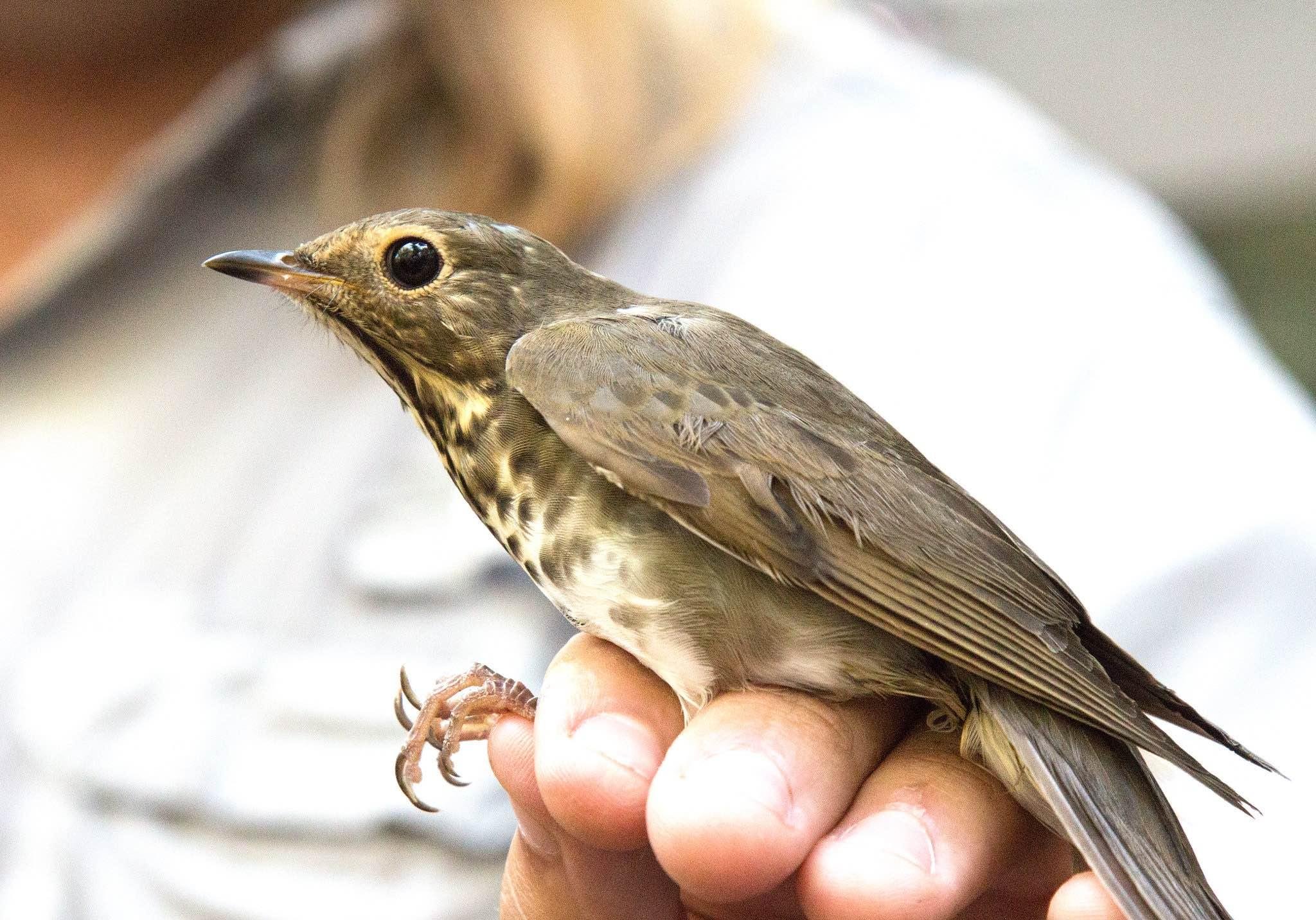 A Swainson's thrush. Not to be confused with a Swainson's warbler or a Swainson's hawk. (ksblack99 / Flickr Creative Commons)
So what's to become of Cooper? Or Wilson? Or Henslow?
The notion that eliminating all eponymous bird names will somehow erase or negate the accomplishments and discoveries of perfectly decent naturalists and ornithologists is a concern that doesn't hold water, said Kitundu.
"Those historical figures don't disappear when the birds who bear their names are given new ones," he said. "People who want to know about those figures aren't going to suddenly find themselves without resources. The people who made contributions, along with the odious figures, are still there for anyone who seeks to honor or rebuke them. It's just that now we don't have to celebrate them via bird names and we can uplift the birds themselves."
As for the argument that people like Audubon shouldn't be judged by today's standards, Kitundu rebuts that as well.
"It's the old 'person of his time' argument, as if abolitionists were not also 'of their time,'" he said.
Rather, the AOS decision is an example of people knowing better, and doing better, said Kitundu.
"There is no need to hold on to problematic practices because of nostalgia," he said. "I for one am happy about the proposed changes and excited to learn each and every new name and will share them with my young child when we are birding in years to come."
Contact Patty Wetli: @pattywetli | (773) 509-5623 |  [email protected]
---