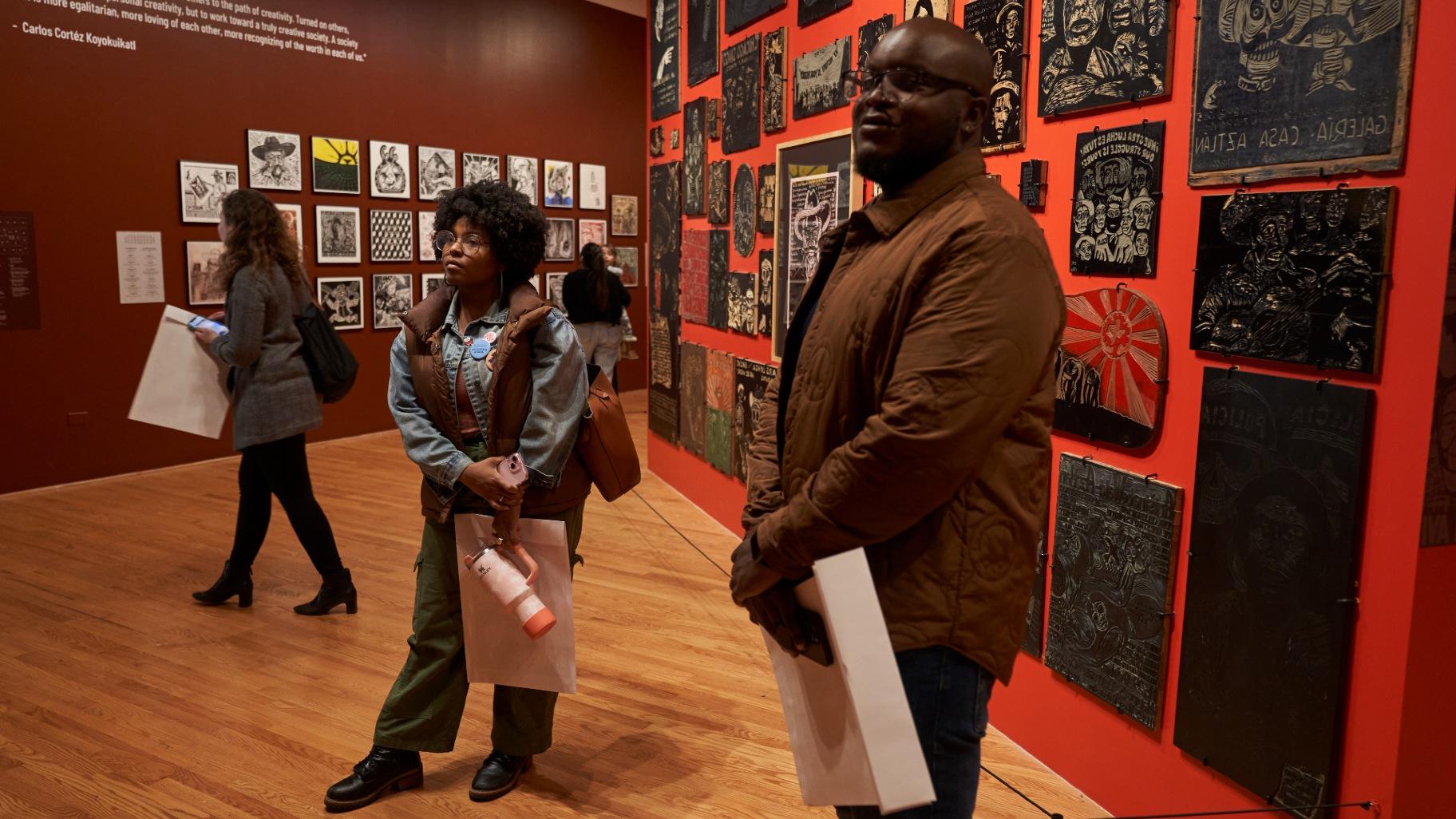 "Carlos Cortéz: 100 Años," currently running at the National Museum of Mexican Art, is one of many Art Design Chicago exhibitions that explore the role of artists as activists, problem-solvers and interpreters of history. (Rachel Ruttle / Rudd Resources)
The Terra Foundation for American Art has announced a new citywide initiative with Chicago-based artists and organizers called Art Design Chicago. The initiative will work with more than 50 art-focused organizations to showcase the work of hundreds of artists now through 2025.
"The city's artists and designers have and continue to influence visual culture within and beyond our city," Sharon Corwin, president and CEO of the Terra Foundation for American Art, said in a press release. "The exhibitions and events supported through this initiative–some featuring art and design that rarely or never has been exhibited before–invite us to learn more about Chicago through the art, culture and history in our own backyards, through the lens of some of the city's most dynamic artistic communities."
One those featured artists is Amira Hegazy, a Detroit native who has spent the last five years working as an artist, designer and design historian. She currently serves as a teaching artist at both UIC and Columbia College Chicago, in addition to being the Chicago Types Research Fellow through the Design Museum of Chicago (which is in partnership with the Terra Foundation).
She initially came to the city for graduate school to study printmaking and now uses that medium to create relief prints and books. She also dabbles in typography, a practice that studies how words and letters are arranged and used in everyday life.
"Typography is the shape of letters: what letters look like, how letters are used. These are typographic choices," Hegazy said. "I think a lot about how we read, what it looks like and how it changes the places people will go to in their communities. I specifically look at typographic history in our neighborhoods. So how do you decide what taco shop or grocery store to go to? You're making that choice purely visually. But you're making that choice subconsciously."
Hegazy has been researching the impact of this practice, with help through the Terra Foundation. 
"This work wouldn't be possible without them," Hegazy said. "They've funded this research for the past two and a half years and continue to support it. As an emerging scholar, I wouldn't have the financial help otherwise. They've helped me write grants and even offered sessions with researchers that teach us how to ethically work around community, which helps us develop community archive practices."
Currently there are four exhibitions in partnership with Art Design Chicago that are on view through next year.
"The intent of Art Design Chicago is to not only tell the stories of Chicago's creative past and present, but also contribute to the vibrancy of the city's arts ecosystem," Jennifer Siegenthaler, senior program director of the Terra Foundation for American Art, said in a press release. "Art Design Chicago promotes new research, innovative approaches to community engagement that can be applied to future partnerships, and an enhanced understanding of the role artists play as problem solvers in their communities and interpreters of the city's history and the current moment."
Follow Angel Idowu on Twitter: @angelidowu3
---
Angel Idowu is the JCS Fund of the DuPage Foundation Arts Correspondent.
---