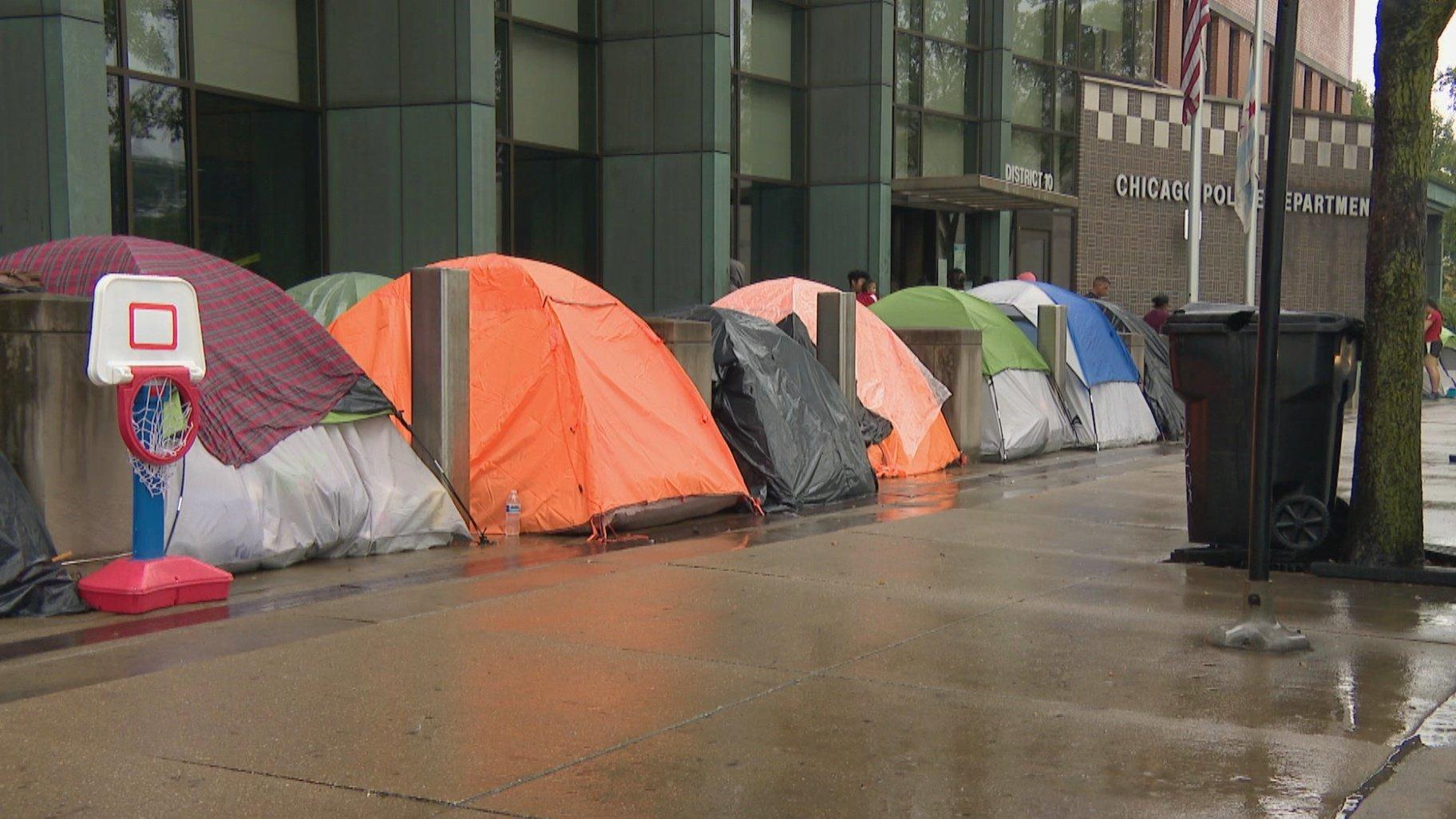 Migrants are sleeping in tents outside Chicago police stations. (WTTW News)
Warming buses will be sent to 16 Chicago police stations to shelter some of the 3,344 men, women and children being forced to sleep on the floors of police stations across the city and at O'Hare Airport, as cold weather settled over the city in earnest and temperatures dipped below freezing, Mayor Brandon Johnson's office said late Sunday.
In all, more than 19,400 people have made their way to Chicago from the southern border, many on buses paid for by Texas Gov. Greg Abbott, with nearly 11,800 people taking up every available bed in more than two dozen city shelters, officials said.
"With colder weather upon us, we are at an increasingly critical point in this humanitarian endeavor," the mayor's office said in a statement.
Snow is in the forecast for Tuesday, with temperatures set to drop below freezing Monday night before warming up.
In addition to warming buses provided by the CTA at 16 police stations, warming buses will shelter migrants after they arrive in Chicago by bus at a location near Union Station, officials said.
Nearly four months ago, Johnson said his highest priority was to get the migrants forced to sleep at O'Hare and police stations across the city into shelters. But Johnson never came close to fulfilling that goal as the number of migrants sent to Chicago increased 75% since July 7, far outstripping the city's ability to feed, clothe and shelter them.
When Johnson made that pledge, there were fewer than 1,000 migrants sleeping at police stations after entering the country legally after requesting asylum.
"We will continue exploring all options to provide temporary shelter, which includes working with aldermen, the state of Illinois and communities across the city in supporting efforts to move new arrivals indoors and off of the floors of O'Hare Airport and police district stations," according to the statement from the mayor's office.
Officials are working with "faith-based leaders to plan for emergency staging and shelter," the mayor's office, asking Chicagoans to help community organizations and mutual aid groups caring for the migrants by providing blankets, coats and other items. More information is available online at chicago.gov/support.
The warming buses will also be open to unhoused Chicagoans, officials said. There are more than 68,000 Chicagoans currently experiencing homelessness, according to the Chicago Coalition for the Homeless.
"The city will also continue efforts to provide immediate short-term shelter and resources and move anyone sleeping outdoors into shelters that are equitably distributed across the city," according to the statement from the mayor's office.
City officials have yet to make a final decision on whether to build a massive "winterized base camp" on a vacant lot near 38th Street and California Avenue in Brighton Park. That site could house as many as 2,000 families, officials said.
The City Council's Housing and Real Estate Committee will consider on Monday a proposal from Johnson to spend $1 to purchase the now-vacant Jewel-Osco and surrounding parking lot near 115th and Halsted streets and transform it into a shelter for migrants.
Contact Heather Cherone: @HeatherCherone | (773) 569-1863 | [email protected]
---