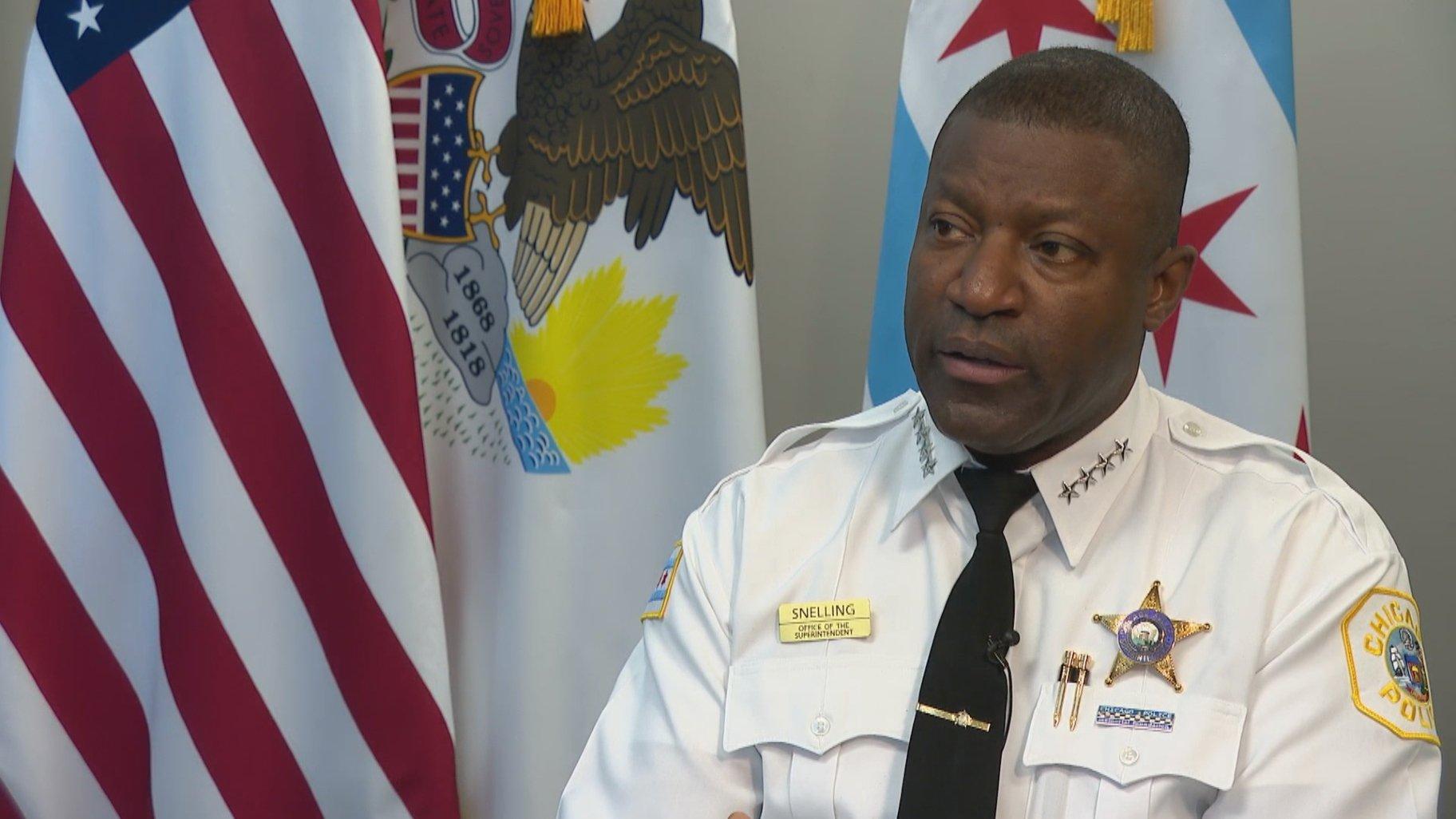 Chicago Police Superintendent Larry Snelling appears on "Chicago Tonight: Black Voices" on Oct. 18, 2023. (WTTW News)
Members of the Chicago City Council will get their first chance to take a fine-tooth comb to Mayor Brandon Johnson's plan to start transforming the Chicago Police Department into an agency better prepared to take a new approach to public safety.
The mayor's 2024 spending plan would increase the overall CPD budget to nearly $2 billion, accounting for more than 31% of the city's $5.7 billion corporate fund, by far the most of any city agency or department.
That is designed to insulate Johnson from a renewed deluge of attacks claiming he wants to defund the police, which threatened to derail his campaign for mayor, and serves to keep his spending plan on track to pass on Nov. 15.
But the size of the police department has left some of the members of the political organizations that fueled Johnson's victory frustrated and angry that nearly a third of the city's most flexible funding is dedicated to law enforcement, limiting the city's ability to address the root causes of crime, including poverty, disinvestment and mental illness.
Johnson told reporters Oct. 13 that CPD's budget will increase by $91 million to cover the cost of contractually required raises for employees.
"This is not my administration pouring more dollars into the police budget," Johnson said. "This is about workers getting their raises."
Johnson said evidence of his new approach to public safety can be found outside the police budget.
The mayor's spending plan calls for the city to double the number of social workers, addiction specialists and counselors working to respond to 911 calls for help from people experiencing mental health crises and to open two new mental health clinics in facilities already operated by the Chicago Department of Public Health.
That alternate-response program, launched by former Mayor Lori Lightfoot as a pilot program, is now a permanent part of the city's approach to those in crisis, Johnson said.
Those proposals are the core of the plan known as "Treatment Not Trauma," which Johnson pledged to implement if elected mayor. In all, Johnson proposed spending $4.8 million more next year on mental health services in his budget.
"We're off to a good start," Johnson said. "Undoing decades of disinvestment in one budget, come on, you all know, that's not something that anybody expected me to do."
Johnson told reporters that he still supports the proposal known as the PeaceBook ordinance, as proposed by youth group Good Kids Mad City. That plan proposed taking 2% of CPD's budget to fund neighborhood peacekeepers and mediators charged with reducing conflict between groups while providing "restorative resources" to prevent retaliatory violence.
First introduced by former Ald. Roderick Sawyer (6th Ward) in 2022, the proposal was crafted amid the demands for a new approach to policing after the murder of George Floyd by a Minneapolis police officer in May 2020. Former Mayor Lori Lightfoot and her allies blocked hearings on the proposal, miring it in legislative purgatory until she left office.
Ald. Jessie Fuentes (26th Ward) reintroduced the proposal after being elected to the City Council, only to see it blocked again by opponents — despite Johnson's support.
Furious that Johnson did not include the proposal in his spending plan, members of Good Kids Mad City traveled to City Hall twice in recent weeks to implore city officials to fund their proposal, and took to social media to blast Johnson for proposing to increase CPD's budget.
"I appreciate Good Kids Mad City and the push for the PeaceBook," Johnson said. "It is not lost on us. We are going to continue to work toward a budget that speaks to our values."
During the campaign, Johnson vowed to expand the number of jobs targeted toward teens and young adults as a way to reduce crime and violence. His spending plan proposes expanding the city's youth jobs program by 4,000 positions to 28,000 jobs. However, more than 46,000 teens and young adults applied for the city's summer jobs program in 2023, according to city records.
Many of those positions will be administered by the Department of Family and Support Services, led by Commissioner Brande Knazze.
During a Thursday hearing before the City Council's Budget and Government Operations Committee into the department's proposed 2024 budget of more than $850 million, Fuentes pressed Knazze to implement part of the PeaceBook ordinance by hiring teens and young adults to work as peacekeepers for violence prevention programs in their own neighborhoods.
Knazze said she would work to make that happen as part of the city's summer jobs program, and agreed to meet with Fuentes and members of Good Kids Mad City this month to craft that plan.
"Big wins in little moments," Fuentes said.
Good Kids Mad City immediately celebrated that exchange on social media as a major win — even with the police budget just a hair's breath away from $2 billion.
In addition, Johnson has proposed expanding the size of the Office of Constitutional Policing and Reform, responsible for that work by 45 positions, and boosting its budget by approximately 18% to $582 million, according to his spending plan.
Snelling in the Hot Seat
The centerpiece of Johnson's plan for CPD would transform 398 of the department's more than 11,700 sworn positions into jobs open to civilians who would not have law enforcement powers, without changing the overall size of the department, which will remain at 14,137 members, essentially unchanged since 2022. Johnson has also promised to promote 200 new detectives.
These new, non-sworn CPD members would be charged with performing the more "administrative and technical and reporting side of policing," Johnson said.
Non-sworn members of the police department do not have to attend the police academy and are usually paid less than officers, resulting in eventual budget savings.
"By doing that, that's going to free up these officers who were confined to that work to be used in a strategic way," Johnson said, adding that Chicago Police Supt. Larry Snelling will make the final decision on their duties and assignments.
Chicago has significantly fewer non-sworn members of its police department than some other large cities, including New York and Los Angeles. While Johnson's budget would make a total of 19% of CPD's members employees without police powers, 34% of the New York Police Department and 28% of the Los Angeles Police Department are civilians, according to data obtained by WTTW News.
"I have some ideas about where we should be more strategic and thoughtful and how police officers can be more touchable in the neighborhoods," Johnson said. "Quite frankly, we were forcing police officers to be confined to positions that quite frankly civilians can administer, taking them away from the work to ultimately keep us safe."
It will be up to Snelling to defend and explain those changes when it is his turn to take the hot seat during CPD's budget hearing, set for Tuesday.
Snelling told WTTW News' "Chicago Tonight: Black Voices" on Wednesday that it will take time and resources for CPD to move into a "new age of policing" while rebuilding the department.
During the campaign for mayor, Johnson also vowed to step up efforts to implement the court order requiring the Chicago Police Department to change the way it trains, supervises and disciplines officers. The city has fully complied with just 5% of the requirements detailed in the agreement that is nearly five years old.
"We need to get up to speed with our non-sworn members," Snelling said.
Contact Heather Cherone: @HeatherCherone | (773) 569-1863 | [email protected]
---