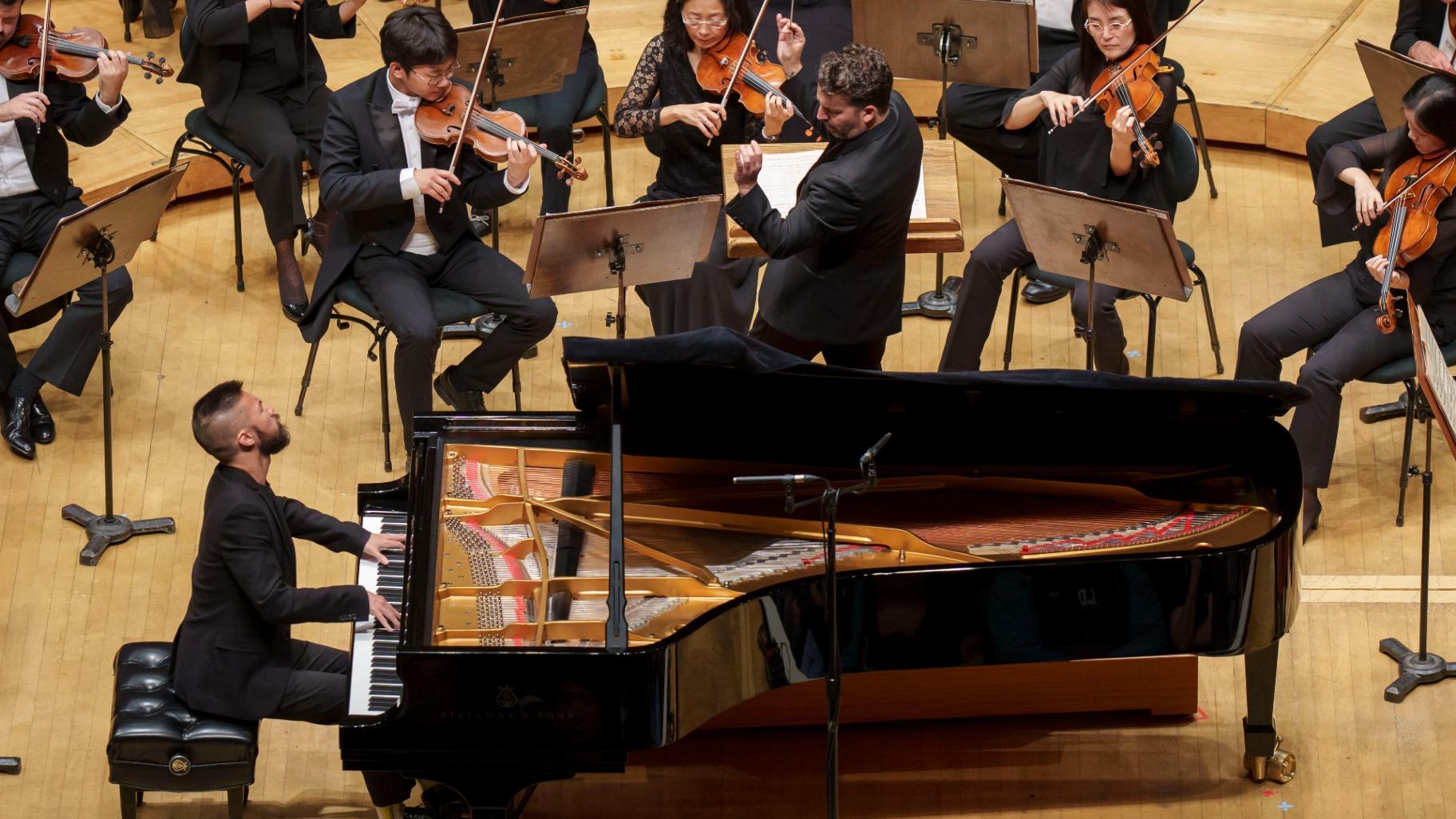 Conrad Tao makes his CSO subscription debut in a performance of Gershwin's "Concerto in F Major" with the Chicago Symphony Orchestra and conductor James Gaffigan. (Todd Rosenberg)
For anyone in search of a temporary escape from the devastating warfare now underway throughout the world, I can only suggest one quick but brilliant fix. It is an evening spent with the Chicago Symphony Orchestra, guest conductor James Gaffigan and the extraordinary pianist Conrad Tao.
The program features altogether virtuosic performances of works by two American musical geniuses. George Gershwin's brilliant "Concert in F for Piano and Orchestra" featured an absolutely breathtaking interpretation by Tao. Next came "Symphonic Dances From 'West Side Story,'" a lavish, grand-scale suite drawn from Leonard Bernstein's groundbreaking score for his 1957 Broadway musical, arranged by Sid Ramon and Irwin Kostal. I have heard countless performances of both these works, but none have been as thrilling as those that filled Orchestra Hall on Thursday evening with great displays of absolute rhythmic genius and emotional power.
First, the Gershwin concerto — a seamless melding of classical and jazz style given a bravura rendering by Tao, whose fingers moved across the keyboard at the speed of light and with sublime clarity. His rhythmic sensibility was ideally supported by the fleet, richly expressive Gaffigan and a full orchestra.
The concerto opened with the percussion and brass section at full blast, and with the jazzy energy of a New York street scene. It then moved into a more introspective piano solo marked by Tao's teasing clarity and speed-of-light finger work, with the addition of the lush use of the strings and piano, at once fluid and dreamy, and with ideally executed mood shifts.
The work's familiar melodies sounded so fresh. And Tao was clearly inside the music from start to finish, whether in grand solo riffs or with the orchestra (in its usual peak form) shifting from the lyrical, to the playful, to the outright wild.
The second movement opened with the sound of the clarinet and French horn and shifted between the lyrical, the playful and the sensual, with moods and rhythms continually shifting and often surprising given how Tao brought riffs of furious energy to the work.
Powerful blasts on a wide array of percussion melded with the full sound of the strings. And as the work's third movement came to a rousing end that drove the audience into a state of pure ecstasy, I was left wondering what Gershwin (already prolific) might have composed had he lived beyond the age of just 38.
Then, with the Gershwin workout just minutes behind him, Tao returned to the piano to play his transcription of Art Tatum's jazz-infused riff on the Harold Arlen classic "Over the Rainbow" (and indeed it was).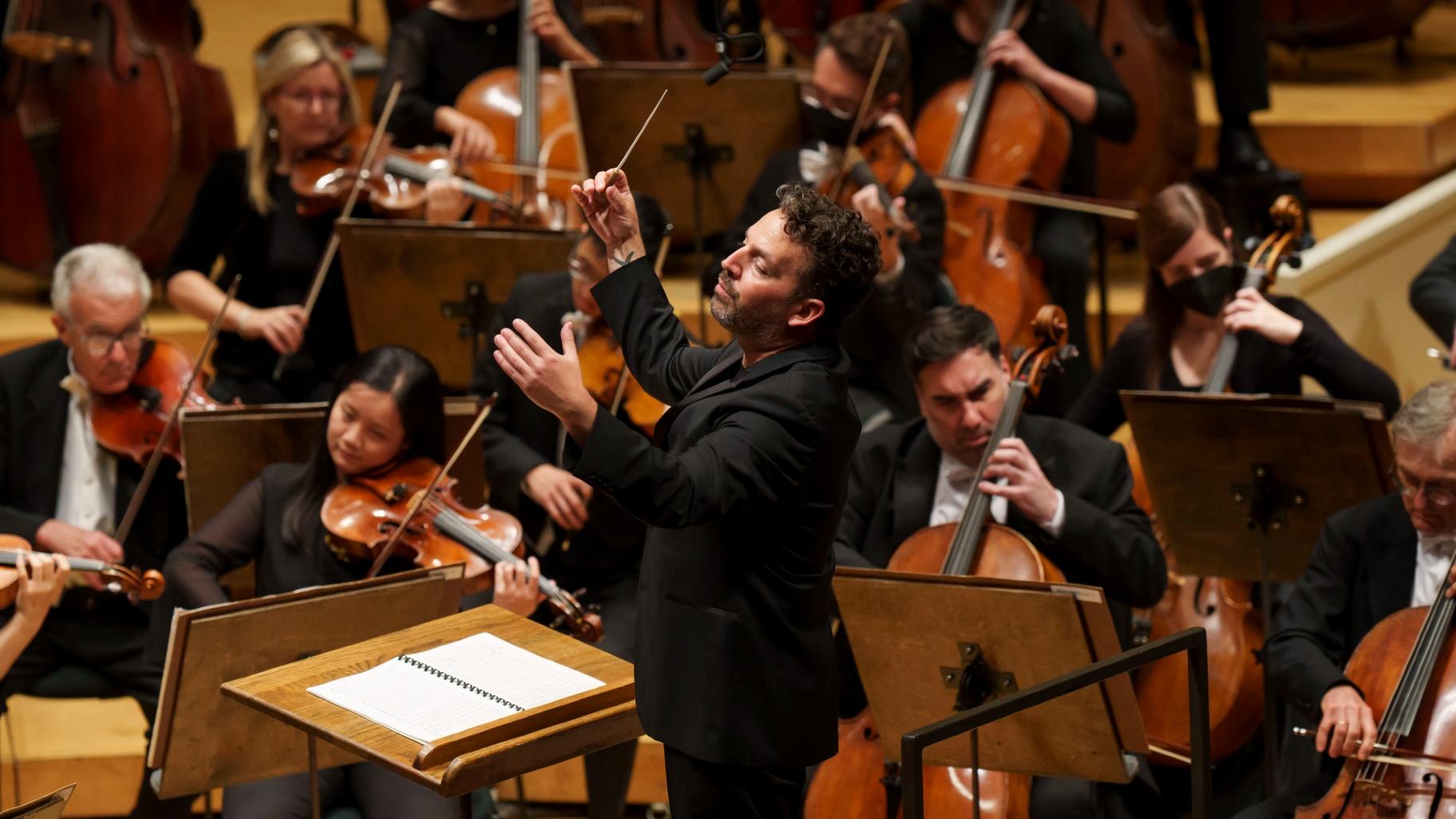 James Gaffigan leads the Chicago Symphony Orchestra in a performance of Bernstein's "Symphonic Dances From 'West Side Story.'" (Todd Rosenberg)
Opening the second half of the concert was a stunningly theatrical arrangement of Bernstein's exquisite, innovative and ever-familiar score for "West Side Story," arranged (with the composer's assistance) by Ramon and Kostol just three years after the musical's 1957 Broadway debut.
With a full orchestra (including a notably enormous percussion section), and all the feverish shifts of mood that permeated Bernstein's full-length score, this 23-minute work fully captured the essence of each song, dance scene and character in the musical, as well as the full range of rhythmic styles that drove Bernstein's stunning, deeply emotional score. And the audience even joyfully cried out "Mambo!" along with Gaffigan.
The opening piece in this CSO concert was Samuel Barber's beautifully orchestrated overture to "The School for Scandal" (based on Richard Brinsley Sheridan's 18th century comedy of manners). It was composed in 1931, and gained Barber great attention two years later when it had its world premiere by the Philadelphia Orchestra. He was just 23 at the time.
The 8-minute work's bold, swirling, dramatic opening shifted to a delicate but tense build. And then, with the wonderful use of the flute and a burst of sound from the winds and brass, it conjured a great and beautiful fury. Barber's use of the full orchestra, with everything from timpani to harp and celesta, was highly theatrical, and Gaffigan tapped into all of its moods and "voices."
Closing the program was "Sensemayá," a wonderfully intense and rhythmically exciting 8-minute work by the early modernist Mexican composer Silvestre Revueltas (1899-1940), who also spent time in Chicago. His use of the brass and percussion sections of the orchestra was notable, and the piece built to a frenzied, explosive sort of exorcism.
This concert, which should not be missed, will be repeated on Oct. 20, 21 and 24 at 7:30 p.m. at Orchestra Hall, 220 S. Michigan Ave. For tickets. visit cso.org or phone (312) 294-3000.
Follow Hedy Weiss on Twitter: @HedyWeissCritic
---