James Monroe Iglehart as Louis Armstrong in "A Wonderful World" now playing in Chicago. (Jeremy Daniel)
He was the musician with the instantly identifiable raspy tenor voice and the ideal "chops" for both a trumpet player and vocalist. And he was the performer who, despite living through decades of racism, possessed a spirit that enabled him to sing "What a Wonderful World," a song that was clearly a personal anthem.
Of course, that man was Louis Armstrong (1901-1971), and he needs no formal introduction to audiences pretty much anywhere in the world. "Satchmo" (his nickname, meaning "satchel mouth" and suggesting his large mouth and broad smile) was above all else a giant personality as well as a formative force in the world of jazz for nearly half a century.
Now, "A Wonderful World," a show written by Aurin Squire, conceived by director Christopher Renshaw and Andrew Delaplaine, and bearing the subtitle "A New Musical About the Life and Loves of Louis Armstrong," has arrived at Chicago's Cadillac Palace Theatre in a production that is bound to arrive on Broadway.
James Monroe Iglehart, who stars as the New Orleans-born Armstrong, has captured the beloved musician's unique voice and aura to uncanny perfection, with the sound of the trumpet coming primarily from the backstage band led by Anastasia Victor that features trumpeters Jeremiah Flack and Christopher Davis. And the show's score includes 18 of the countless songs Armstrong performed during his career on the stage, on recordings and in 28 films.
The other exceptional elements in the production are the choreography and musical staging of Rickey Tripp; the actresses who play Armstrong's four wives; and the chorus of singer-dancers who animate the stage in various numbers. Enhancements to the show include Toni-Leslie James' costumes, the scenic and projection design of Adam Koch and Steven Royal, and Cory Pattak's lighting.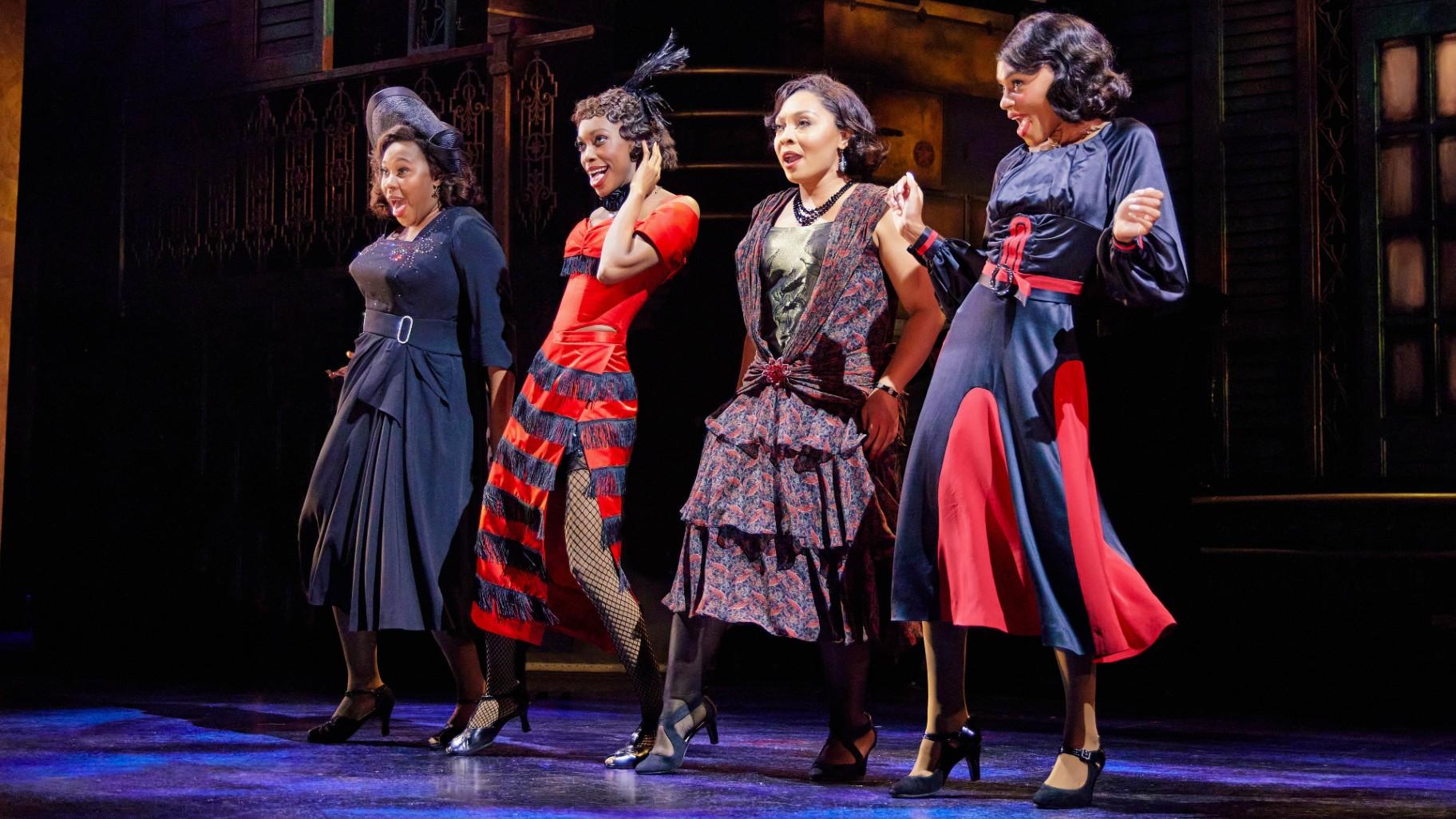 Ta'Rea Campbell (Lucille Wilson), Khalifa White (Daisy Parker), Jennie Harney-Fleming (Lil Hardin) and Brennyn Lark (Alpha Smith) in "A Wonderful World." (Jeremy Daniel)
Listed here in order of their attachment to Armstrong are: Khalifa White (a terrific dancer) as Daisy Parker, the sexy prostitute he married at the age of 17; Jennie Harney-Fleming as Lil Harden, a sophisticated pianist and jazz composer who educated Armstrong in many ways, from dress style to musical style; Brennyn Lark as Alpha Smith, a poor girl of 17 with fashionable cravings when she and Armstrong met in Chicago in the 1920s (when Armstrong was still married); and last, and most lastingly, Ta'Rea Campbell as Lucille Wilson, a chorus line dancer at The Cotton Club in New York whom he met in 1938 and married in 1942. Armstrong spent the rest of his immensely successful life in the house she bought in Corona, Queens (a borough of New York that was home to a number of Black celebrities).
The show's focus on Armstrong's multiple marriages and sex life also deals with his "management" by White mobsters for many years as he hit the road and spent time in Chicago, Hollywood and New York. And this, too, often overshadows his obsession with the music. Armstrong was, above all, married to music. And, to his credit, Iglehart's portrayal of the man manages to ideally capture that powerful bond.
"Wonderful World" could use some trimming, but it also could find a way to mention a crucial element in Armstrong's life. At the age of about 7, he began to work for a poor Lithuanian Jewish family in New Orleans. And it was a member of that family that helped him purchase a cornet from a pawn shop. When Armstrong was near death, he wrote a memoir of the family in a book now published by Oxford Press. And, as is widely known, he wore a Star of David until the end of his life.
"A Wonderful World" runs through Oct. 29 at the Cadillac Palace Theatre, 151 W. Randolph St. For tickets, visit broadwayinchicago.com.
One final note: Providing a rousing welcome to "A Wonderful World" on its opening night were members of The Chicago Windy City Ramblers, a brass band of six that included a sensational dancer/trumpet player at the helm. His name is Mario Abney, and he enthralled his audience.
Follow Hedy Weiss on Twitter: @HedyWeissCritic
---