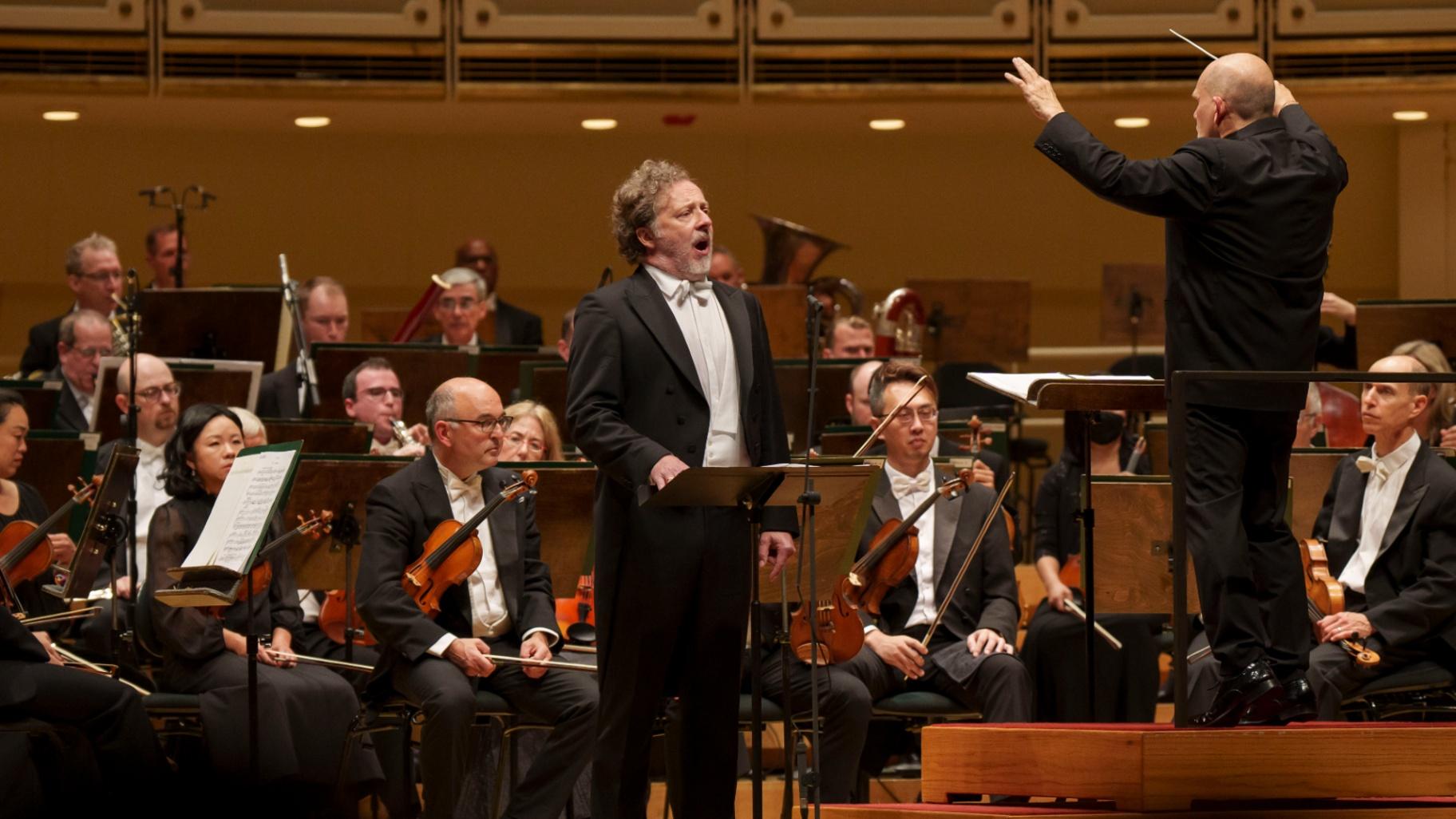 Baritone Christian Gerhaher performs songs from Mahler's "Des Knaben Wunderhorn," led by Jaap van Zweden with the Chicago Symphony Orchestra. (Todd Rosenberg)
The Chicago Symphony Orchestra was in its usual top form this past week in a concert that was zestily led by Jaap van Zweden, the Amsterdam-born conductor who is in his farewell season as music director of the New York Philharmonic. He is also currently the music director for the Hong Kong Philharmonic and will step into that role at the Seoul Philharmonic next year.
The program soared in a dazzling performance of Beethoven's grandly familiar yet ever thrilling "Symphony No. 5 in C Minor." The show opened with a brief but evocative rendering of Nina Shekhar's seductive, wonderfully mood-setting "Lumina," a mesmerizing 11-minute piece inspired by both Hindustani ragas and an exploration of the shift between light and shadows. Those shifts moved from a big sound to a somewhat eerie fading sound, and then came a dramatic silence.
Next on the program was Mahler's beautiful score for songs from "Des Knaben Wunderhorn" ("The Youth's Magic Horn"), which takes its title from the opening work in a collection of old German folk poems. The work's performance by the German baritone Christian Gerhaher was disappointing. Not only was much of it only semi-audible, but he failed to capture the essential dramatic shading and superb instrumentation that Mahler so ideally brought to the wonderfully touching poems that range from young love to the tragic fate of a young soldier.
But oh, Beethoven. No matter how many times you might have heard his Fifth Symphony, it never loses its freshness as it moves from one thrilling passage to another. And the CSO captured them all — with the rousing opening movement full of intensity and high speed, and the rich response of each section of the orchestra generated by the animated van Zweden.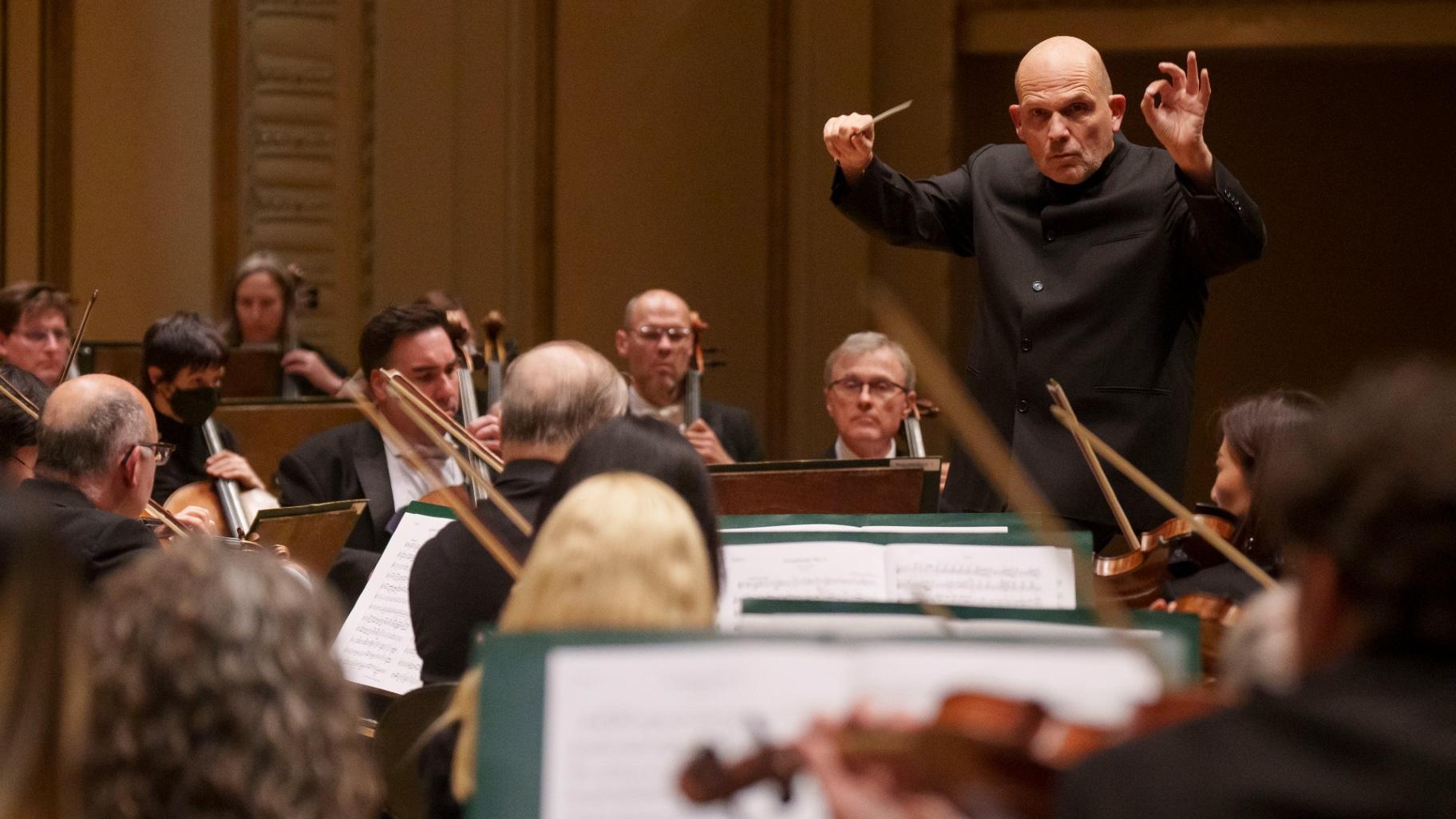 Jaap van Zweden leads the Chicago Symphony Orchestra in a program featuring works by Shekhar, Mahler and Beethoven. (Todd Rosenberg)
The symphony's second movement was marked by a slew of mood shifts. A lyrical start soon became a strong declaration and then gave way to the gentle sound of the strings, a riff by the winds, a quietness followed by a jaunty, almost playful melody, the plucking of the violas, and then the full sound of the strings and the kind of powerful sweep through the orchestra of which Beethoven was such a master.
A low, lyrical sound, and then the arrival call of the French horns, opened the familiar melody of the work's third movement that then gained high speed with a bit of playful plucking of the strings and an undercurrent of timpani. It all moved into a great march of thrilling intensity that generated a wonderfully wild frenzy and a great proclamation at high speed.
In short: The Beethoven masterwork suggested both struggle and triumph. It was a splendid workout for the orchestra and was met with an instantaneous standing ovation from a wildly receptive audience.
Note: Coming up at Orchestra Hall this week is a CSO program conducted by James Gaffigan and featuring works by George Gershwin (his "Piano Concerto in F," with Conrad Tao at the keyboard); Leonard Bernstein's symphonic dances from "West Side Story"; the overture to Samuel Barber's "The School for Scandal" (inspired by the 18th century comedy of manners by Richard Brinsley Sheridan); and Mexican composer Silvestra Revueltas' "Sensemayá," a work inspired by a poem evocative of Afro-Cuban religious cults. For tickets, visit cso.org or phone (312) 294-3000.
Note: The CSO has just been named one of five intensely acclaimed ensembles invited to participate in the third-ever Mahler Festival running May 9-18, 2025, at the Royal Concertgebouw in Amsterdam. Jaap van Zweden will lead the orchestra in performances of Mahler's Symphonies Nos. 6 and 7.
Note: This article was updated to reflect that van Zweden is in his final year with the New York Philharmonic and will join the Seoul Philharmonic next year.
Follow Hedy Weiss on Twitter: @HedyWeissCritic
---