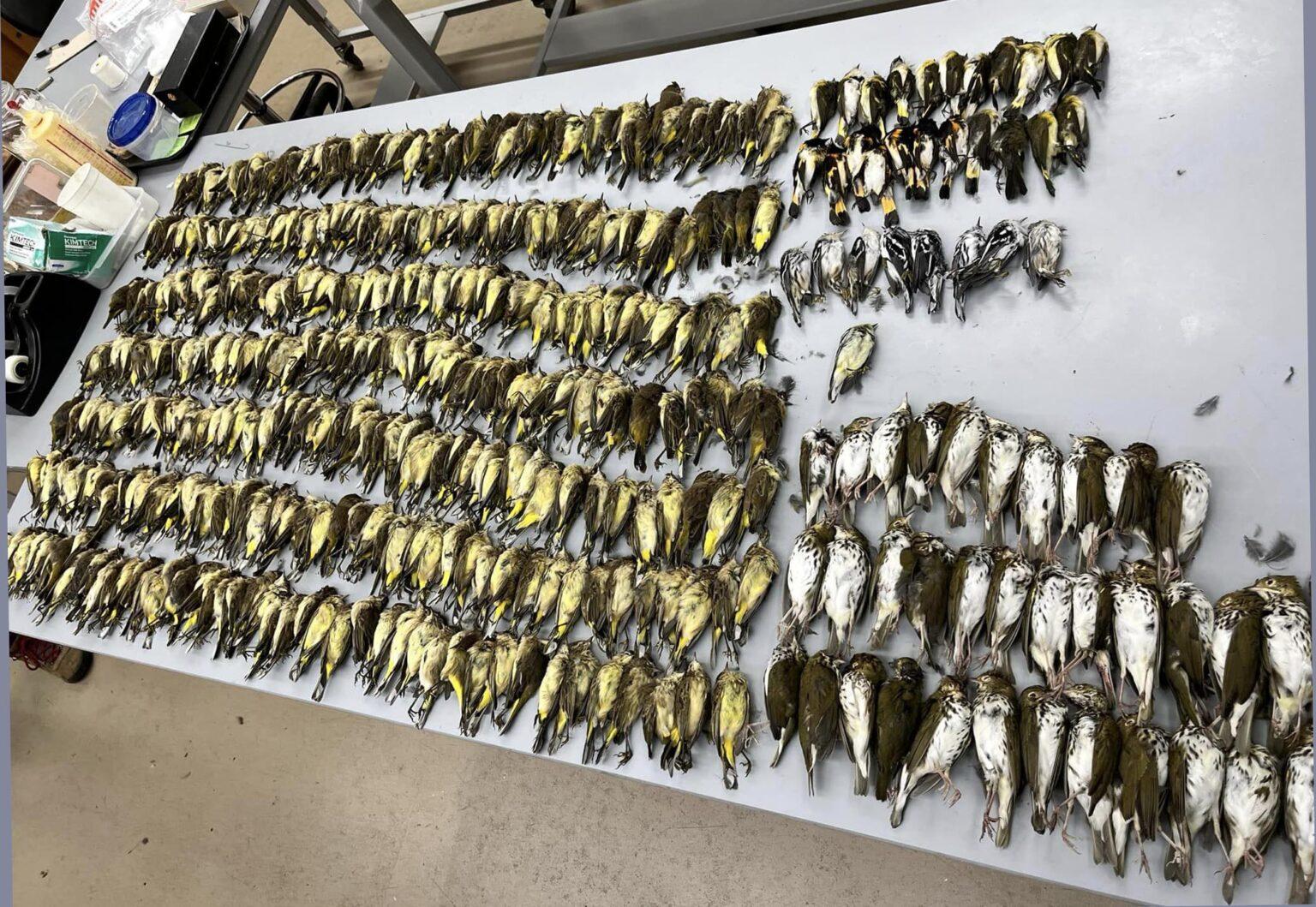 Field Museum staff collected 1,000 dead birds Thursday from the grounds of McCormick Place. (Courtesy of Taylor Hains)
Early in the day on Thursday, Chicago's birding community was abuzz about "fallout" conditions, with migrating birds passing over some points of the city at the rate of 100,000 an hour.
A combination of high intensity migration and conditions adverse to flying had funneled an overwhelming number of birds toward Chicago's lakefront where they either came to ground at places like Jarvis Bird Sanctuary or hugged the shore as they continued their southern journey.
"It might be one of the biggest migration days in decades," said Edward Warden, president of Chicago Ornithological Society. "There were rivers of birds flying by. What we saw today we are not going to see for many years — that's why these things are the stuff of legends."
Birders encouraged one another to "get out if you can" and shared observations from points around the city.
"Trees just coated. I've never seen so many warblers all at once," was just one of the comments shared within the Chicago Ornithological Society's Facebook group.
The excitement later turned to shock as reports of a different mass birding event began circulating. 
More than a thousand birds were killed colliding with McCormick Place alone, as shared by Field Museum staff who regularly gather dead birds from the convention center's grounds.
---
Want more Chicago news sent straight to your inbox? Sign up for our Daily Briefing. 
---
Ph.D. candidate Taylor Hains arrived to work at the museum and photographed the carnage.
"I just walked in this morning to that sight," Hains told WTTW News via email. The Field's Ben Marks and David Willard "were there collecting as birds were still colliding with the window," Hains said.
The same weather conditions that pushed birds toward the lake also forced them to fly low, and collisions with McCormick Place were inevitable, Warden said.
The building is already a well-known bird killer, he said, but Thursday's mass mortality event provided a "perfect snapshot of how bad that one building could be."
Though McCormick Place was perhaps the worst documented example of the dangers Chicago's brightly lit glass buildings pose to migrating birds, what happened there happened all up and down the lakefront, whether people were there to witness it or not, Warden said.
Annette Prince, director of Chicago Bird Collision Monitors, said Thursday was one of busiest days in the more than 20 years she's been rescuing birds that have crashed into Chicago buildings.
"I myself picked up over 200 birds," said Prince. "We have the privilege of enjoying this bird life, and we can't give them safe journey through our city. These little birds are making spectacular voyages across the continent, and we put up obstacles."
The birding community has been working with building managers for decades to implement safety measures including a "Lights Out" program, to excellent effect when practiced, Prince said.
A thousand birds used to die at the foot of the Hancock building, and that doesn't happen anymore, she said, but McCormick Place has been a holdout.
"What more do you need? It's almost like people have to see a pile of birds. But it's happening day after day. It's a terrible price these birds have to pay," said Prince. "There may have been 1,000 birds (killed) last night, but the 40 birds that could hit tomorrow, they don't deserve to die either. Turning lights out is so minimal. You can save lives with the flick of switch."
Chicago passed a bird-friendly ordinance in 2020, but it's yet to be fully implemented, waiting on action from the Department of Planning and Development.
If there's any positive takeaway from Thursday's tragedy, Prince said, it's that it might serve as an "unfortunate but necessary wakeup call."
If you come across an injured bird, call the Chicago Bird Collision Monitors hotline at 773-988-1867. Many of the birds just need a little TLC before continuing their migration.
As sad as Thursday was for Prince, she also observed many of her rescues later "bopping around" at Willowbrook Wildlife Center, where she'd taken them for treatment.
"It's nice to see them where they can rest and refuel and they're safe," Prince said.
For bird migration alerts and real-time forecasts, check out Cornell Bird Laboratory's Birdcast.
From Heidi Trudell at Just Save Birds - Volunteers in Chicago found almost ONE THOUSAND DEAD BIRDS THIS MORNING AT A SINGLE BUILDING. pic.twitter.com/rKnp1v9EbT

— The Birdist (@TheBirdist) October 5, 2023
---
Birdcast so bright you have to wear shades for this one! pic.twitter.com/EcECZiqmqN

— Stephanie Beilke (@4letterbird) October 4, 2023
---
This morning as children waited to enter school in Chicago, birds fell dead at their feet. The culprit? Reflective glass windows. 15 dead birds were recovered from one school.

If you are interested in making your workplace bird-friendly, please call us: 773-988-1867. pic.twitter.com/gtlmkWUsgf

— Chicago Bird Collision Monitors (@BirdMonitors) October 5, 2023
---
Contact Patty Wetli: @pattywetli | (773) 509-5623 |  [email protected]