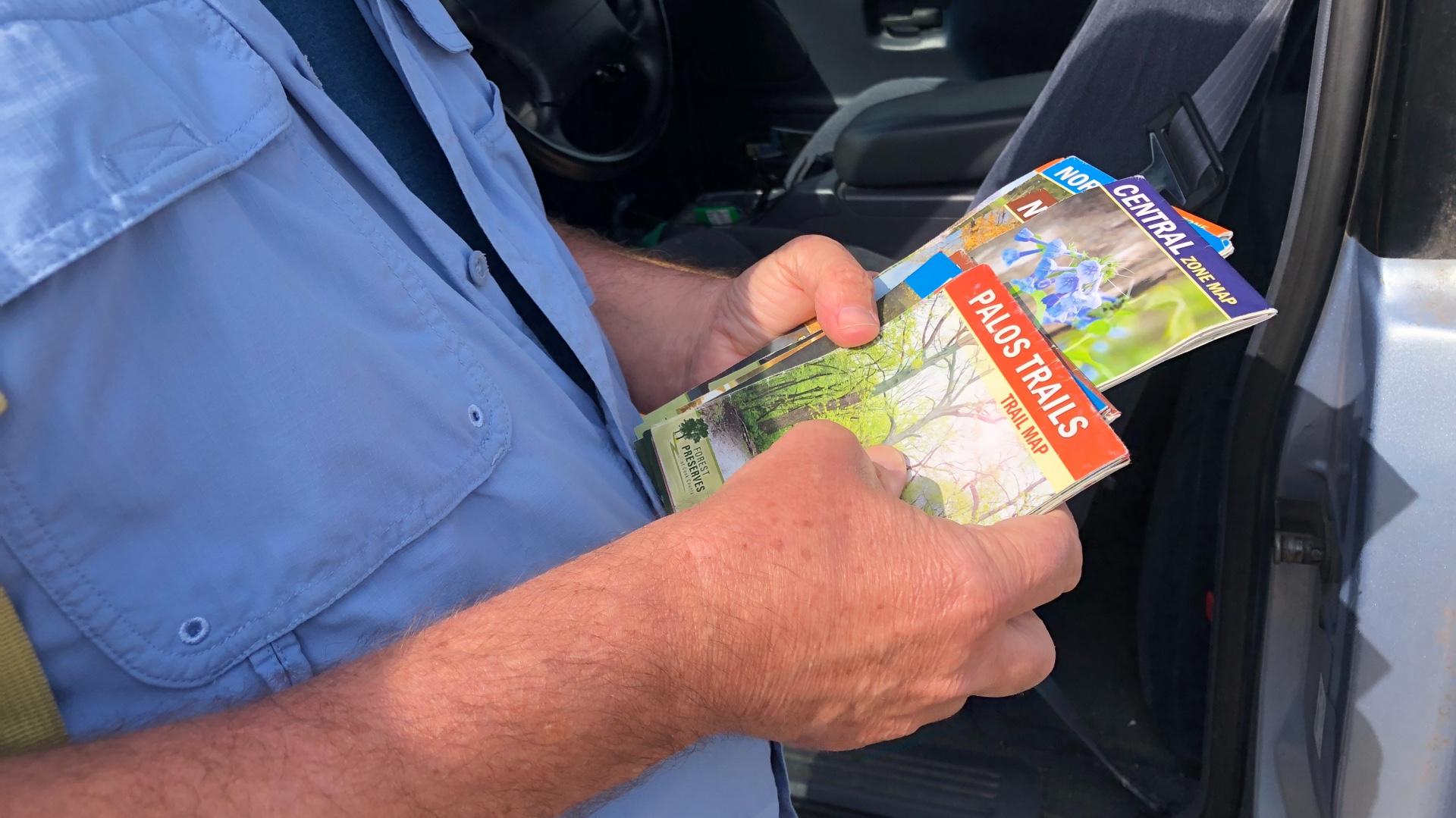 Trail maps are available at the forest preserve district's various nature centers. (Patty Wetli / WTTW News)
"Chart your own course," "Blaze a new trail" and "Follow your bliss" are fine as motivational slogans, just not when it comes to Cook County forest preserves, officials are reminding the public.
The development and use of "unofficial" trails in the preserves has increased in recent years, particularly as people flocked to natural areas during the COVID-19 pandemic, according to General Superintendent Arnold Randall.
Those DIY paths are becoming enough of an environmental concern that the Forest Preserve District of Cook County has launched a new "Stay on the Trail" campaign to encourage people to stick to marked trails.
The pilot campaign is rolling out at Swallow Cliff Woods in the Palos Preserves, with special signage and barriers placed at unofficial trail entrances.
"Forest Preserves trails are designed and built by professional landscape architects and reviewed by ecologists who take into account both the enjoyment of all trail users as well as environmental concerns, which include wildlife habitat and trail erosion," Randall said.
When people veer off these planned routes, they damage vegetation, compact soil, contribute to erosion and also create pathways for new invasive plant species, said Rebecca Collings, senior ecologist with the forest preserve district.
"And human presence in a natural area can unintentionally cause stress to wildlife," Collings added. "As visitors explore Swallow Cliff, they can help conserve, protect and maintain public lands by remaining on designated trails."
Trail maps are posted at trail heads and groves, paper maps are available at forest preserve nature centers, and digital versions can be found online. 
Contact Patty Wetli: @pattywetli | (773) 509-5623 |  [email protected]
---