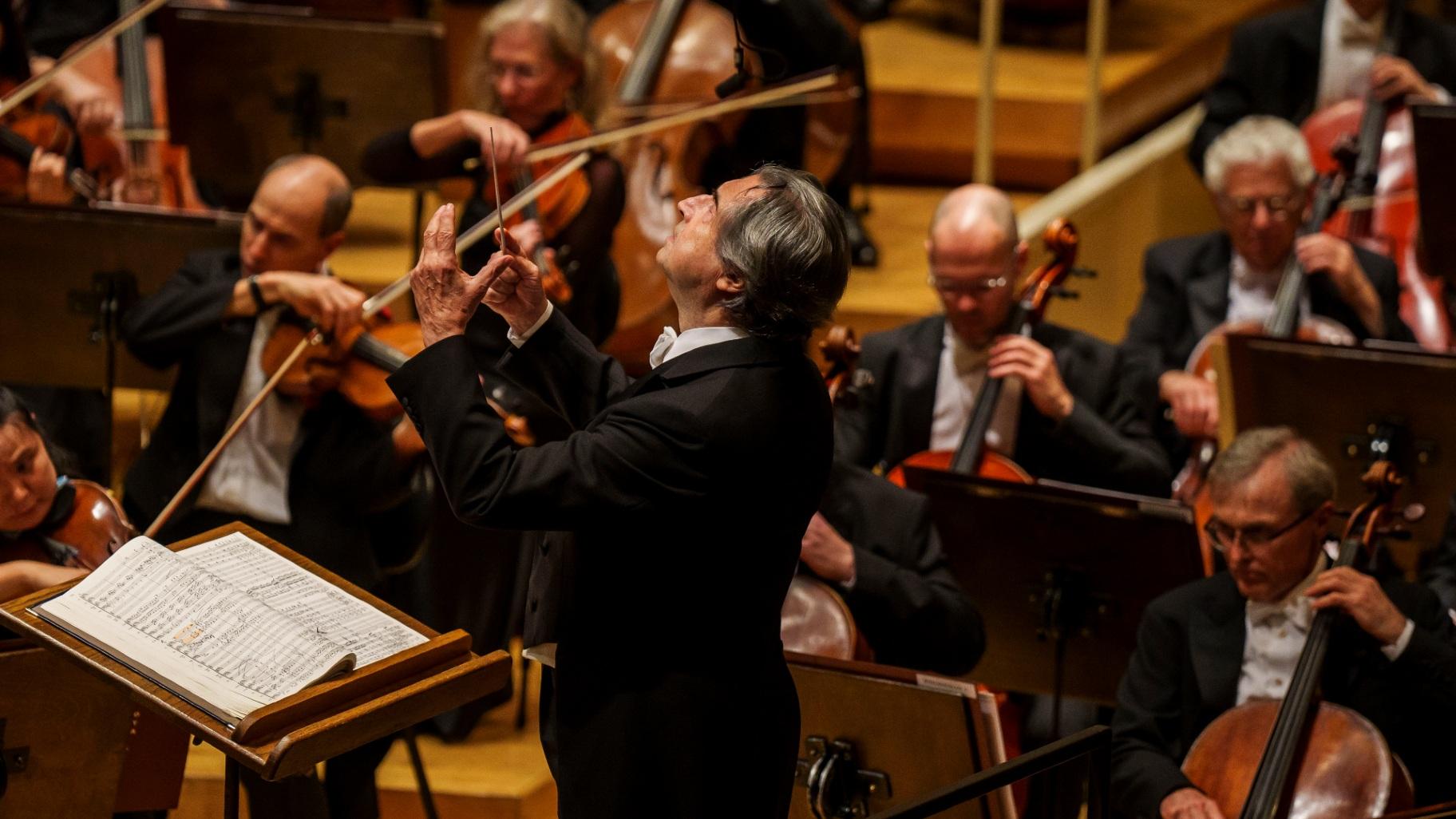 Music director emeritus for life Riccardo Muti led the CSO's opening concert of the 2023/24 season on Sept. 21, 2023. (Todd Rosenberg)
Something truly magical (and magnificent) happens when Maestro Riccardo Muti arrives on the podium to conduct the Chicago Symphony Orchestra. And although earlier this year he stepped down as the orchestra's music director after 13 seasons at the helm, happily he was named the CSO's music director emeritus for life. So he will be returning regularly to Chicago for at least the next three years and will continue his invaluable relationship with the remarkable musicians who, unquestionably, are among the world's finest.
The latest proof of all this was on display in two different concerts this past Thursday and Saturday evening.
The Thursday evening concert opened with two stunning but radically different works, both of which happened to be composed in 1909 by Russian composers — Anatoly Liadov and Igor Stravinsky. Then came Johannes Brahms' "Symphony No. 2 in D Major," a rapturous work (dubbed his "Pastoral") composed in 1877.
Liadov's hauntingly beautiful seven-minute piece "The Enchanted Lake" was pure poetry. It began with the subtlest rumble, the sound of the harp and celesta and a dreamy airborne riff. It then grew denser and darker with the addition of the winds, horns, timpani and other percussion. The mood throughout was simply magical. And this brief but exquisite (and rarely heard) treasure got the evening off to a fine start.
Next was the knockout suite from Stravinsky's "The Firebird," a work created for a ballet that was to be performed in Paris and produced by the impresario Serge Diaghilev. (Ironically enough, Diaghilev initially asked the less-than-productive Liadov to compose the score but ultimately turned to Stravinsky, the young genius who would be catapulted to fame by the piece.)
The "Firebird" is, of course, a stunningly modern, richly dramatic, highly original work full of great rhythmic shifts and a brilliant use of an array of instruments. It opens with the low strings suggesting that something is brewing, with the brass answering the call. It's then joined by the clarinet and timpani, the piano and harp and a sudden excitement that sends the work off to the races. And Muti was flying all along the way with the firebird.
The Dance of the Princesses followed, with a lyrical opening from the harp (played by guest harpist Julia Coronelli), joined by the strings, horns and winds. Then came the wild, fiery and frenzied Infernal Dance of King Kashchei that was followed by a total mood shift by way of the dreamy Berceuse. Stunning. A true theatrical wonder.
The concert's second half was devoted to Brahms' beautiful symphony with its lushly lyrical opening that began with the low strings and used the timpani to suggest there was something stormy in the air. And that was just the start of a piece full of shifting dynamics and emotions that seamlessly swept from one mood to another — from the dreamily romantic to high drama, from a charming lightness to a fiery race, from a playfully rhythmic sequence to a big blast of sound and intense energy. And by the time it was over, I was left wondering why no choreographer has grabbed this score and set a ballet to it.
This past Saturday night's concert (performed just before the Symphony Ball that was held at The Four Seasons Hotel and raised more than $1 million to help underwrite the CSO's educational activities), was another musical miracle, with Maestro Muti noting, "We have only guns and tears. We need music."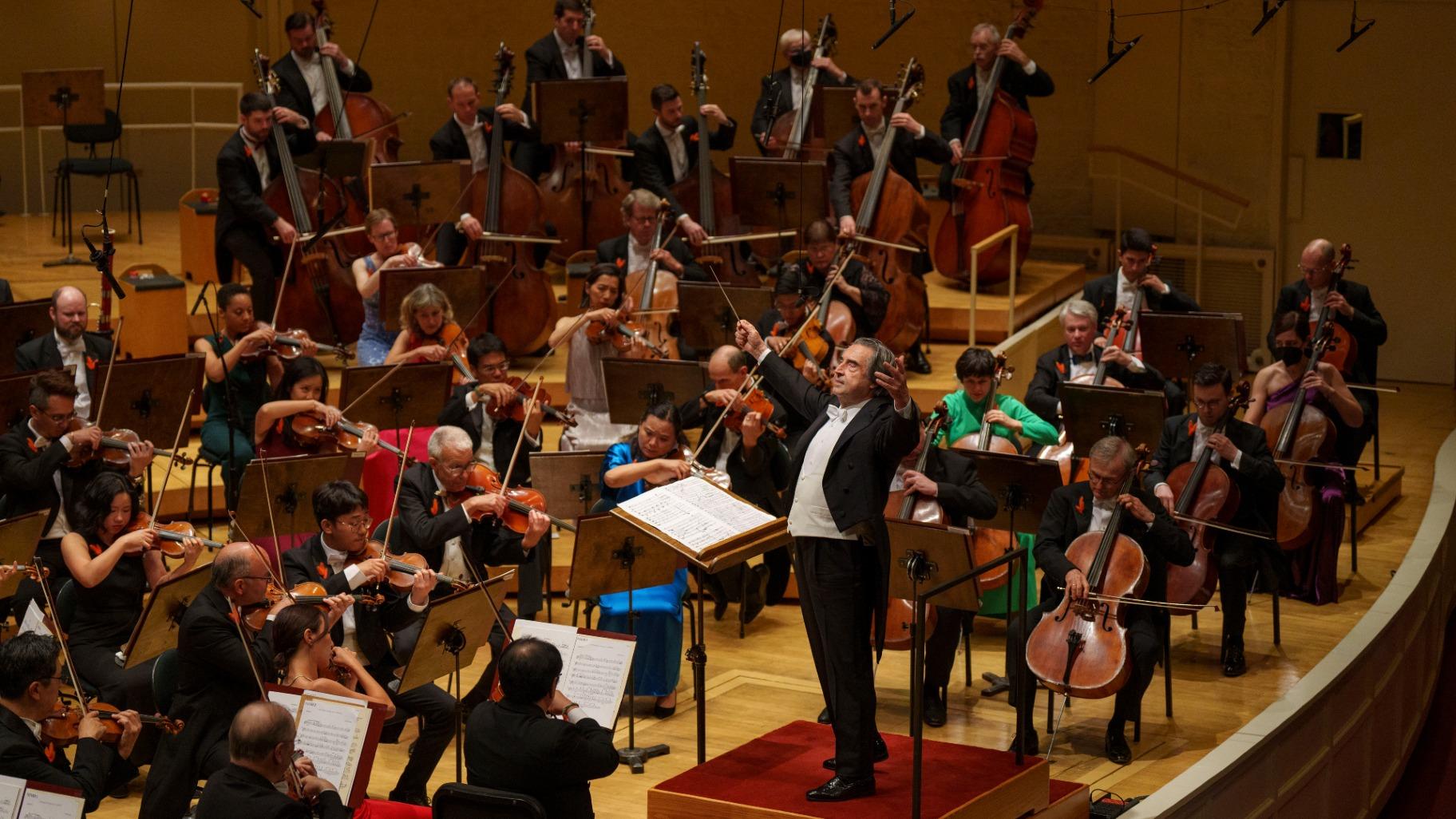 The Chicago Symphony Orchestra led by music director emeritus for life Riccardo Muti performed music by Tchaikovsky and Italian opera composers Puccini, Leoncavallo, Giordano and Verdi on Sept. 23, 2023. (Todd Rosenberg)
The star of the program was guest violinist Leonidas Kavakos, whose breathtaking performance of Tchaikovsky's "Violin Concerto" was so dazzling that at one point some members of the audience erupted in applause and cheers to the point where Muti had to stop the music, comment briefly and then forge ahead with Kavakos and the orchestra in peak form.
The Concerto's opening has a gorgeous singing quality, and it builds to suggest that something is coming. It is, in the form of a violin solo at once singing and pensive. And the unique warmth and golden tone of Kavakos' playing was stunning, as was the bravura speed, clarity and lightness of what followed.
The orchestra backed every virtuosic turn by Kavakos, a musician who can shift easily from great delicacy to virtuosic storminess. His command of the violin is riveting, and he and Muti were in absolute synchrony throughout as the work moved from the delicately dreamy and personal, to a big bang from the orchestra, to Kavakos' solo riff that moved to a high-speed fury and served as just another reminder of his speed-of-light fingering and Tchaikovsky's absolute genius.
Muti's opera roots were deftly revealed in the second part of the concert that was devoted to an inspired sequence of three Intermezzos by Italian opera composers: Umberto Giordano, Giacomo Puccini and Ruggero Leoncavallo. Completing the lineup was Giuseppe Verdi's Overture to "Giovanna d'Arco" ("Joan of Arc"), one of his less heralded and infrequently performed works.
Giordano's Intermezzo from "Fedora" was brief, beautiful and lushly romantic. Puccini's Intermezzo to "Manon" had the violas and cellos singing softly and with a familiar tragic beauty that shifted moods on a dime — from high intensity to dreamy lightness that "sang" all the way through.
Leoncavallo's Intermezzo for the tragic opera "Pagliacci" — about an actor who murders his wife and her lover — moves from dark to light, lyrical to heated, and on to mournful, with Muti giving this orchestral work a human voice throughout. The piece's quiet awakening was simply exquisite.
And then came Verdi, with a big opening blast followed by an almost bird-like sound. And that shifting of moods continued as the music moved from solemnity to lightness, then on to a riff of terror, to a full-orchestral frenzy, to a lively march and a build to high speed, with Muti clearly wrapped up in the drama all along the way.
Note: On Sept. 28 and 30 at 7:30 p.m., and on Sept. 29 at 1:30 p.m., Muti will lead the orchestra in his final concert for the season at Orchestra Hall. It will open with the world premiere of "The Triumph of the Octagon," a 10-minute work by Philip Glass (inspired by the photo of the 13th century Castel de Monte in Italy that the composer noticed in Muti's office last year after he conducted Glass' "Symphony No. 11" for the first time).
Also on the program will be Mendelssohn's "Symphony No. 4 (Italian)" and Richard Strauss' "Aus Italian," inspired by that composer's youthful visit to Italy.
For tickets to these concerts at Orchestra Hall, 220 S. Michigan Ave., visit cso.org or call (312) 294-3000.
And that is not all. Muti will lead the CSO in two concerts (Oct. 4 and 5) at New York's Carnegie Hall. And in January, he and the orchestra will embark on an 11-city grand tour of Europe that will culminate, fittingly, in Italy.
Follow Hedy Weiss on Twitter: @HedyWeissCritic
---