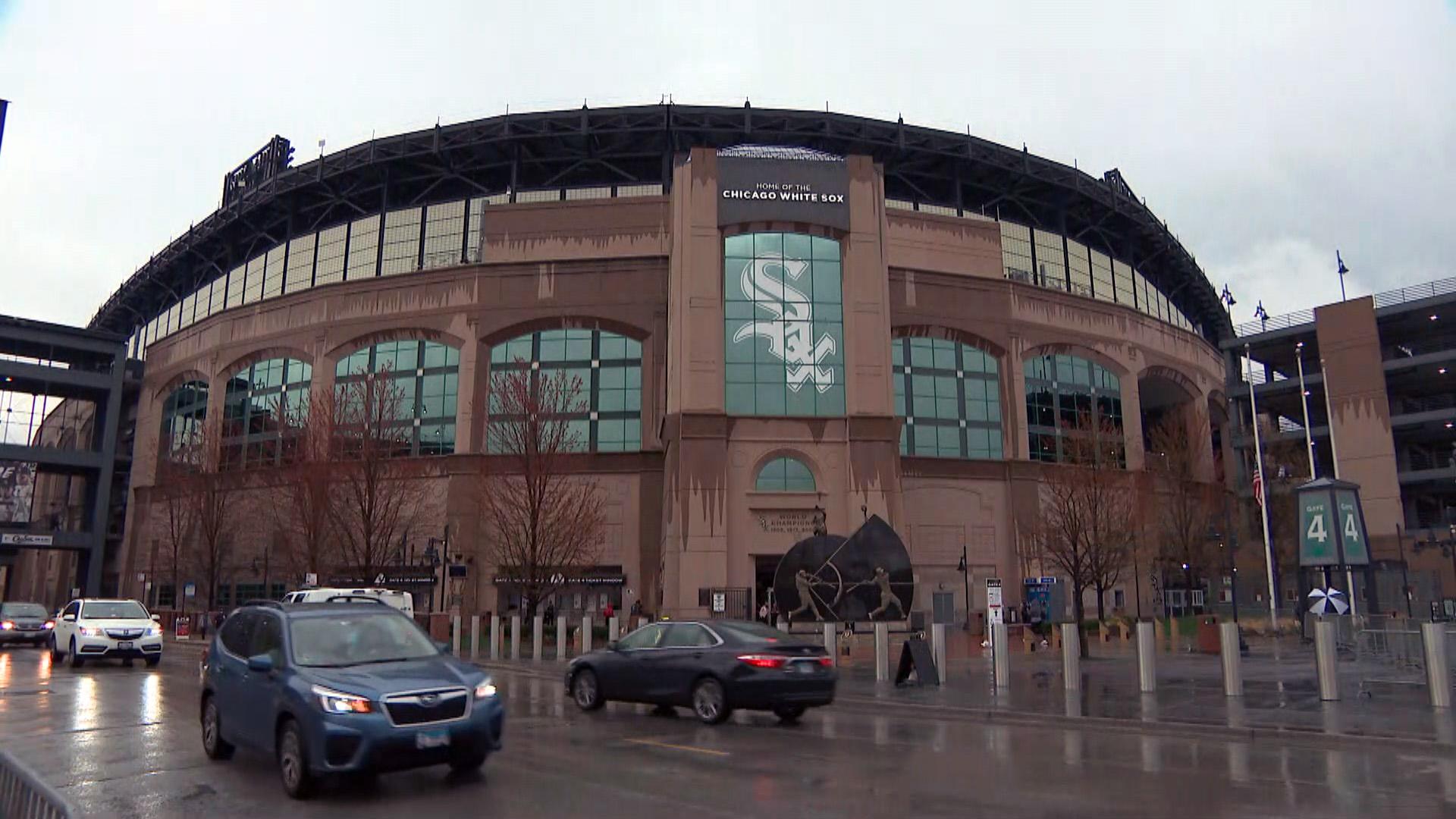 Guaranteed Rate Field is pictured in a file photo. (WTTW News)
Two women were shot at the Chicago White Sox game Friday night at Guaranteed Rate Field, according to police.
A 42-year-old woman was shot in the leg and a 26-year-old woman suffered a graze wound to the abdomen, according to a statement issued by the Chicago Police Department at 12:39 a.m. Saturday.
The 42-year-old was transported to University of Chicago Medical Center for treatment and is listed in fair condition, police said. The other victim refused medical attention.
The game, which began at 6:10 p.m., proceeded without interruption and the shooting apparently went unnoticed by most fans in the stadium. 
The police statement did not say what time the shooting occurred.
In a statement, the White Sox organization said it was not clear whether the shots were fired from outside or inside the ballpark. The statement went on to say, "White Sox security confirms that this incident did not involve an altercation of any kind."
After police were notified of the shooting, officers "responded immediately and deployed additional resources while coordinating with White Sox security to maintain the safety of those who were in attendance or working at the game. At no time was it believed there was an active threat," the police statement reads.
Police did not state why the shooting was not considered an "active threat" during the game.
"It's not clear where the bullet came from," White Sox senior vice president of communications Scott Reifert told reporters Saturday. "There are no reports of any gunshots in our ballpark, so CPD continues to kind of investigate, and they'll let us know."
A one-minute video of the incident provided by a White Sox spokesperson shows several people in Section 161 looking at the ground and at each other before at least two people try to flag down assistance.
"Initially it presented as just a fan who needed first aid," Reifert said. "It was just a wound. No one understood what, that it was a bullet or a gunshot. So there was kind of this time delay as that person got treatment, then as they started to investigate a little bit more, we started to understand what may have happened."
Detectives continue to investigate and anyone with information is encouraged to call 312-747-8380 or submit an anonymous tip through CPDTIP.com.
A concert by Vanilla Ice and other I Love the 90s Tour performers was scheduled after the game concluded but was canceled "due to technical issues," a message on the scoreboard read at the end of the game.
Reifert said Saturday the show was canceled because police needed lights on and fans out of the area to investigate.
Vanilla Ice took to TikTok Saturday to discuss the cancelation and shooting.
"At the end of the game, there was a shooter," he said. "Nobody died, but, uh, you know, some nutjob kind of ruined the night for everybody. I just want to say, you know, to the city of Chicago, to the state of Illinois, to all of the organization of all baseball in general, just, they didn't deserve this."
Mayor Brandon Johnson addressed the shooting Saturday, saying Saturday evening's game will go on as scheduled, ABC 7 Chicago reported.
"I understand it's under investigation right now," Johnson said. "The game is still scheduled for this evening, and the local police department is doing everything that they can within their power to make sure that we keep people safe."
Ald. Nicole Lee (11th Ward) said in a statement that she was "shocked and sickened," according to the Sun-Times.
"As Alderman of this ward and as a fan who has attended many Sox games, I am shocked and sickened by what happened last night, and my heart goes out to the gunshot victims," Lee said. "I am in ongoing communication with both the Chicago Police Department and the White Sox organization, and it is my promise to our community and our city that we will get to the bottom of this."
This is a developing story.
---