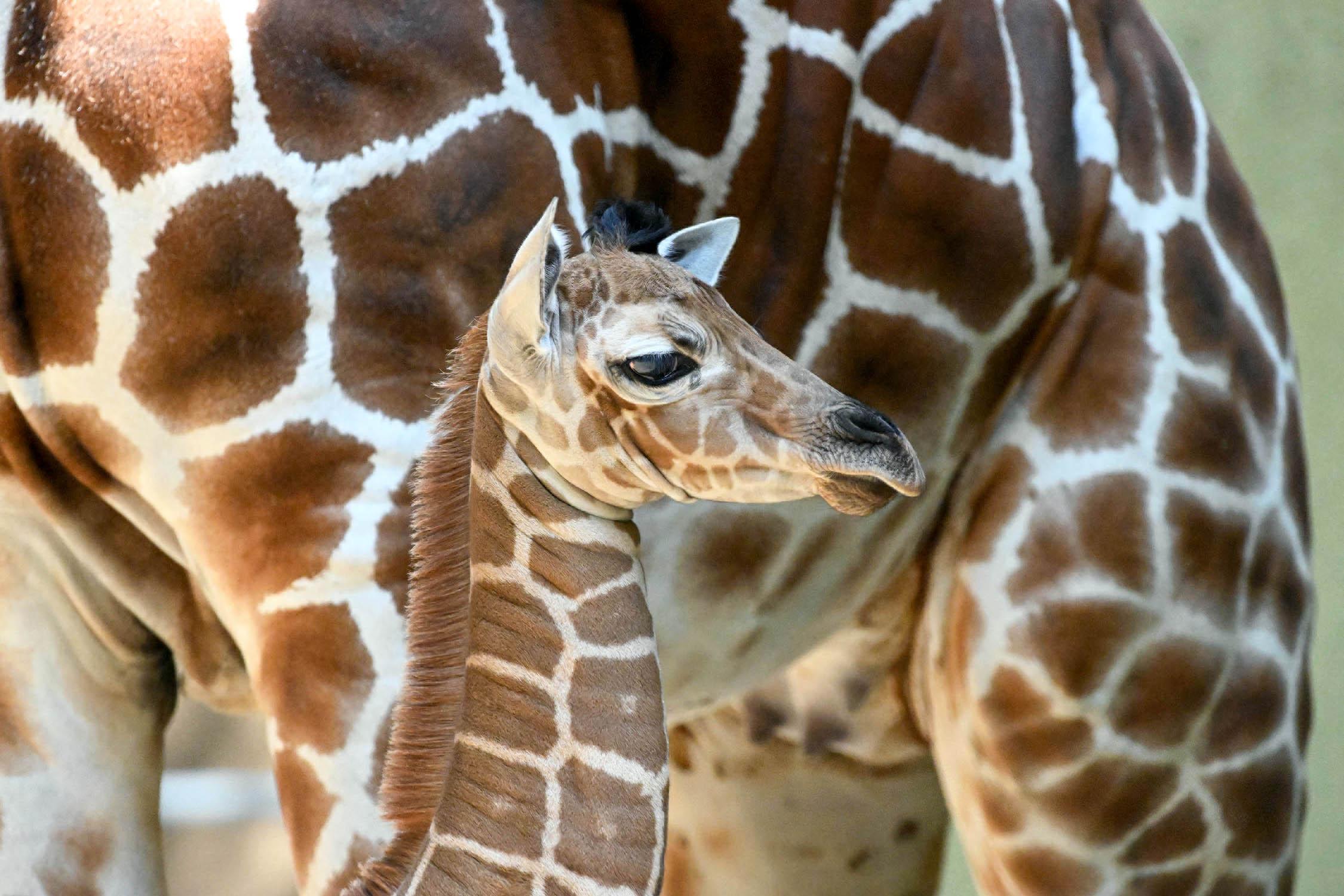 Meet Brookfield Zoo's baby giraffe, born Aug. 19. (Jim Schulz / CZS-Brookfield Zoo)
Brookfield Zoo is celebrating the arrival of a female reticulated giraffe calf, born Aug. 19, the Chicago Zoological Society announced Monday.
The newcomer — the 60th giraffe born at the zoo since 1940 — measured approximately 6 feet tall and weighed 130 pounds. The baby is expected to remain behind the scenes with mom Arnieta until early September to allow time for mother-daughter bonding, according to zoo staff.
The birth is the first for 16-year-old Arnieta in more than a decade and follows a pair of miscarriages in 2020 and 2021.
Based on those two previous losses, Brookfield's veterinary staff worked with reproductive experts at Omaha's Henry Doorly Zoo and Aquarium to develop a treatment that would address what was suspected to be a lack of hormone production during Arnieta's prior pregnancies and/or potentially an infection.
As a result, Arnieta was able to successfully carry her calf to term.
"We hope the collaborative efforts and knowledge gained in caring for Arnieta during her pregnancy will be useful in helping other species with similar reproductive complications have successful births in professional care," said Joan Daniels, senior director of hooved mammal care and conservation for the Chicago Zoological Society, which manages Brookfield Zoo. 
The calf's sire is 7-year-old Ato, who arrived at Brookfield Zoo in 2017. This is his first offspring. 
The pairing of Arnieta and Ato was recommended by the Association of Zoos and Aquariums' Species Survival Plan, which manages the breeding of a species to maintain a healthy and self-sustaining population that is genetically diverse.
Reticulated giraffes are found across northern and northeastern Kenya and small populations also exist in southern Ethiopia and along the southeastern border of Somalia. The Giraffe Conservation Foundation (GCF) estimates that only about 16,000 individuals remain in their native habitat.
Contact Patty Wetli: @pattywetli | (773) 509-5623 |  [email protected]
---