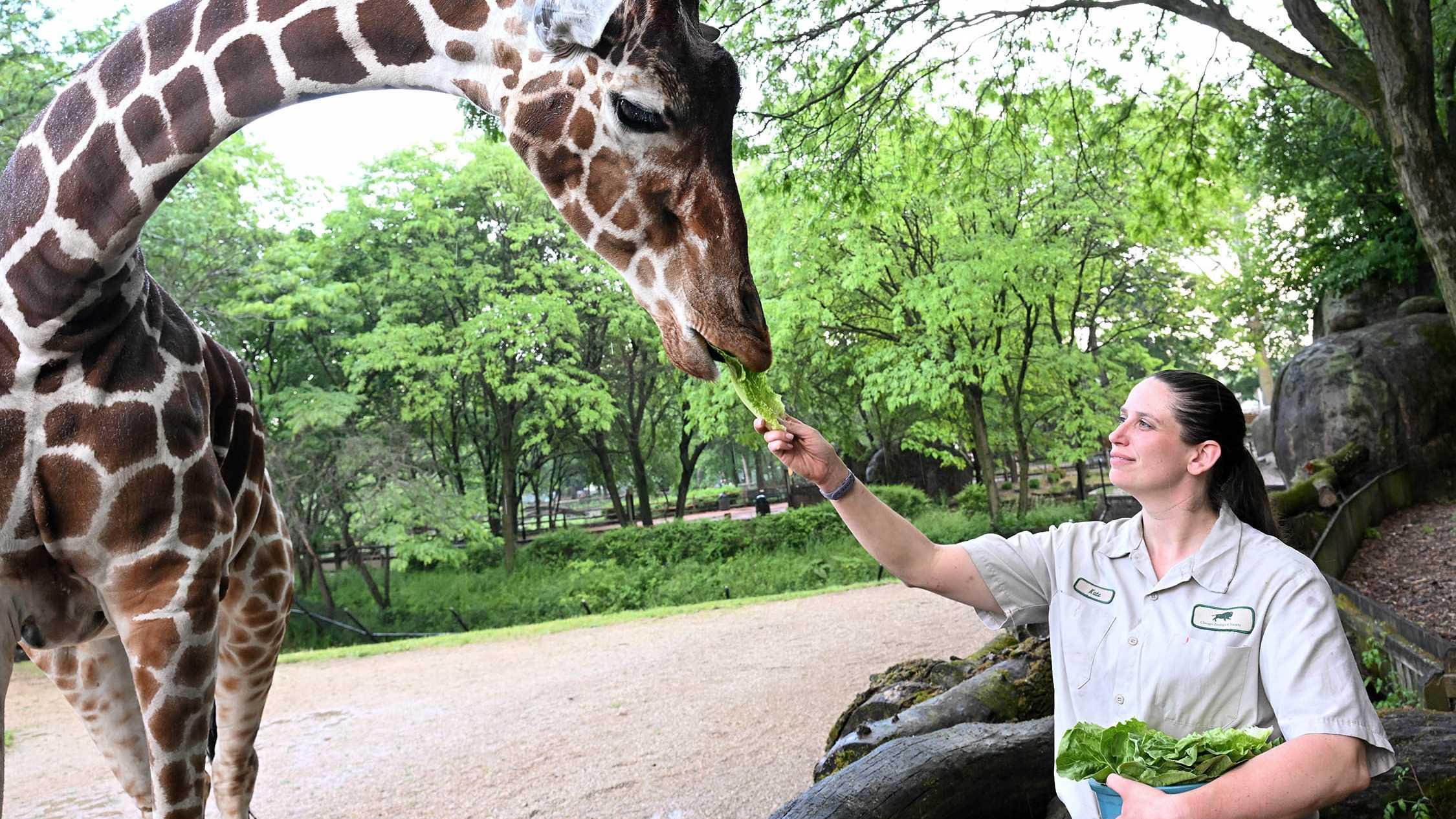 Kate Jungiewicz, an animal care specialist at Brookfield Zoo, feeds Arnieta, a pregnant 16-year-old reticulated giraffe, prophylactic antibiotics hidden between leaf lettuce. (Jim Schulz / CZS-Brookfield Zoo)
Brookfield Zoo has really big news to share: It's on baby watch for a new giraffe.
Arnieta, a 16-year-old reticulated giraffe, is expecting and due to deliver sometime between mid-July and late August, according to zoo officials.
If all goes well, it will be the first birth for Arnieta in more than a decade, and follows a pair of miscarriages in 2020 and 2021.
Based on those two previous losses, the zoo's veterinary staff has since been working closely with reproductive experts at Omaha's Henry Doorly Zoo and Aquarium to support Arnieta.
Borrowing from both animal and human medicine, the two institutions created an innovative plan designed to address what was suspected to be a lack of hormone production during Arnieta's prior pregnancies and/or potentially an infection.
Shortly after her pregnancy was confirmed in summer 2022 — giraffe gestation lasts a whopping 14 to 15 months — Arnieta was given liquid synthetic progesterone that was mixed in beet pulp and prophylactic antibiotics placed between leaf lettuce to help her hormone levels stay intact and prevent the risk of infection. (She's been weaned off the hormones to ensure a timely delivery.)
"Hopefully the knowledge learned from her case will be useful in assisting other zoological experts in providing infertility care to not only giraffes but other species that may have complications during pregnancies," said Dr. Mike Adkesson, president and CEO of the Chicago Zoological Society and director of Brookfield Zoo.
Giraffes typically leave their herd temporarily before giving birth for the safety and privacy of the mother and calf. As her due date approaches, Arnieta will be separated from the other giraffes at Brookfield Zoo and provided with a private birthing stall and outdoor area.
Newborn giraffes are usually 6 feet tall and tend to weigh between 150 and 200 pounds and are able to stand and walk within an hour. 
Brookfield Zoo has been home to giraffes since opening in 1934, and has seen 60 successful births over the decades.
The current giraffe herd includes Arnieta, Ato (the baby's daddy), Potoka, Jasiri and 2-year-old Asha, who arrived at the zoo in May.
Contact Patty Wetli: @pattywetli | (773) 509-5623 |  [email protected]
---