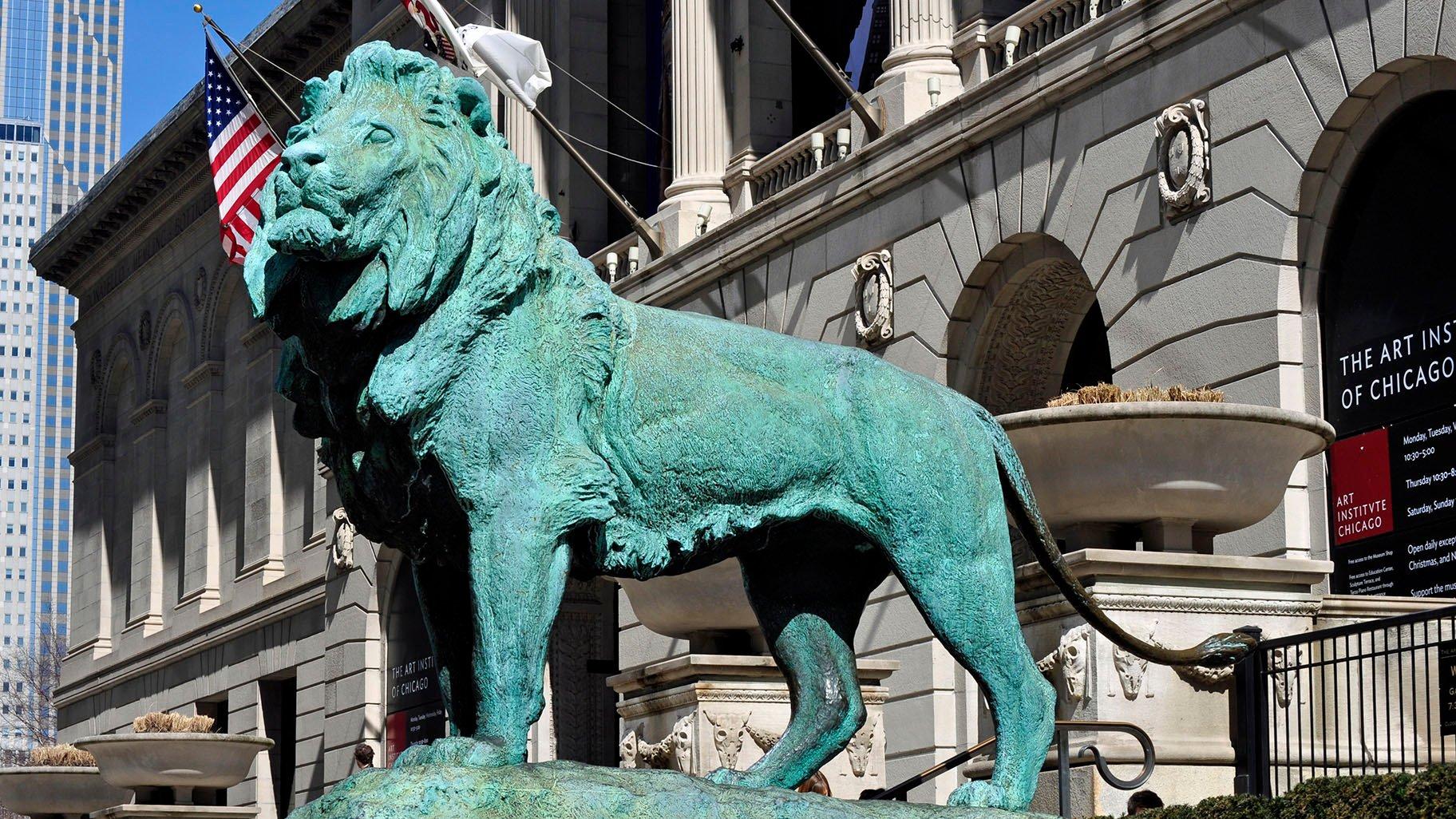 South lion at the Art Institute of Chicago. (Heather Paul / Flickr)
More than 500 staffers at the Art Institute of Chicago and its school approved their first union contract with the renowned museum, organizers announced Tuesday morning.
Art Institute of Chicago Workers United, an AFSCME affiliate, was the first in a unionization wave that's swept across local museums and cultural institutions. After unionizing in January of last year, the union's bargaining team reached a tentative deal with management on July 31 that workers approved over the past week.
Under the terms of the deal, employees throughout the unit will see pay rise between 12.25% and 16.25%, with a new minimum hourly rate of $18 taking effect in 2025. The four-year contract also keeps health insurance premiums status quo in the coming fiscal year, and creates a labor-management committee aimed at resolving workplace issues and maintaining open lines of communication.
"We all love the museum and are very excited to work here, but we definitely thought there was room for improvement so that our experience could also match our values," paper conservator María Cristina Rivera told WTTW News in a June interview.
In a release from organizers, AFSCME Council 31 Executive Director Roberta Lynch hailed the unprecedented deal, saying that "AIC and SAIC employees are improving their working lives and blazing the trail for other cultural workers in Chicago and beyond."
"The Art Institute deeply values its employees and is happy to have reached a contract agreement that meets the needs of our staff and allows us to continue providing a world-class education and cultural experience," the Art Institute's Executive Vice President for Finance and Administration Alexandra Holt said in the same release. "This process has been an important step in building the future of our institution and we are so pleased to all move forward together."
Separately, about 600 non-tenure track faculty at the School of the Art Institute are currently negotiating their first contract.
While the Art Institute was the first major cultural institution in the city to see employees unionize, it's hardly alone.
In June, workers at the Museum of Science and Industry voted in favor of unionization, according to results from organizers. Museum management has argued some staffers who voted were ineligible to do so, and the National Labor Relations Board has yet to formally certify the results.
This past March, Field Museum employees also voted to organize and are preparing to begin the bargaining process.
Additionally, employees at the Peggy Notebaert Nature Museum and the Newberry Library have voted to unionize. Workers at both organizations are currently negotiating their first contracts.
Contact Nick Blumberg: [email protected] | (773) 509-5434 | @ndblumberg
---