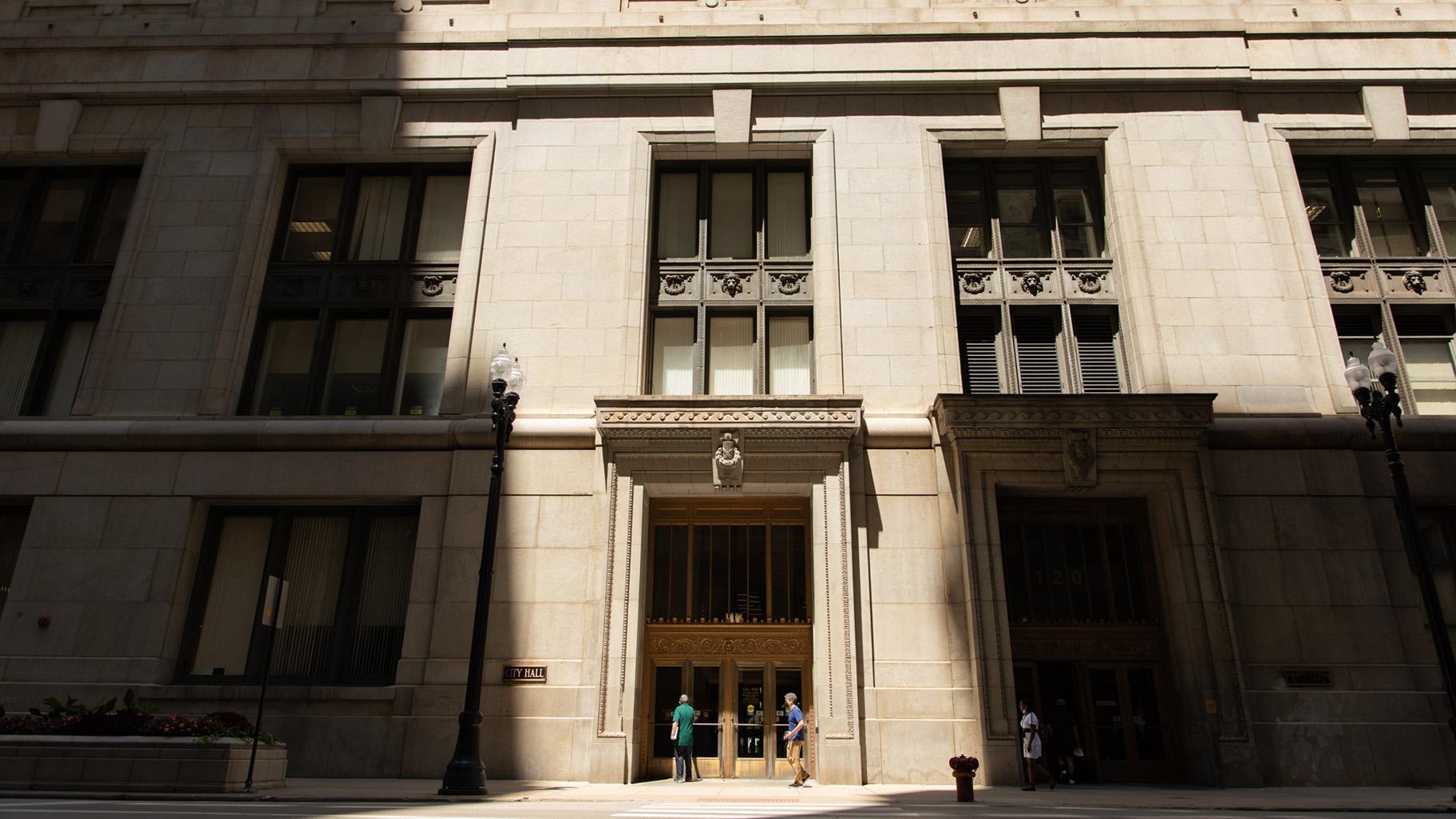 Chicago City Hall. (Michael Izquierdo / WTTW News)
Chicago's inspector general will be limited to no more than two four-year terms under a measure unanimously approved Wednesday by the City Council.
Inspector General Deborah Witzburg backed the term limit, saying it will protect the watchdog's independence and bring "stability, order, independence" to the office, which oversees all city departments and contractors as well as the mayor's office, City Council and its committees.
Allowing an inspector general to serve more than eight years runs the risk of compromising the agency's integrity by becoming either too friendly with, or too antagonistic toward, the people and the agencies they oversee, said Witzburg, whose first term in office expires in 2026.
The measure is the first substantive piece of legislation authored by Ethics Committee Chair Ald. Matt Martin (47th Ward), who took over the panel with the support of Mayor Brandon Johnson.
The measure also changes the way inspector generals are appointed or replaced by setting deadlines for nomination and requires officials to disclose if they hire a firm to conduct a search for a new watchdog. In addition, the ordinance would tap the office's general counsel to serve as an interim inspector general during a vacancy.
The measure would also allow the deputy inspector general for public safety to stay in office even if the top spot is vacant.
The measure was prompted by the turmoil that engulfed the office after Lightfoot declined to reappoint former Inspector General Joseph Ferguson, who left office in October 2021, after 12 years in office. Chicago was without a City Council-confirmed watchdog for six months, outraging advocates for good government.
In other action, the City Council unanimously agreed to spend $2.9 million to purchase a Lincoln Square motel and transform it into a shelter for unhoused Chicagoans suffering from medical, mental health or substance abuse problems as part of an effort to make a pandemic-era program permanent.
Ald. Andre Vasquez (40th Ward) said he was hopeful that the motel would prove to be a model to stabilize Chicagoans in greatest need for help by offering them the "dignity of their own units and the dignity of their own support system."
Once part of motel row that lined Lincoln Avenue to the city's northwest border, the program calls for the Diplomat's 46 rooms to be renovated into 40 units designed to house people for three to six months as they get medical care and transition into permanent homes.
The City Council also gave the green light to a proposal to establish a working group that will craft a plan to test the ability of city crews to clear not just Chicago's roads but also its sidewalks of snow and ice during winter storms.
Groups advocating improvements to Chicago's walking, biking and transit infrastructure have been pushing city officials to take responsibility for clearing sidewalks of snow for months, saying the city has an obligation to ensure people with disabilities and other vulnerable residents can get around safely.
After the working group completes its work, a proposal to launch and fund a pilot program to test whether the city should be responsible for plowing the sidewalks will return to the City Council for approval.
Despite Mayor Brandon Johnson's support of the plan, it faced an onslaught of criticism from several City Council members who warned was setting itself up to overpromise and under-deliver snow removal in a city where residents take shoveling and plowing very seriously.
However, supporters of the plan said leaders owed it to residents to at least consider expanding city services — and not to give up on efforts just because it seems too difficult.
Contact Heather Cherone: @HeatherCherone | (773) 569-1863 | [email protected]
---