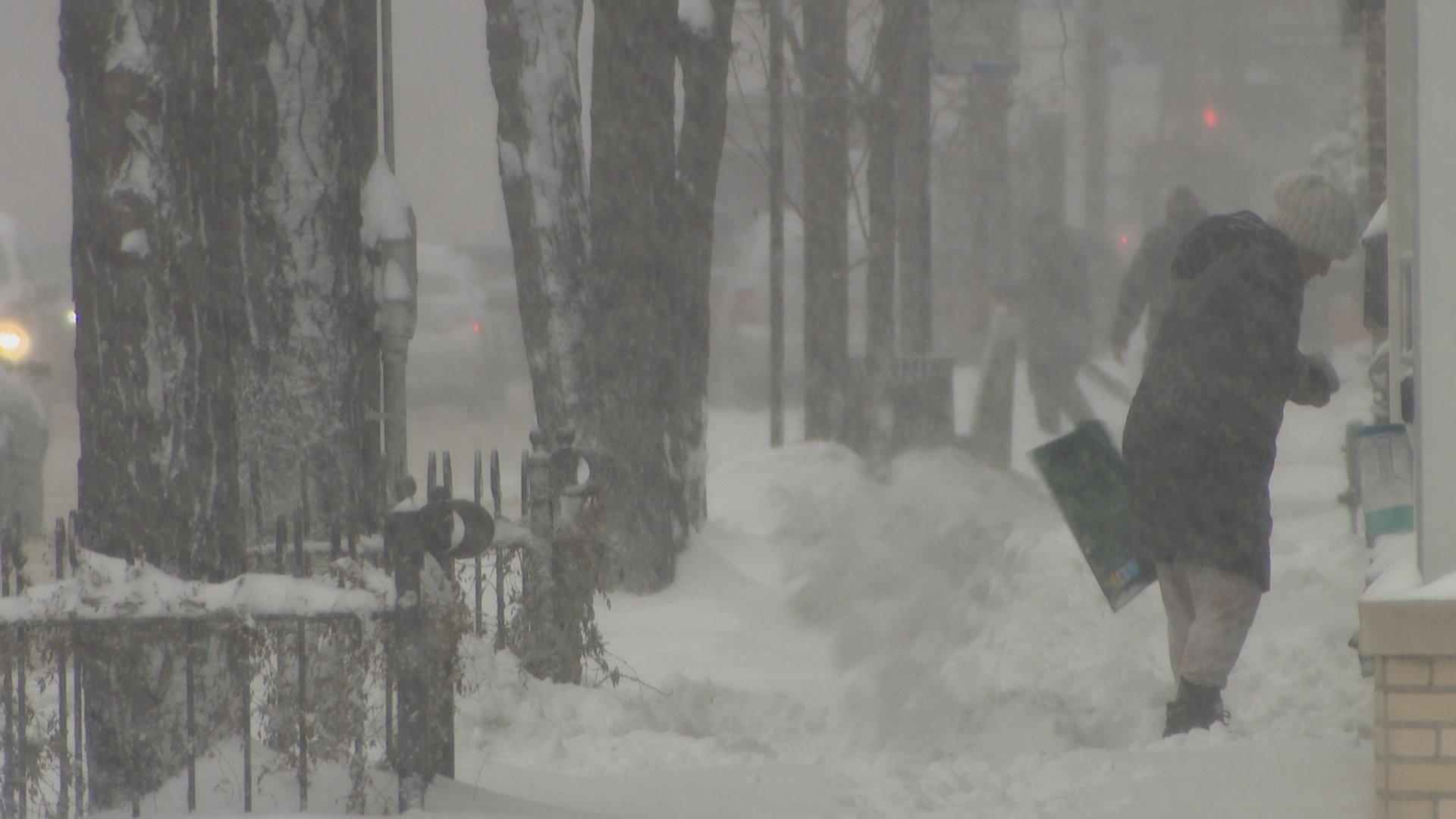 (WTTW News)
A proposal to test the ability of city crews to clear not just Chicago's roads but also its sidewalks of snow and ice during winter storms inched forward Friday with the endorsement of a key city panel.
Groups advocating improvements to Chicago's walking, biking and transit infrastructure have been pushing city officials to take responsibility for clearing sidewalks of snow for months, saying the city has an obligation to ensure people with disabilities and other vulnerable residents can get around safely.
Efforts by Ald. Gilbert Villegas (36th Ward) to include $750,0000 for the program — dubbed "Plow the Sidewalks" — in the city's 2023 budget failed in the face of a cool reception from former Mayor Lori Lightfoot.
But warmed by the support of Mayor Brandon Johnson and Ald. Daniel La Spata (1st Ward), the chair of the City Council's Pedestrian and Traffic Safety Committee, Villegas dug up his proposal.
After hours of debate and a lengthy recess, the Pedestrian and Traffic Safety Committee agreed Friday to create a working group of city officials and charge them with crafting a pilot program to clear the sidewalks. That group will figure out which sidewalks will be cleared during the test run, who will do the work and how much it will cost, according to the proposal.
The working group will include representatives of the mayor's Office of People with Disabilities and the Department of Streets and Sanitation and faces a deadline of May 31, 2024, with the goal of city-funded crews clearing the first sidewalks of ice, slush and snow in January 2025.
The full City Council will consider that proposal on Wednesday, but the real battle over whether the city should be responsible for plowing the sidewalks will come during the negotiations that will shape the city's 2024 budget, Johnson's first spending plan.
Villegas and La Spata were pelted with questions about the plan from other members of the committee, concerned that the City Council was setting itself up to overpromise and underdeliver snow removal in a city where residents take shoveling and plowing very seriously.
"You're setting yourself up to fail and fail miserably," said Ald. Marty Quinn (13th Ward). "And if history suggests anything in this city, it's that people lose elections because of snow."
That opposition forced Villegas and La Spata to revise their proposal on the fly during Friday's meeting, dropping an effort to give final approval for the pilot program on Friday.
Before that test could start, the detailed proposal crafted by the working group will have to return to the full City Council for approval.
City law requires building owners to clear the sidewalk near their properties, and they can face fines if they fail to do so.
The original proposal would have launched the pilot program in dense neighborhoods and those pockmarked by vacant lots.
Toronto and Montreal in Canada, and Syracuse and Rochester in New York already have sidewalk clearance programs, as well as suburbs like Forest Park, Villegas said.
Contact Heather Cherone: @HeatherCherone | (773) 569-1863 | [email protected]
---