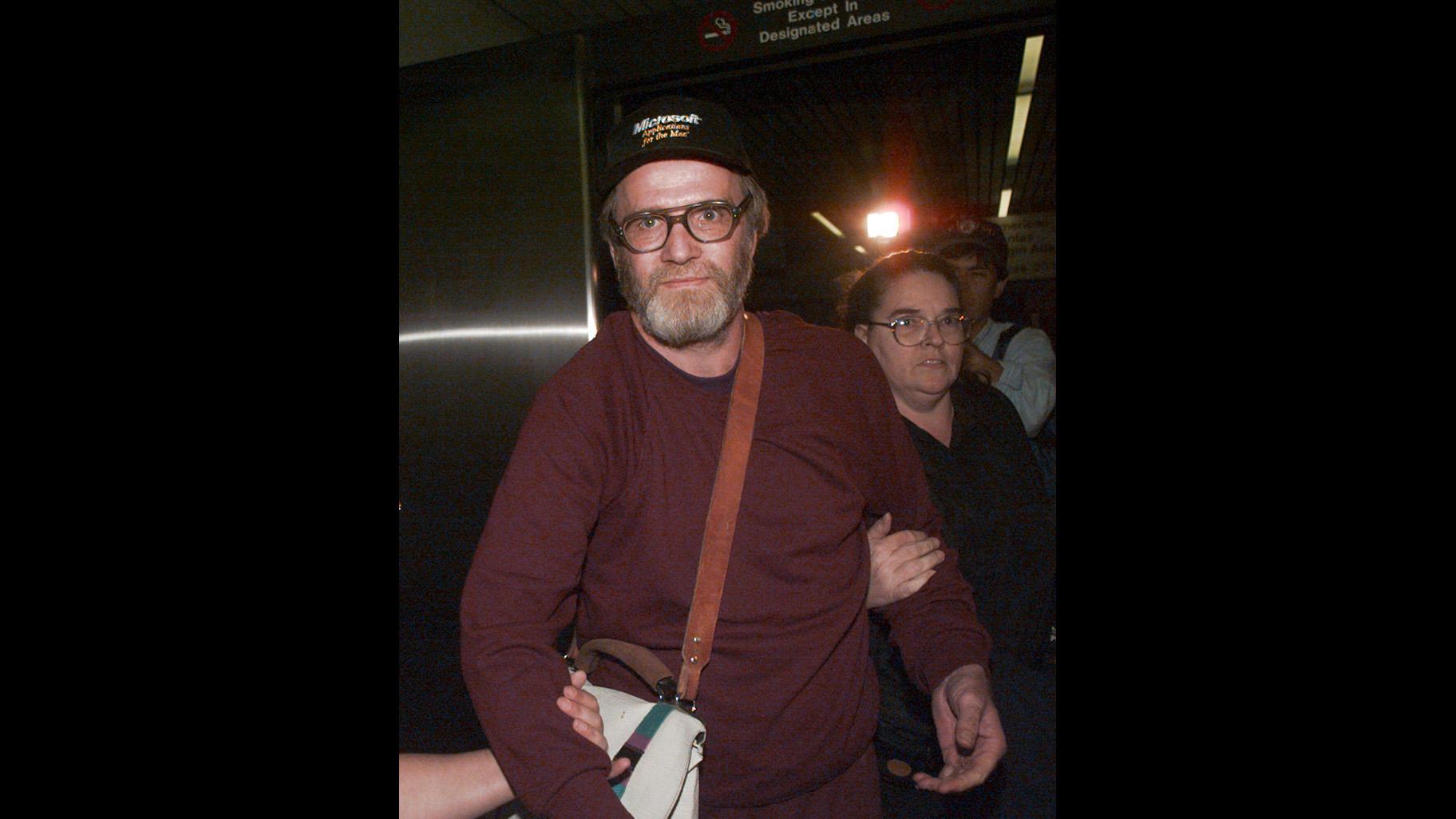 James Lewis is escorted through Boston's Logan Airport, Friday Oct. 13, 1995, after being released from the Federal Correctional Institution in Oklahoma. (AP Photo / Charles Krupa, File)
CAMBRIDGE, Mass. (AP) — The suspect in the 1982 Tylenol poisonings that killed seven people in the Chicago area and triggered a nationwide scare has died, police confirmed on Monday.
Officers, firefighters and EMTs responding to a report of unresponsive person about 4 p.m. Sunday found James Lewis dead in his Cambridge, Massachusetts, home, Cambridge Police Superintendent Frederick Cabral said in a statement. He was 76, police said.
"Following an investigation, Lewis' death was determined to be not suspicious," the statement said.
The Chicago Tribune was first to report the news of Lewis' death.
No one was ever charged in the deaths of seven people who took the over-the-counter painkillers laced with cyanide. Lewis served more than 12 years in prison for sending an extortion note to manufacturer Johnson & Johnson, demanding $1 million to "stop the killing." He and his wife moved to Massachusetts in 1995 following his release. Listed numbers for his wife were not in service.
When Lewis was arrested in New York City in 1982 after a nationwide manhunt, he gave investigators a detailed account of how the killer might have operated. Lewis later admitted sending the letter and demanding the money, but he said he never intended to collect it. He said he wanted to embarrass his wife's former employer by having the money sent to the employer's bank account.
Lewis, who had a history of trouble with the law, always denied any role in the Tylenol deaths, but remained a suspect and in 2010 gave DNA samples to the FBI. He even created a website in which he said he was framed. Although the couple lived briefly in Chicago in the early 1980s, Lewis said they were in New York City at the time of the poisonings.
In a 1992 interview with The Associated Press, Lewis explained that the account he gave authorities was simply his way of explaining the killer's actions.
"I was doing like I would have done for a corporate client, making a list of possible scenarios," said Lewis, who maintained his innocence. He called the killer "a heinous, cold-blooded killer, a cruel monster."
The FBI seized a computer and other items from Lewis' home in February 2009 after Illinois authorities renewed the investigation.
The FBI's Chicago office at the time cited "advances in forensic technology" and said it, along with the Illinois State Police and local police departments, was conducting a "complete review of all evidence developed in connection," with the killings.
In a span of three days beginning Sept. 29, 1982, seven people — including a 12-year-old girl — who took cyanide-laced Tylenol in the Chicago area died, triggering a nationwide recall of the product. The poisonings led to the widespread adoption of tamperproof packaging for many over-the-counter medications.
Lewis had prior run-ins with the law.
In 1978, he was charged in Kansas City, Missouri, with the dismemberment murder of Raymond West, 72, who had hired Lewis as an accountant. The charges were dismissed because West's cause of death was not determined and some evidence had been illegally obtained.
He was convicted of six counts of mail fraud in a 1981 credit card scheme in Kansas City accused of using the name and background of a former tax client to obtain 13 credit cards.
Lewis was charged in 2004 with rape, kidnapping and other offenses for an alleged attack on a woman in Cambridge. He was jailed for three years while awaiting trial, but prosecutors dismissed the charges on the day his trial was scheduled to begin after the victim refused to testify, the Middlesex County District Attorney's Office said at the time.
Police in 1983 described Lewis as a "chameleon" who lived in several states, used at least 20 aliases and held many jobs, including computer specialist, tax accountant, importer of Indian tapestries and salesman of jewelry, pharmaceutical machinery and real estate.
The lack of accountability in the case has long frustrated victims' families.
Monica Janus, who was 8 years old when three members of her family died after taking the tainted medication, told CBS Chicago in 2022 that she thought the investigation was "really sloppy."
Lewis' wife was out of town and contacted a neighbor when she could not get a hold of her husband, and the neighbor contacted police, Cabral said.
---