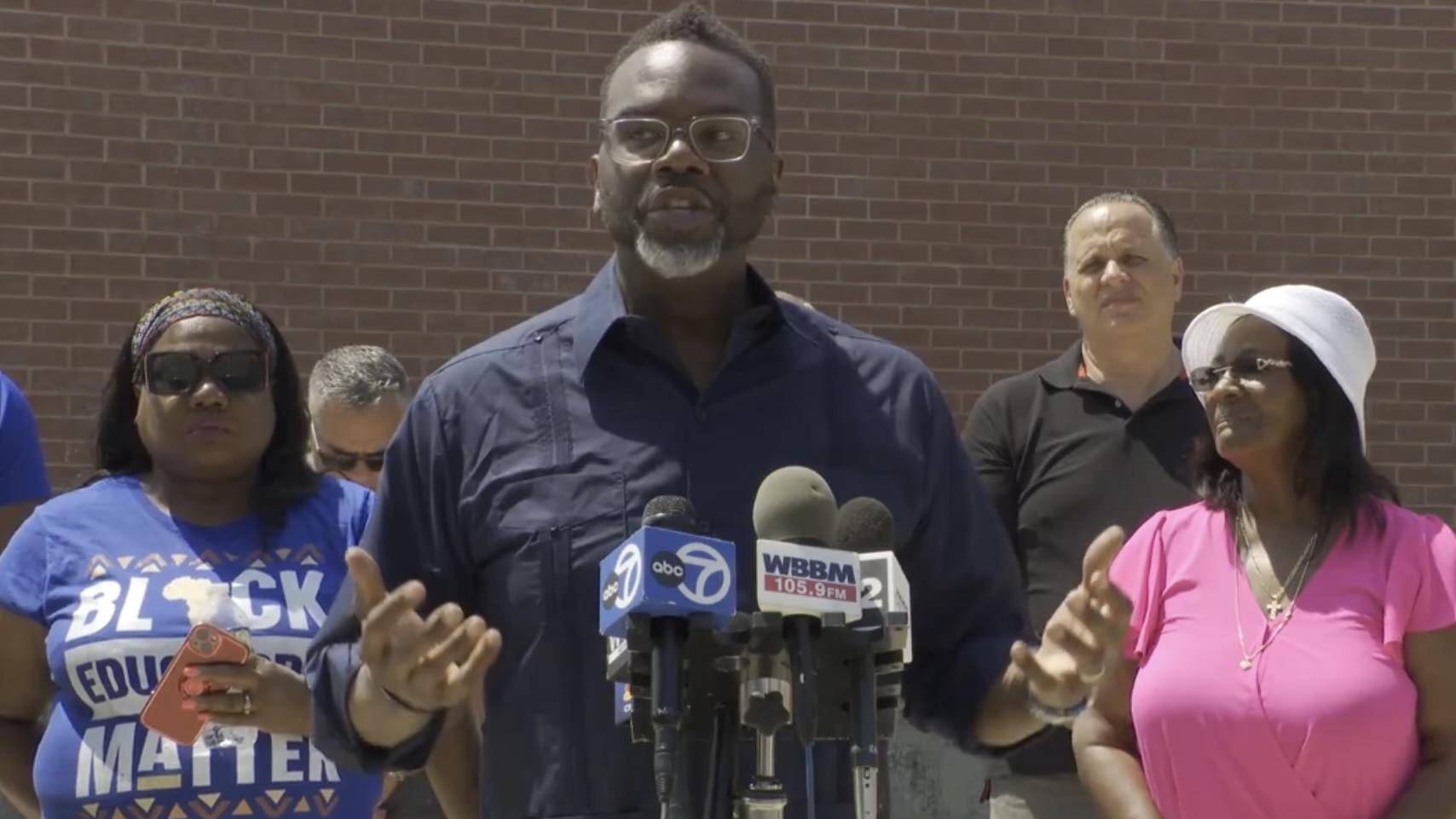 Mayor Brandon Johnson addresses the news media on Monday, July 3, 2023. (Mayor's Office)
More than 2,000 Chicagoans called city officials to report their basements flooded as a result of Sunday's "unprecedented" deluge, which dumped nearly 9 inches of rain on Chicago, officials said Monday.
Another 500 people called the city's 311 system to report that streets were impassable because of water, said Rich Guidice, Mayor Brandon Johnson's chief of staff.
The "full force" of government will respond to those who need help clearing out flooded basements, Johnson said.
Chicago's West Side bore the brunt of the fury of the storm that also caused widespread flash flooding and delayed NASCAR's Chicago road race through the streets of downtown, with at least 8.12 inches of rain falling in Garfield Park between 8 a.m. and 6 p.m. Sunday. By comparison, 3.35 inches of rain fell at O'Hare International Airport, on the city's Far Northwest Side.
The last time Chicago saw nearly 9 inches of rain was Aug. 13-14, 1987, according to the National Weather Service. On average, the city gets 3.7 inches of rain during all of July, according to the National Weather Service.
"Clearly, the earth is speaking to us, loud and clear," Johnson said, calling the storm another example of extreme weather caused by climate change and warning Chicagoans that it would not be the last to disrupt their lives and threaten their property. "This was unprecedented."
Johnson blamed the "failed policies of the past" for making Chicagoans vulnerable to strong storms, and said he would act where other elected leaders had not.
While Johnson said his Austin home was largely spared by the storm, Ald. Emma Mitts (37th Ward) said her basement took on three and a half feet of water, ruining couches and electrical outlets.
"This is devastating," Mitts said.
Johnson said he was hopeful that funds from the bipartisan infrastructure bill signed into law by President Joe Biden in 2021 would help Chicago transform its infrastructure to withstand extreme weather events while creating new jobs and making the city more environmentally sensitive.
In addition, Johnson reiterated his vow to reestablish the city's Department of Environment to lead that effort.
"I'm going to move with the type of urgency and expediency that the people of Chicago want," Johnson said.
Contact Heather Cherone: @HeatherCherone | (773) 569-1863 | [email protected]
---