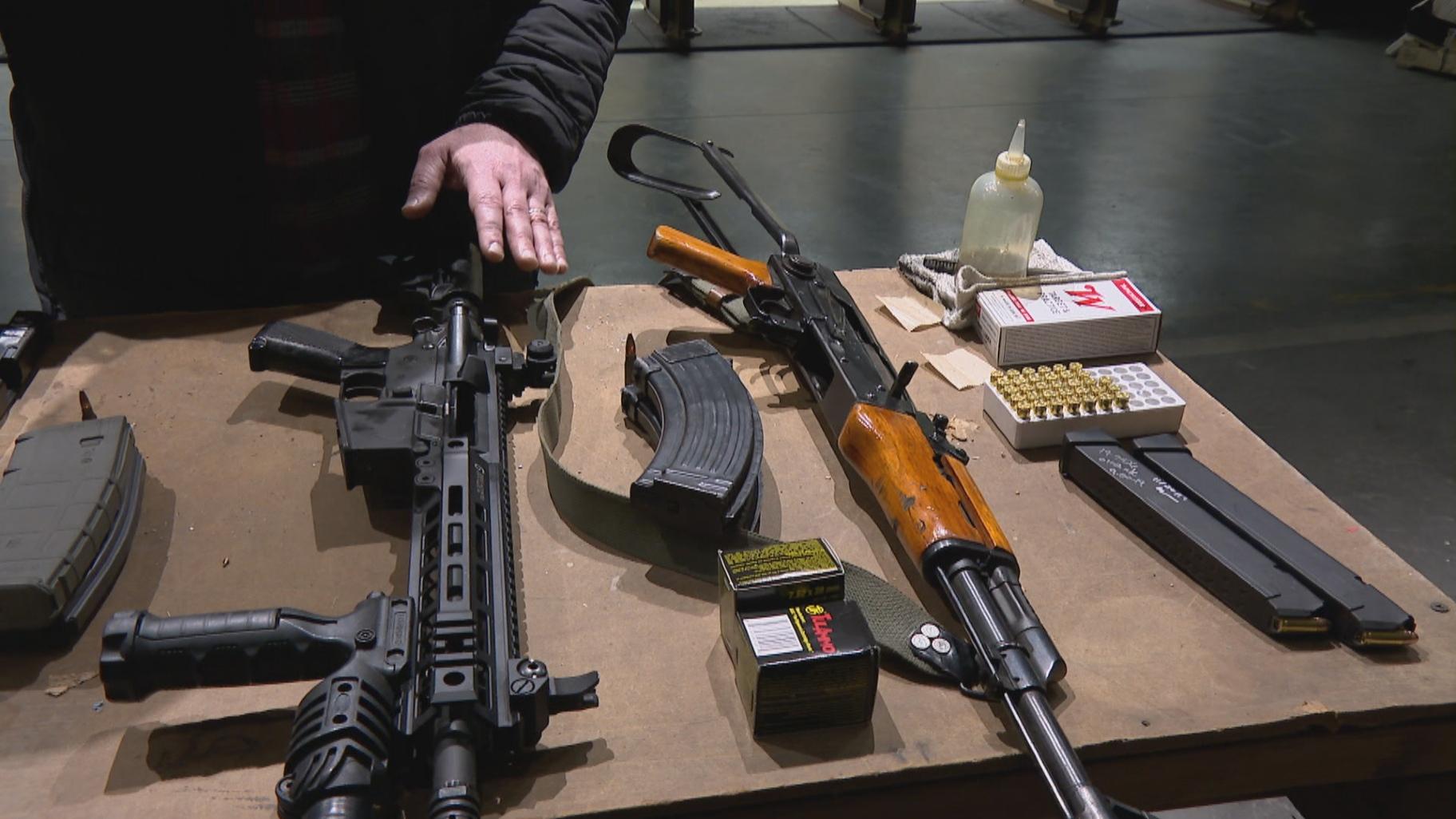 (WTTW News)
The first, primary objective was to stay safe from the gunfire that poured down on Highland Park's Fourth of July parade last year, indiscriminately and randomly taking seven lives.
But it didn't take long for elected officials, who themselves had been marching in the parade, to turn their focus to what could be done to prevent another such tragedy.
State Rep. Bob Morgan, D-Deerfield, recalls waiting at the local fire station, which served as the command center during the emergency, for police to apprehend the alleged shooter, and having conversations with Mayor Nancy Rotering and others about a ban on assault weapons.
Guns deemed assault weapons and large capacity magazines have been banned in the north suburban town since the Highland Park City Council passed a local ordinance in the wake of the mass shooting at Connecticut's Sandy Hook Elementary School.
Highland Park was one of an estimated 16 communities in Illinois to restrict firearms before a deadline that disallowed municipalities from doing so in the future as part of a 2013 state law legalizing concealed carry.
Rotering and other local officials have championed the need for reopening the window so other municipalities could do the same, or better still, for statewide and national bans on certain guns.
Their calls would amplify with each mass shooting in America.
Spurred by the mass shooting at a school in Uvalde, Texas, Morgan said he, state Sen. Julie Morrison, D-Lake Forest, and U.S. Rep. Brad Schneider, a Democrat who represents the area, had jointly rallied for an assault weapons only a week or so before last summer's Independence Day celebrations, a mere a block from where the Highland Park shooter would later perch on a rooftop with a Smith & Wesson M&P 15 semiautomatic rifle.
That weapon is among the hundreds that can no longer be sold in Illinois.
Years of Stalled Efforts
It seemingly took a hometown tragedy to make it happen, but in January the statewide assault weapons ban they'd spent almost a decade fighting for became law (HB5471/Public Act 102-116) – one of several measures Illinois legislators took in direct connection to the shooting.
To Morgan, there's little doubt about the timing.
"Absolutely there was something about the Highland Park shooting that cut through political boundaries and geographic parts of the state, because everyone was faced with the reality that it could have been their Fourth of July parade," Morgan said. "And in the immediate aftermath, we transformed and passed a number of laws in a short period of time that I don't think ordinarily would have been the way we would handle gun reform, or any other issue. There's no doubt that the Fourth of July mass shooting really changed the game."
Gun-rights groups bridle at the term "assault weapons" and other phrases (military-grade, weapons of war) used to broadly categorize the types of guns covered by Illinois law. They say many of the guns and gun features Illinois has outlawed are popular, or intended to make a gun more compatible and therefore safer.
Read More: Which Guns Are Covered by Illinois' Assault Weapons Ban?
A federal appeals court last week heard arguments from gun rights organizations and gun shop owners seeking to overturn the law.
Regardless of how the legal battle plays out – and it could play out in a major fashion, with potential to ultimately go before the U.S. Supreme Court – there's little debate that the Highland Park shooting was a turning point.
Morrison for some eight years had tried to pass an assault weapons ban. She said her bills never made it out of the initial committee stage.
In contrast, it took about six months after the Highland Park shooting for the General Assembly to pass and Gov. J.B. Pritzker to swiftly sign the assault weapons ban, officially named the Protect Illinois Communities Act, into law.
Morrison said several factors were at play.
"I think H.P. is considered a very safe suburb," she said. "Also there was a coalition of people that came together that helped to fund the effort."
A well-organized, well-funded group of crusading mothers and crime victims.
There's also the political reality.
Democrats dominate the Illinois legislature, and Pritzker was ready, willing and wanting to sign an assault weapons ban.
His predecessor?
"(Republican Gov. Bruce) Rauner, not so much," Morrison said.
That the tragedy happened on Independence Day gave the effort momentum too.
"We celebrate freedom and community, and to have that destroyed on that day, it was very dramatic and I think brought a lot of extra attention," Morrison said.
Not that getting the law passed was easy.
Morgan, who took the lead in the House, said he realized he had to move quickly, "so that the memory of what had just happened could be part of the driving force."
It wasn't quick enough for some. Morgan said some advocates agitated for a special session to be called.
He said trying to explain the legislative processes' slow churn and summer break "rings hollow to someone who just lost a loved one or who is recovering from a bullet wound."
In the intervening period between the shooting and the measure's passage during the lame duck session in January, though, a lot of strategizing happened. Hearings were held. Coalitions were built.
"It had to be about more than just Highland Park," Morgan said. "Highland Park become a rallying cry, but it also became a symbol of the disparate response" from government, the public, charities and the media of a mass shooting in a primarily white and wealthy place like Highland Park, and shootings in Black, often low-income, communities frequently besieged by gun violence.
Like a shooting on another holiday – Halloween, last year – in Chicago's Garfield Park neighborhood, that killed one person and injured 14 more.
"The response to that was such a far cry from what Highland Park received. It was a reminder of the urgency of it," Morgan said. "If it waited until the spring of the next (legislative) session, I saw that as exponential increase in gun violence."
There's also the harsh reality that had lawmakers waited, the momentum would have passed.
"We live in this world where the issue of the day is constantly changing and even though gun violence would always be on the front page, the impetus to make legislative change wasn't always going to be there," Morgan said.
The law does more than forbid new sales of particular models and types of guns and ammunition. It also completely bans rapid-fire devices and extends from six months to a year the period of time that someone deemed a "red flag" can be stripped of their firearms.
And as of July 1, the law also closes what Morgan considered a loophole in tracking sales, and otherwise makes it a priority for the Illinois State Police to pursue gun traffickers.
Should the assault weapons ban be tossed by the judicial system, those provisions will stay in place, meaning that no matter what there will be considerable change on account of the law, Morgan said.
Police Drones, Gun Manufacturer Lawsuits
While Protecting Illinois Communities Act has received the lion's share of attention, the shooting at Highland's Park parade was the catalyst for other laws too, including one (HB3902 / Public Act 103-0101) that gives police greater license to use drones for crowd surveillance.
Morrison said shortly after last year's parade shooting, she met with area mayors, who told her "we need to have drones. We need the ability to put drones up in the air for our farmers markets, for our art fests, all these public things that we do. And parades."
Previously, Illinois' 2014 Freedom from Drone Surveillance Act strictly limited when police and law enforcement could use drones at special events. Drones could only be used for disaster response, with a warrant or there was a high risk of terrorism – limitations intended to protect the privacy of people attending large events.
The downside of those restrictions – the inability for police to surveil festivities like Highland Park's Fourth of July celebrations, when a drone may have noticed the alleged shooter on a rooftop before he fired – is something Morrison said she hadn't considered previously, despite (as politicians are wont to do) walking in innumerable parades.
"It was a surprise. It's not something I'd ever really contemplated. I've marched in parades for years and years and go to large events all the time and have never really considered safety issues of something like this," Morrison said.
Getting the drone measure passed "took a long time to come to fruition because we were really trying to balance public safety with the right of privacy for individuals. And what was passed and signed does that," Morrison said. "It is a concrete way to help prevent other mass shootings like this (the one in Highland Park)."
In the short time since Pritzker signed the new drone law in mid-June, Morrison said she knows of multiple occasions suburban communities have put it to use. It's apt to change operations this year as Highland Park celebrates Independence Day while remembering the lives lost last year.
Pritzker has yet to sign another measure (HB218) prompted and successfully advanced in the wake of the Highland Park killings, which will make it easier for victims of gun violence to sue firearm manufacturers for marketing their products to "encourage individuals to engage in unlawful paramilitary or private militia activity in Illinois" or for promoting guns to anyone under age 18.  
Morrison is sponsor of another law that Pritzker just signed on Friday, (HB3559) which requires school emergency response plans to incorporate provisions for law enforcement to be able to rapidly enter the school campus during an emergency.
Disbelief and anger at the slow police response to the Uvalde school shooting prompted the bill, but it was also inspired by a gun threat at Highland Park High School in April.
"All of it fits into a bucket of: For a very long time, gun legislation was thought of as a third rail, where most legislators didn't touch it because they believed it wouldn't pass," Morgan said. 
The 2019 shooting of five employees by a disgruntled worker at the Henry Pratt factory in Aurora likewise spurred action by the General Assembly. Given a felony conviction, the shooter shouldn't have legally been able to own a gun, but law enforcement never took his guns.
Years later, in 2021, Illinois passed a law (HB562 / Public Act 102-0237) that requires state police to seize weapons from individuals with revoked Firearm Owners Identification (FOID) cards and created a database of stolen guns.
In the aftermath, area lawmakers attempted to advance a bill giving police more leeway to use drones; it didn't move until after the Highland Park shooting.
Morgan said there's still work to do, namely in three areas: Solving murders and cold cases, improving laws on gun storage and "making sure we're removing firearms from those people who are dangerous to themselves or others," such as those prone to suicide or who commit domestic violence."
Surviving the Highland Park parade shooting and helped to shepherd the community through its aftermath has given Morrison a "better sense of appreciation" for what legislators who represent areas where gun violence is common go through on a regular basis.
"Those are friends, associates, people they go to church with; those are things they deal with way too often," Morrison said. "I didn't understand before (the impact of gun violence) and now I do I get what is going on in your neighborhood."
---