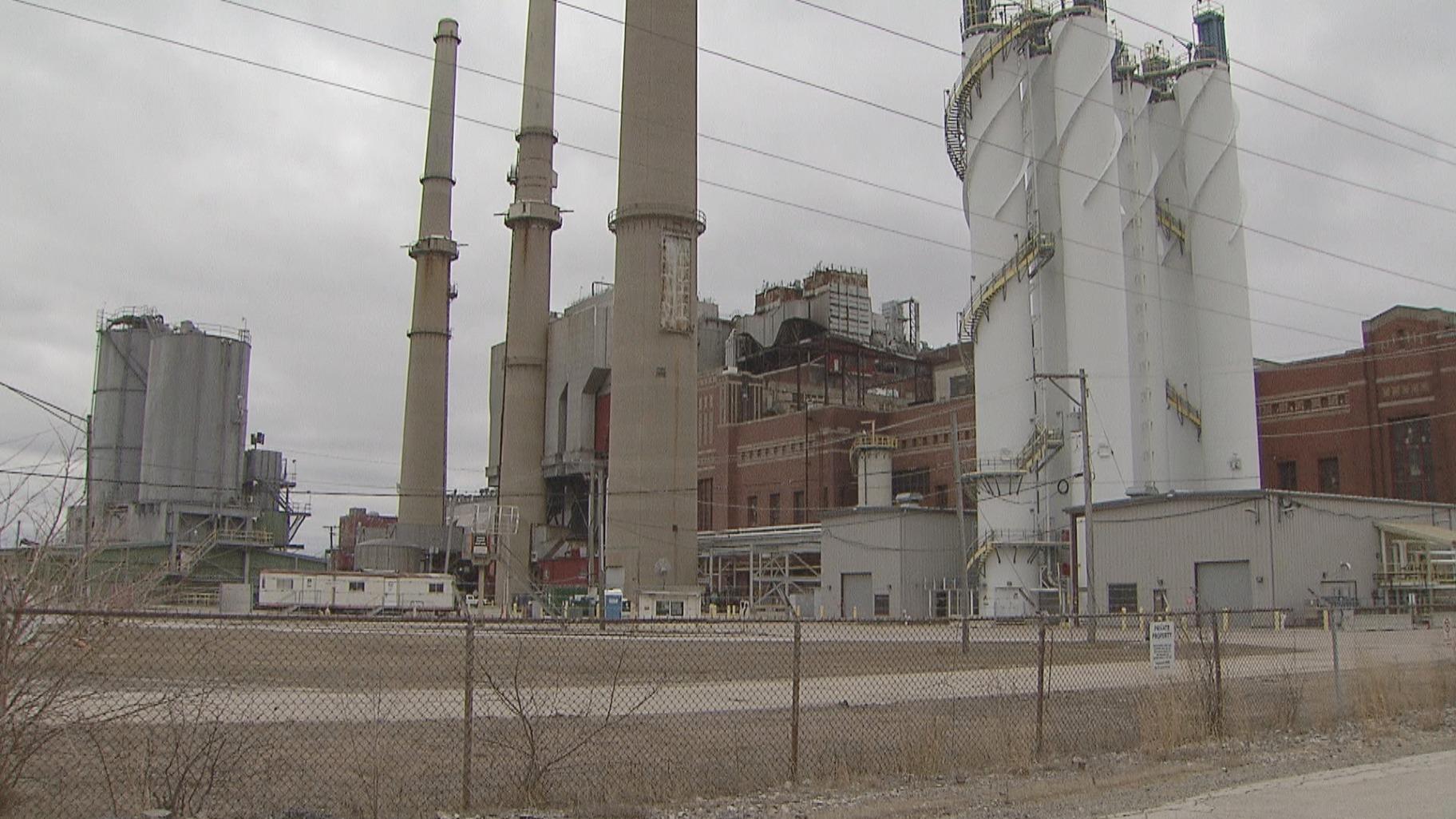 A decommissioned generating station in Waukegan is pictured in a file photo. (WTTW News)
A group of advocates rallied in Chicago on Wednesday during the Environment Protection Agency's only in-person public hearing on proposed stricter rules for leftover byproduct from shuttered coal-fired power plants.
Currently, coal combustion residuals – commonly known as coal ash – aren't subject to EPA regulation at many offline power plants. The group Earthjustice estimated there could be about half a billion tons of the material at inactive sites around the U.S., which the EPA says contains "contaminants like mercury, cadmium, chromium, and arsenic associated with cancer and various other serious health effects."
"Many facilities stored coal ash in surface (ponds), which have the potential to leak or to fail, sending coal ash and its contaminants into water sources, including surface water and groundwater," the EPA said in a fact sheet on the rule change.
"How much of this stuff do we have to put up with? How many times do we have to kick the can down the road?" clean water advocate Fred Tutman asked.
While many of the groups at Wednesday's rally were local, organizers also touted representatives from Maryland, like Tutman, and from Nevada, New Mexico and Tennessee – where a 2008 coal ash spill contaminated waterways, sickening cleanup workers and is believed to have contributed to the deaths of some.
"Coal ash is toxic. Clean coal is a lie. No such thing," said Julie Bledsoe, whose husband was one of those workers.
The nation's environmental watchdog is taking public comment on rule changes for coal ash ponds that may or may not be lined or covered that would include "requiring the proper closure of the (ponds) and remediating (coal ash)-contaminated groundwater."
The agency is also eyeing rules for coal byproduct elsewhere on inactive sites, like landfills, "to establish groundwater monitoring, corrective action, closure, and post closure care requirements for these areas."
Inactive coal ash storage was effectively grandfathered in under a 2015 EPA rule, later invalidated by a court challenge. Northwest Indiana activists were among the groups who pushed the agency to do more, saying a power plant in Michigan City set to go offline will still leave massive amounts of the toxic byproduct dangerously close to Lake Michigan. 
"This crisis is representative of a ticking time bomb where we feel like any time it's going to go off," said Ashley Williams, executive director of Just Transition Northwest Indiana. Williams said the Michigan City site endangers many local residents who are "Black, Brown, and low-income working-class people."
Organizers and lawmakers in Waukegan have also been trying to get a decommissioned generating station on the lakefront cleaned up, although a legislative effort during the most recent General Assembly session stalled.
"Waukegan knows far too well industry's practice of exploiting our communities for profit and leaving us with a mess to clean up and the bill to pay once it's no longer profitable," said Eddie Flores, co-chair of Clean Power Lake County. "Waukegan has been hurt for far too long. The EPA has a chance to protect communities like mine that have had toxic legacies."
The agency is taking public comment on the proposed rule change through July 17. While the Chicago hearing is the only in-person opportunity to weigh in, the EPA is also set to hold an online hearing on July 12.
"Our fight is not won and our struggle will be long, but I feel that there is a glimmer of light and hope on the horizon," Williams said.
Contact Nick Blumberg: [email protected] | (773) 509-5434 | @ndblumberg
---