As a century-old power plant on the shores of Lake Michigan shuts down, some residents and activists are warning the region's water supply could be at risk.
Over the next few years, Northern Indiana Public Service Company, or NIPSCO, is retiring the 130-acre Michigan City Generating Station, which has been burning coal for electricity for nearly a century.
It's also cleaning up decades of coal ash byproduct. But advocates say the coal ash NIPSCO plans to leave on the site puts groundwater and Lake Michigan in danger of contamination in Michigan City and beyond.
Michigan City is about 40 miles from downtown as the crow flies. Right next to the Indiana Dunes on the south shore of Lake Michigan, it's also home to NIPSCO's very first electric generating station.
"It will also be the last coal-fired facility we'll have on our system that's retiring by (the) 2026-2028 time frame," said Nick Meyer, vice president of state communications for NIPSCO's parent company, NiSource.
As the utility company moves toward renewable energy, it's undertaking a mandatory cleanup of coal ash, the byproduct from burning coal for power. Coal ash can contain arsenic, lead, mercury and more.
"Historically, the industry practice was to take that material (and) put it in a settling pond so it's not getting airborne," Meyer said. "Eventually … we were transporting it down to a landfill. There's still material that's here from that historical practice."
NIPSCO says it's removing more than 300,000 cubic yards of coal ash from five settling ponds, with work scheduled to wrap up by the end of this year.
Ashley Williams, who leads the group Just Transition Northwest Indiana, says NIPSCO's efforts aren't going far enough.
"Everything within the brew of coal ash is really toxic and carcinogenic. We're worried about lithium, arsenic, all of that leaking into the groundwater and ultimately into our lake," Williams said.
Williams and her group argue there could be millions of tons of coal ash left on the site – much of it in so-called made land, a mixture of the ash and material like sand and dirt. They want the utility to remove all the coal ash on the site, saying cleaning up the five settling ponds is only about 10% of what's on site in Michigan City.
Asked for a response to that claim, Meyer responded that NIPSCO is "cleaning up 100% of what we believe the issue is, related to the coal ash ponds."
"Made land … is really not unique to this site, it really exists across much of the Great Lakes," Meyer said.
But Donnita Scully, a nurse and the environmental and climate justice chair for the LaPorte County NAACP, says it's felt acutely in Michigan City.
"The individuals that are most affected by this coal ash pollution and its contaminants are African Americans, Black and Brown, and those who are poor," Scully said. "In Michigan City about 30% of the population is Black. We have a large proportion of individuals who are poor."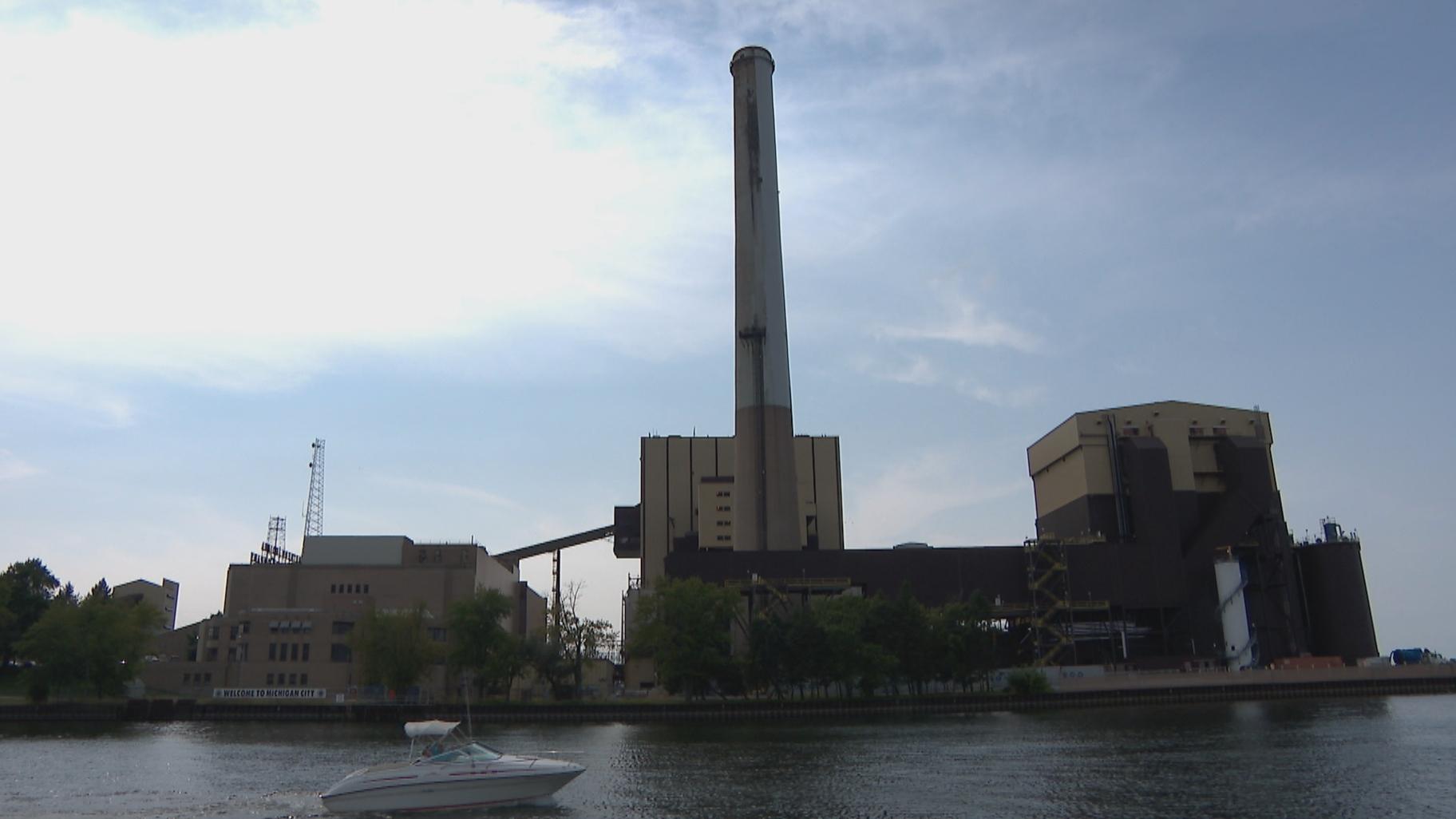 The Michigan City Generating Station has been burning coal for electricity for nearly a century. (WTTW News)
Advocates worry about coal ash seeping into groundwater – and that the nearly century-old wall keeping the made land out of Lake Michigan could start leaking or even collapse. An analysis of NIPSCO data commissioned by the group Earthjustice found "corrosion has and continues to undermine the integrity of the steel sheet pile walls."
Williams of Just Transition Northwest Indiana has gone out in a boat to look at the seawall from the lake and says it's already in disrepair.
"If the sea wall fails … it's not going to only affect minorities, or Black and Brown and poor," Scully said. "It's going to affect all of us."
NIPSCO disputes those assertions regarding the made land and the sea wall. Nick Meyer says the steel is not in imminent danger of failing, and that it'll be monitored and regulated by state and federal environmental agencies for decades.
"They ultimately make the decision or determination: what is acceptable risk, what is safe and ultimately protective for the community and for the environment," Meyer said.
But groups in Northwest Indiana say the oversight is lacking. The LaPorte County and state NAACP groups, Earthjustice and others have filed suit against the EPA, arguing the current coal ash regulations are allowing "hundreds of dangerous and leaking toxic dumps to escape critical safeguards."
"Rules like these in which hundreds of millions, billions of dollars are at stake, as well as public health and the environment, those are often litigated," said Mark Templeton, who leads the Abrams Environmental Law Clinic at University of Chicago.
Templeton says there's been a lot of regulatory back and forth during the past three presidential administrations over the coal ash rule currently in place, which came after a 2008 spill in Tennessee.
"More than a billion gallons of coal ash waste basically breached and flooded 300 acres nearby, went into local waterways, the Tennessee River, killed lots and lots of fish," Templeton said. "There were lots of workers involved in cleaning up that massive spill and many of those workers later have developed complications which they attribute to exposure."
Templeton says as more coal fired plants go offline, it's key to remember how climate change and more extreme weather might affect leftover coal ash – especially since so many generating stations are located near waterways.
"We're seeing 100-year flood events occur a couple times a decade. The engineering needs to take this into consideration," he said.
Kay Nelson directs environmental affairs for the Northwest Indiana Forum, an economic development group that works with NIPSCO. She says cleanup, remediation and protecting Lake Michigan have been and will be key to the region. But she says industry is, too.
"We still demand their services. They are doing what they do and they are doing it well in compliance with their permits," Nelson said. "When the industrialization era began, we thought mother earth could handle it all … and then we learned it couldn't continue in that fashion and we've spent the last 50 years or so making changes."
But some advocates still say those changes are inadequate.
"My hope is that the EPA will consciously consider their rule and change it, and make NIPSCO clean up 100%," Scully said.
Another unresolved question is who should pay for the Michigan City cleanup. NIPSCO wants to raise rates to help cover the $40 million cost. So far, the Indiana agency representing utility customers has recommended against that. There's a hearing scheduled Tuesday morning in Indianapolis to hear evidence as part of that request.
Contact Nick Blumberg: [email protected] | (773) 509-5434 | @ndblumberg
---