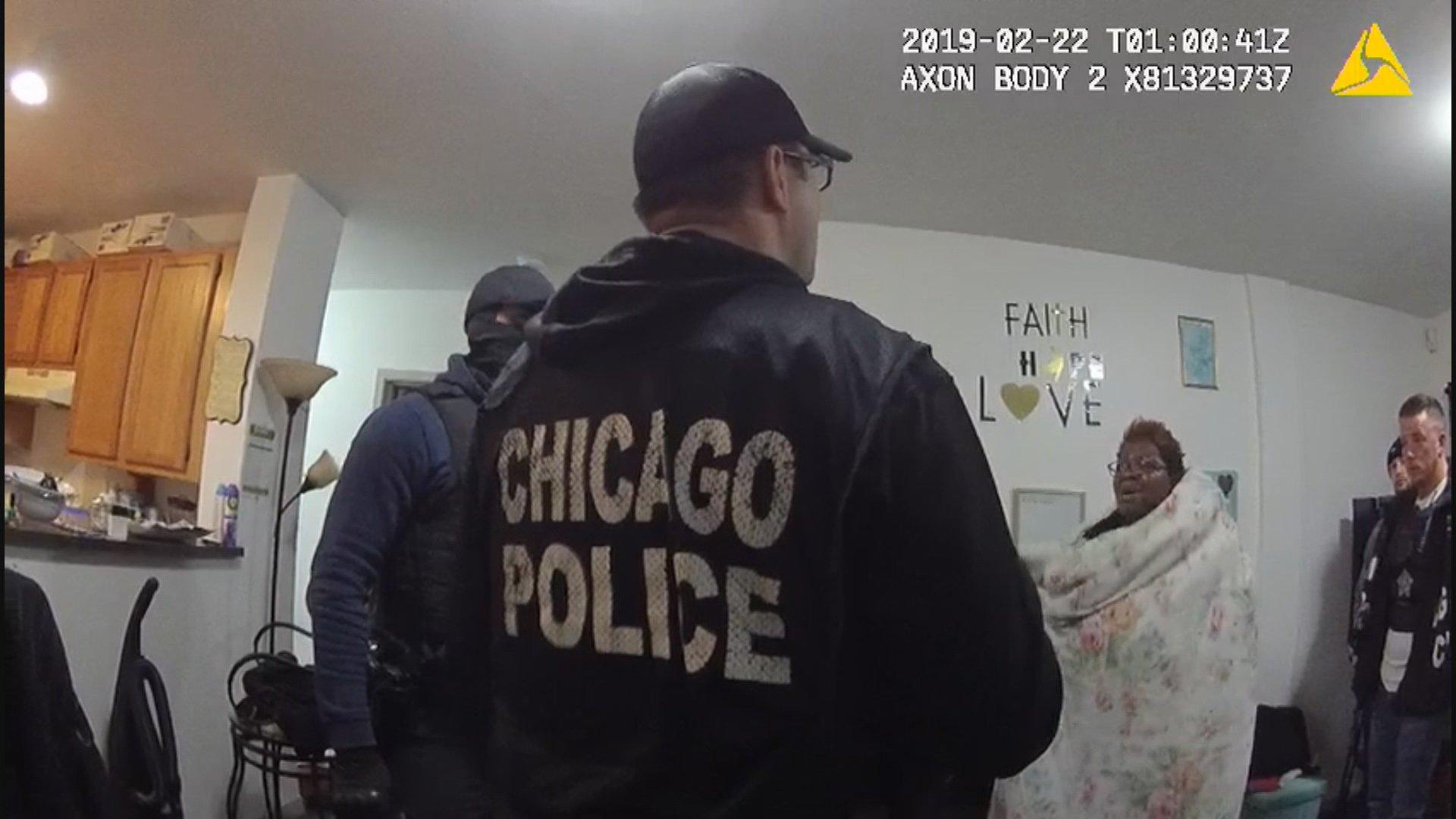 A still image from a Chicago Police Department body camera video shows a police raid at the home of Anjanette Young in February 2019. (WTTW News via Ja'Mal Green)
The Chicago Police Board has voted to fire the sergeant who led the botched February 2019 raid that left Anjanette Young handcuffed while naked inside her home.
The board in a 5-3 vote Thursday moved to terminate Sgt. Alex Wolinski, finding that he committed multiple rule violations and a "failure of leadership … so serious as to be incompatible with continued service."
"It bears repeating: Ms. Young stood helpless for nearly ten minutes, naked and handcuffed, in front of a group of male officers," the board wrote in its decision. "While Ms. Young was suffering, Respondent's officers dawdled.
"They took pictures of the scene and put away their equipment. They played with her dog. Not one appeared threatened. During the search of Ms. Young's residence, (Wolinski) failed, in nearly every way, to adequately discharge the duties of his office and lead his fellow officers. The resulting image is horrific."
Young, a social worker, was handcuffed while naked as Chicago police officers searched her apartment and ignored her dozens of statements that they were at the wrong home in February 2019.
The board found Wolinski guilty of more than a half-dozen rule violations — including law violations, disobedience of an order, inattention to duty and "disrespect to or maltreatment of any person" — which it deemed "extremely serious."
"Though it was clear that the officers were not at the residence of the intended target, (Wolinski "nonetheless allowed Ms. Young to remain naked and handcuffed for an extended period of time — over ten minutes," the board wrote. "In that same vein, Respondent waited nearly 20 minutes to present Ms. Young with a copy of the warrant."
Then-Chicago Police Superintendent David Brown told the Police Board back in 2021 that Wolinski should be fired, and the Civilian Office of Police Accountability, which also investigated the raid, determined Wolinski and another officer should face significant suspensions "up to and including separation" from the CPD.
Young sued the city after the raid, and in late 2021, the City Council agreed to pay her a $2.9 million settlement to resolve that suit.
Responding to the news of Wolinski's termination Thursday night, Young tweeted: "I have no words right now!!'"
Young later issued a statement Friday in which she called the vote "only a small piece of the justice for which I have been waiting."
"While my heart goes out to his family because they now suffer the consequences of his abhorrent misconduct, I wish all eight members of the Chicago Police Board would have recognized the need and urgency for Sergeant Wolinski's removal," she said.
"Although this event does not atone for the traumatic injustice I faced, knowing that members of the Chicago Police Board are starting to see how carelessly some Officers engage with the community gives me a little bit of peace."
In a separate decision, the Police Board voted unanimously not to fire two officers who shot and killed an armed man in 2018. Instead, Officers David Taylor and Larry Lanier will be suspended for 10 days each.
Brown had recommended that both officers be fired for shooting Terrell Eason, 33, saying he did not pose an imminent threat to the officers that justified the officers use of deadly force. Eason was running from officers when Taylor fired eight rounds at him and Lanier fired twice, according to the probe by COPA.
Heather Cherone contributed to this report.
---