Hundreds of acres of vacant land in the western suburbs could be in line for a major makeover.
It's land that Crown Community Development has long owned and now wants to use for housing, civic space, retail – and distribution warehouses.
Those warehouses have been sprouting up across the Chicago area, especially with the explosion of online shopping during COVID-19. And when Crown first came to Sugar Grove, Jennifer Konen wasn't interested.
"I ran for office in 2019 opposed to that plan," said Konen, who now serves as Sugar Grove's village president.
The original plan she ran against would have brought millions of square feet of distribution warehouses to town.
"Eight million square feet for me was going to define the village in a way that I didn't want it defined," Konen said.
"We're coming back in now with what we think is a terrific plan that's very balanced, that includes significant residential on the south side as well as reducing the amount of distribution that we had originally proposed on the north side by 56%," said Jennifer Cowan, Crown's director of community development.
Crown's new proposal still calls for a significant amount of industrial and business space, including warehouses, along Route 47 north of Interstate 88 on land that's currently just trees and unused farmland – a plan that still has some neighbors upset.
South of I-88, "The Grove" would be a mix of residential, retail and civic space that they're calling a town center.
"That includes a stage where we'll have outdoor concerts in the summertime … as well as a skating rink in the winter time, a fishing pier, we'd love to have a beer garden out there, as well as a farmers market," Cowan said.
Sugar Grove's Konen says the new proposal, and better community engagement from Crown, has helped win her over.
"We as a village need more residents, we need more commercial and things to do for our community," Konen said. "We need a larger tax base. We can't put that burden solely on homeowners. This offers all of it, which is why I like it."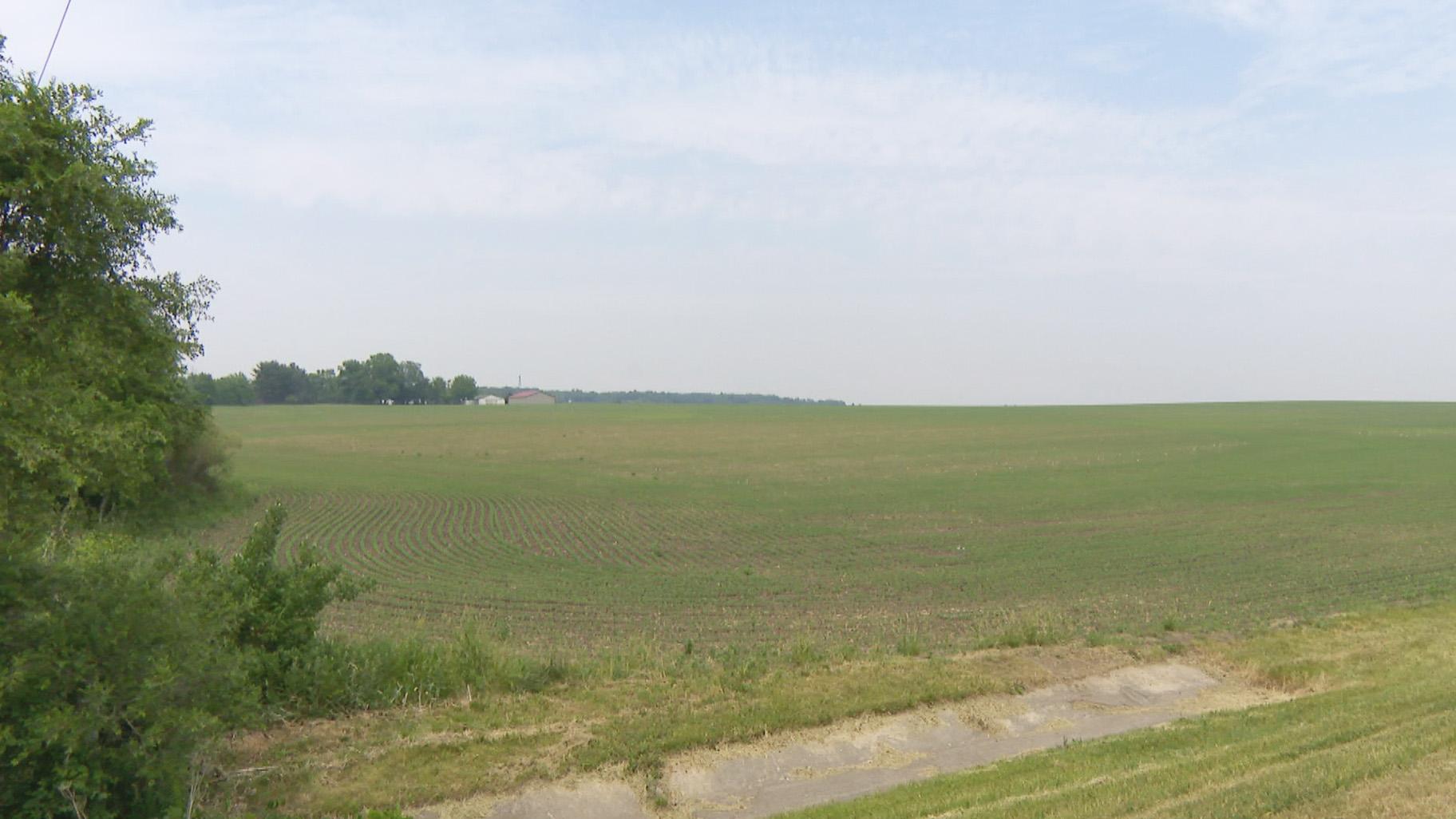 Hundreds of acres of land in Sugar Grove are targeted for redevelopment. (WTTW News)
The plan calls for Sugar Grove to annex the development and make the land part of the village. Some nearby residents who live on unincorporated land say they're worried about having a voice in the process.
On a recent walk around their property, Dale and Lisa Essling didn't have to look far to see where Crown's proposal would remake nearby vacant land.
"This area across the road here … is all set for warehouse, and close to the road here they've got some small offices planned," Dale Essling said.
The Esslings have lived on several acres in unincorporated Blackberry Township just north of the village for three decades. The three other corners of the intersection where their property sits are part of the warehouse portion of Crown's proposal.
"Across the road here to the south … is their fueling station that they're not calling a truck stop," he said, gesturing to a nearby plot of land.
Part of the deal involves granting a tax increment financing district for the land. But the Esslings say that tax break could put a burden on village residents down the road – and they argue TIFs should be for land that's blighted and needs to be developed.
"It's been that way for 30 years. It doesn't need to be developed. Crown wants to develop it, and we don't have a problem with Crown building houses," he said.
"Something that actually fits in is what we really want," Lisa Essling added.
"I would like them to go back to the drawing board," said Molly Reimer, another neighbor opposed to the project. "I would like them to listen to us and our concerns as far as warehouses increasing the truck traffic, pollution, light, noise, and I would like them to do something different."
Reimer also lives on unincorporated land, relying on well water and a septic system. Reimer says she and her husband grew up in a town whose water supply was tainted by the dangerous industrial chemical trichloroethylene.
"One of my biggest concerns is our water and the environment around us, making sure that it stays safe and clean and healthy for everybody that lives there," Reimer said.
Crown officials say the project will go through extensive reviews to ensure health and safety, and proper traffic flow. The company is committed to engaging neighbors whether or not they live in the village of Sugar Grove, Cowan said.
"We've listened to the community, we've heard the community, (and) we've modified the plan accordingly," Cowan said. "We're going to be delivering significant amenities for the community at large to be able to enjoy."
For residents like the Esslings, other worries are less about this specific development and more about the character of small town life.
"Rural America doesn't mean that every time there's something that's an open farm field, we've got to think of another use for it," Lisa Essling said.
But Sugar Grove's Konen says thoughtful development and a new town center can help create an economically sustainable future for its residents.
"They'll shop, they'll dine, they'll go for a walk, they'll fish, they'll enjoy life here in Sugar Grove (and) we don't really have that place today," Konen said.
Crown says after last week's meeting, they heard from multiple residents supportive of the project, including some who came in skeptical. But opponents have vowed to continue their fight.
Note: A senior Crown employee and family member serve as WTTW trustees.
Contact Nick Blumberg: [email protected] | (773) 509-5434 | @ndblumberg
---