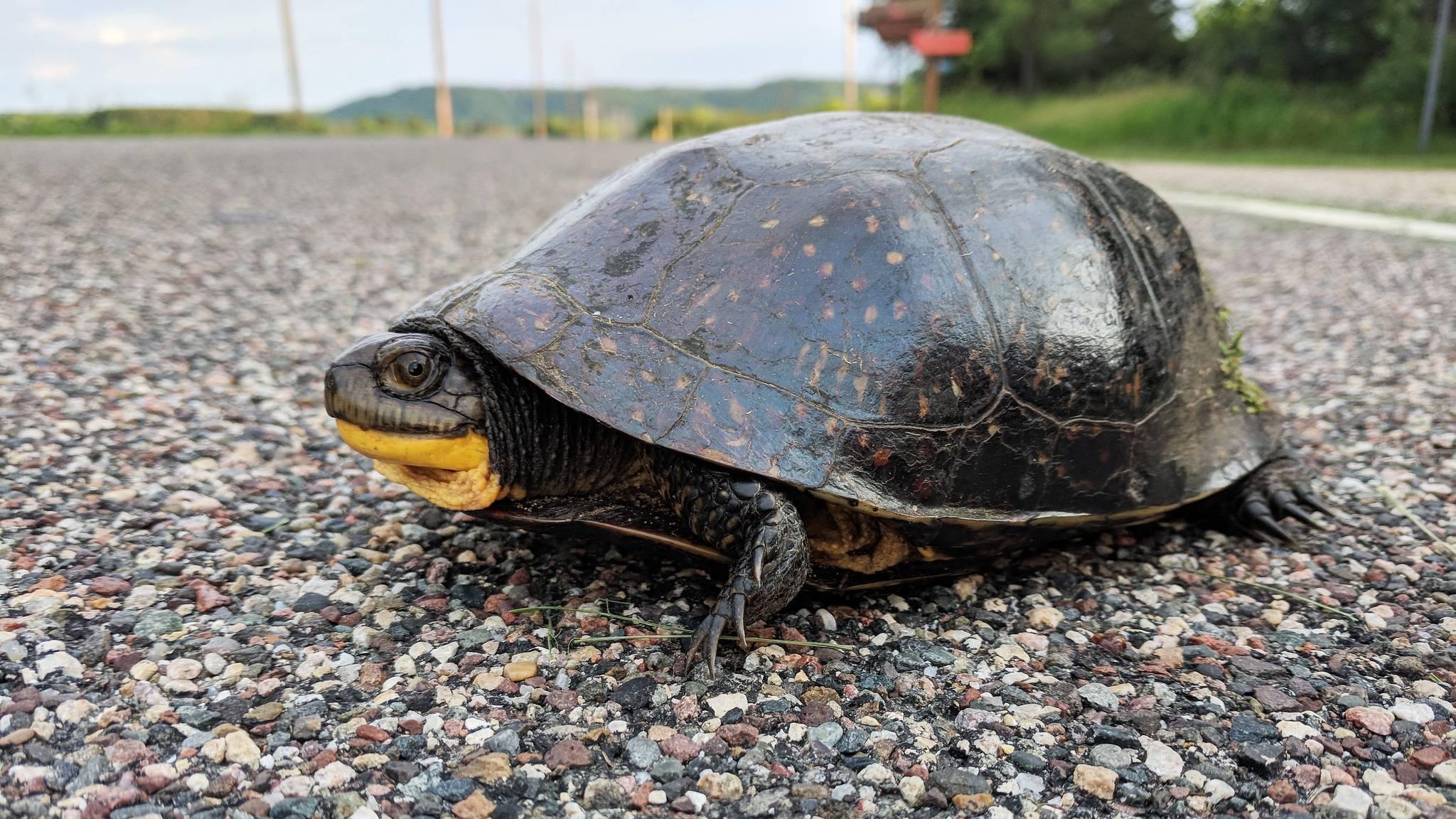 Endangered Blanding's turtles are among the native species on the move this time of year. (USFWS Midwest Region / Courtney Celley / Flickr Creative Commons)
Now that a certain turtle has everyone's attention, here's a reminder that Chonk's fellow snapping, Blanding's, painted and other native turtles are on the move this time of year — females especially, as they search for nesting sites.
So if you're driving near a natural area, particularly wetlands, that's your cue to slow down.  
"Turtles aren't able to move quickly to avoid cars, so it's up to drivers to avoid hitting them," Dan Thompson, an ecologist with the Forest Preserve District of DuPage County, said in a statement. "Car horns and flashing lights have no effect on turtles; they simply can't move any faster to get out of the way."
The death of even one turtle can have ripple effects on the larger population, forest preserve officials said. If a female is killed in a hit and run, her future progeny, which could number in the hundreds, are lost as well. 
Anyone who finds an injured turtle should call Willowbrook Wildlife Center, run by the DuPage district, at 630-942-6200
Staff there have plenty of experience surgically repairing damaged turtle shells. By mid-June 2022, Willowbrook had admitted nearly 40 turtles for treatment in a month's time, many of them hit by cars. Turtles are resilient and can heal, according to veterinary staff, but it can take months for shell fractures to stabilize (see below).
If you brake for a turtle and it seems in need of a lift, the Willowbrook team had some tips for helping a turtle cross the road.
— For small turtles: Pick up the turtle holding its shell on both sides and walk it across the road in the direction it was heading. If the turtle was moving away from a wetland, don't redirect it — it knows what it's doing. 
— For large and/or aggressive turtles (that would be Chonk, on both counts): Nudge the turtle onto a mat, towel or blanket and pull it across the road. You might even want to throw on a pair of leather gloves to protect yourself from scratches. 
---
Contact Patty Wetli: @pattywetli | (773) 509-5623 |  [email protected]