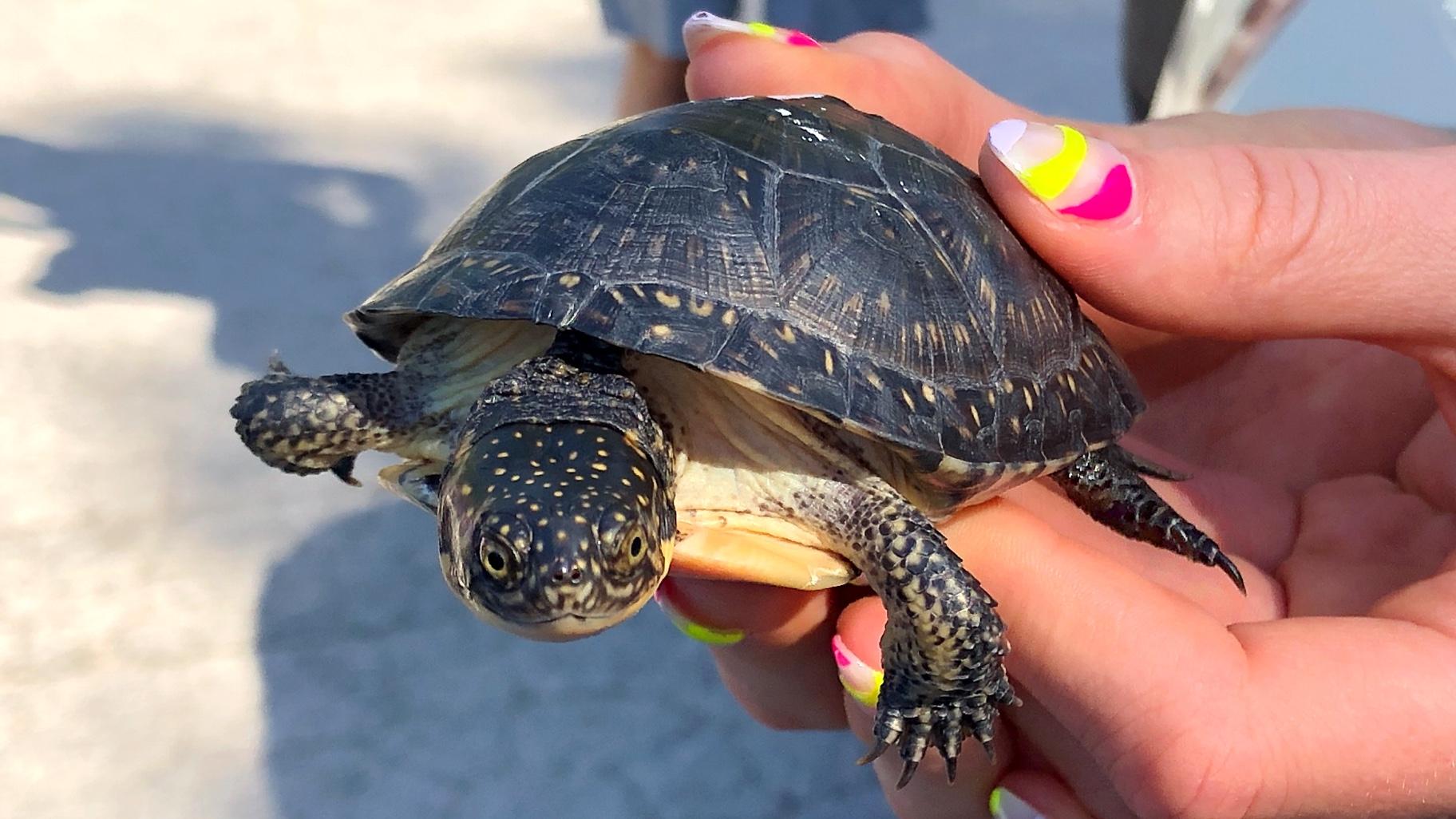 A baby Blanding's turtle, raised at Shedd Aquarium its first year, awaiting release into the wild, where the state-endangered species' population has been in steep decline. (Patty Wetli / WTTW News)
It takes a village to raise a turtle these days.
When 11 baby Blanding's turtles — a state-listed endangered species — were recently released into the swampy waters of a Cook County forest preserve wetland, they were cheered on by no fewer than a dozen people who'd had a hand in either fostering the little ones' development or in restoring the turtle's habitat.
"It's very bittersweet," said Tiffany Adams, senior aquarist at the Shedd Aquarium, where the babies spent nearly the first year of their lives. "These are animals we've been raising since they were the size of a quarter. It's like sending your children off to kindergarten."
The cooperative effort to give the hatchlings a fighting chance at survival — dubbed "head start" — included participants from Shedd, the Forest Preserve District of Cook County, the U.S. Department of Agriculture and Audubon Great Lakes.
It's the sort of all-hands-on-deck approach agencies and institutions have had to take to stabilize what's left of the Blanding's population, a once-common species that's dwindled in the face of habitat loss, poaching and other human-caused stressors.
"I'm hoping beyond hope some of these guys make it," said Chris Anchor, wildlife biologist with Cook County Forest Preserves.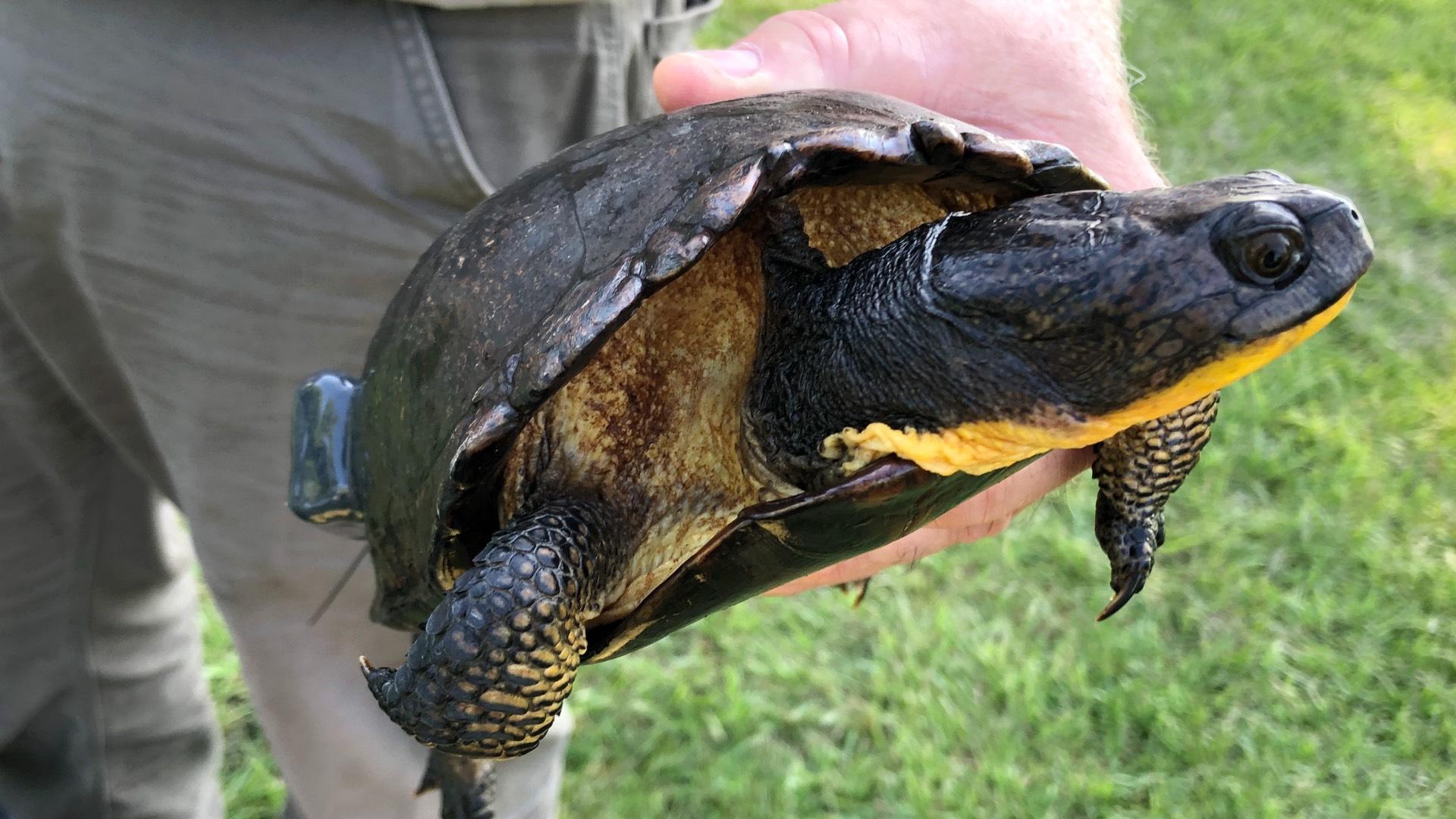 An adult Blanding's turtle, with its telltale yellow chin and throat, makes its home in a Cook County forest preserve wetland. (Patty Wetli / WTTW News)
Blanding's are a semi-aquatic freshwater turtle, meaning they like swamps versus rivers and lakes. The Chicago region was once home to vast tracts of marsh, but what's left of that habitat is now highly fragmented.
"We've got a lot of individual (Blanding's) isolated, just waiting to die," Anchor said.
The preserve where the baby turtles were released is the only place in Cook County harboring what Anchor deems a Blanding's population of "moderately healthy size." The newcomers will increase the existing Blanding's community by a third. (WTTW News is withholding the exact location at the request of the forest preserve district, due to poaching concerns.)
The importance of the site not just to the turtles but other rare pollinators, birds and plants makes its management a top priority for the forest preserve district, said Alice Brandon, resource programs manager with the district.
In the past couple of decades, wetlands across the Great Lakes have been plagued by the invasive common reed known as phragmites. The plant can reach heights of 15 feet, blocking the sunlight Blanding's love to bask in, and can aggressively crowd out all other flora. Phragmites ability to adapt to the introduction of road salt into what should be a freshwater hydrology is just one of the ways in which it's come to dominate natives, Brandon said.
At the preserve in question, she has marshaled teams of volunteers and interns to hold the line on phragmites and other troublemakers. Through the hand-removal of invasives, the scheduling of prescribed burns and the highly targeted application of herbicides, conservationists have created an environment in which native plants and wildlife like Blanding's turtles can flourish.
In turn, constant monitoring of the turtles, including analyzing their bloodwork for pollutants, offers insights into how the habitat is performing.
"It's like having a looking glass into our bio health," Anchor said.
This interconnectedness of flora and fauna is something that Brandon said can't be emphasized enough. "These are whole systems," she said. "You have to care about the whole place."
Video: Blanding's turtles are released at a Cook County forest preserve. (Patty Wetli / WTTW News)
Conservationists are often asked: If a species can't survive without human intervention, why not just let nature take its course?
The answer, in the case of the Blanding's turtle, is that there's nothing natural about its decline. 
Surveying Cook County's forest preserves five years ago, Anchor found just three breeding female Blanding's. An otter — itself a rarity — later killed one of them, he said.
Assuming a female lives to the ripe old age of 15 or 20 — Blanding's have a delayed sexual maturity — she'll be hard-pressed to find suitable nesting habitat, Anchor said. Blanding's like to lay their eggs in full sun, in bare soil that's either sandy or otherwise easy to dig into, meaning "upland" habitat is as crucial to the turtles as wetlands. 
The turtles often can't find both wetland and upland within a contained location due to fragmentation. That leads them to cross roadways in search of a nesting area, putting them on a collision course with cars. Road kills, according to studies, are one of the highest causes of death among adult Blanding's, which suffer in general from what's been termed "unsustainable levels of mortality."
Even if a female surmounts all of these obstacles and manages to lay a clutch of eggs, the eggs are likely to be gobbled up bey raccoons or one of the other mid-level predators that humans have in effect subsidized with our garbage and have allowed to multiply unchecked by removing apex predators (other than ourselves) from the equation, Anchor explained.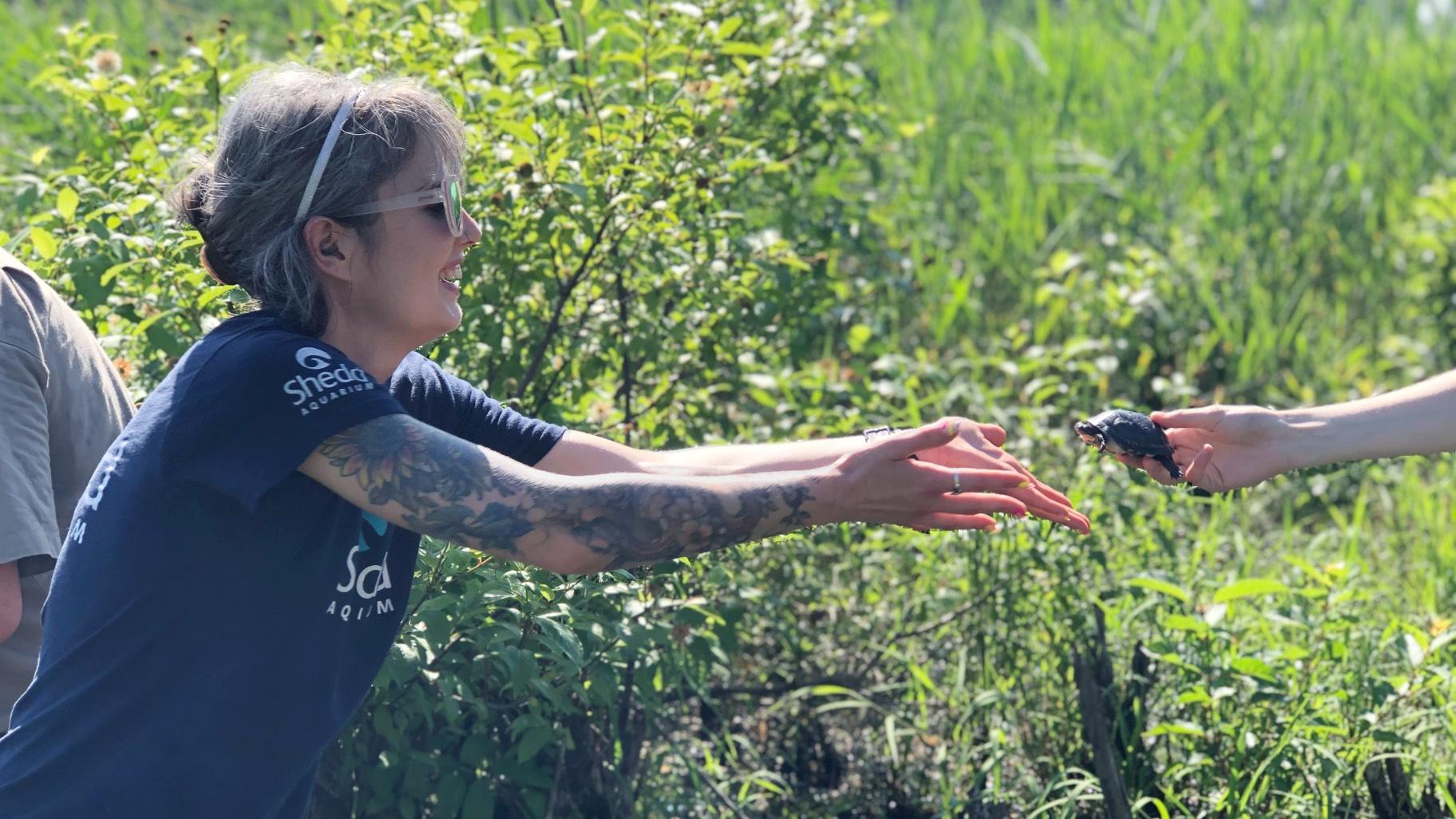 Steph Goehring, an aquarist at Shedd Aquarium, takes a hand-off of a baby Blanding's turtle, to release it into a Cook County forest preserve wetland. (Patty Wetli / WTTW News)
If humans have stacked the deck against Blanding's, the head start program is a small way to help tip the scales back in the turtle's favor. 
Wildlife biologists keep tabs on female Blanding's in the greater Chicago region via radio transmitters epoxied to the turtles' shells (DuPage and Lake counties also have active recovery plans).
If a routine exam detects the presence of eggs, the female is monitored daily and the eggs are either collected or a safe nesting site is secured. The hatchlings are then reared at the Shedd with as little human interaction as possible.
They're fed live crickets, guppies, worms and brine shrimp so that they learn to catch prey, and their diet also includes protein pellets to help them add bulk.
"We're trying to get them to a size that can't fit into a raccoon's mouth," said Matt O'Connor, senior veterinarian at Shedd Aquarium.
At a recent release in DuPage County, Shedd staff saw head starts from previous years.
"So we know it's working," said aquarist Steph Goehring.
Back in Cook County, Goehring, O'Connor and Anchor gingerly placed each of the 11 baby Blanding's into the swamp.
Though born just last August, most of them are already the size of 3-year-olds, Anchor said. The lone exception is baby "C6" (per the numbered label on its shell), the "runt" of the litter at normal 1-year-old size.
C6 is plenty feisty and a voracious eater, Goehring said, but wasn't a fan of the protein pellets.
C6 is the last Blanding's released into the water. Goehring gives the turtle a gentle nudge and watches as it sinks into the murk. She pauses for a beat to track the turtle's progress, then turns and steps out of the marsh.
It's up to the Blanding's to take it from here.
"They'll figure it out," Goehring said.
Contact Patty Wetli: @pattywetli | (773) 509-5623 |  [email protected]
---