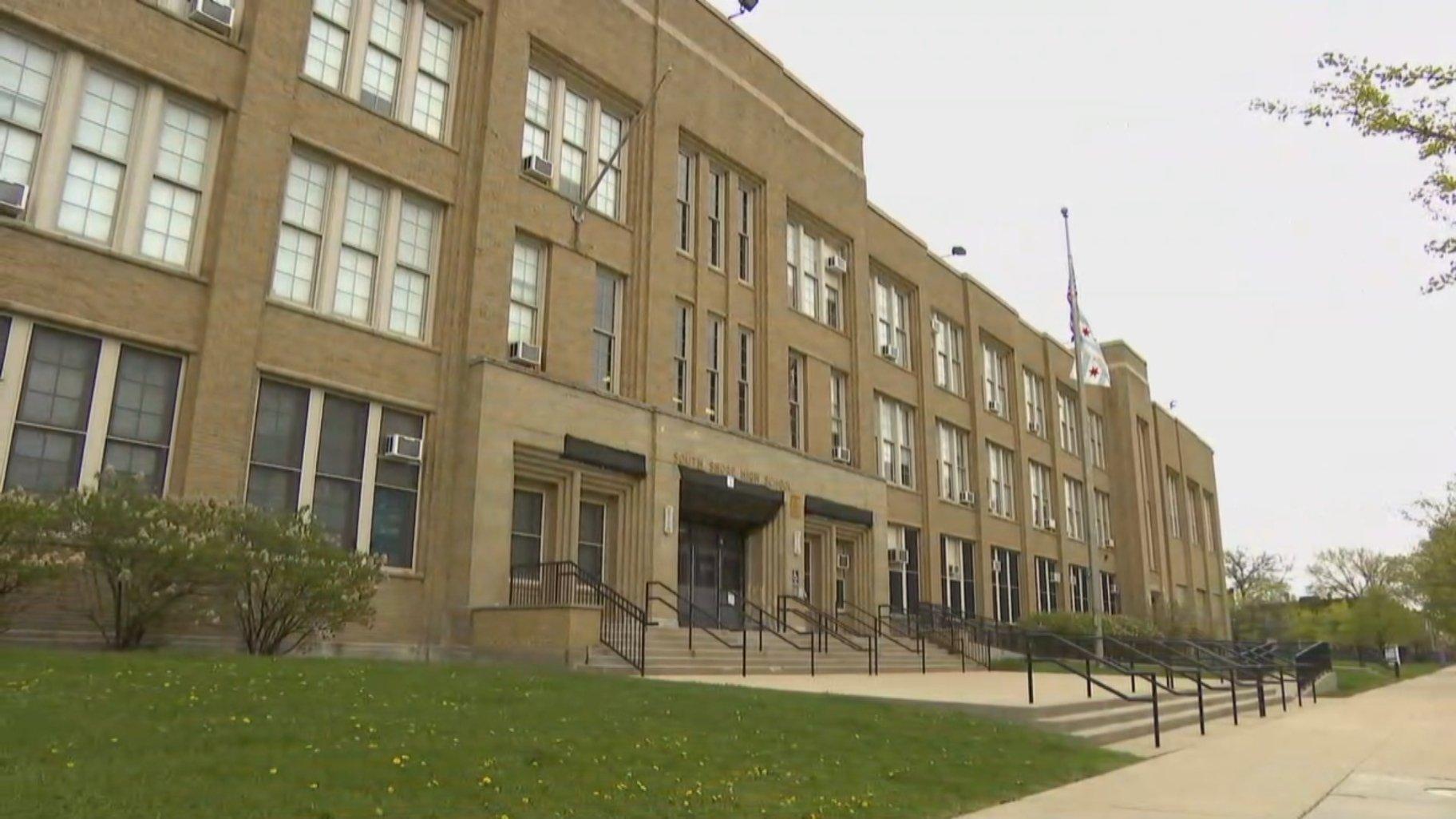 (WTTW News)
Mayor-elect Brandon Johnson declined on Wednesday to endorse Mayor Lori Lightfoot's plan to transform the vacant South Shore High School into a shelter for immigrants.
Johnson, who will replace Lightfoot in less than two weeks, said he would consult with the South Shore community before making any final decisions on how to address a renewed surge of immigrants being sent to the city from Texas and other states along the southern border. Officials said the surge poses a "humanitarian crisis" in Chicago.
"What I favor, and what we will do day one, is to make sure that there is a real effort to coordinate our resources at the federal, state, county and city level," Johnson said. "We are already in the process of developing that infrastructure."
More than 2,800 recent migrants, who are in the country legally after requesting asylum and being granted parole, are being housed in the city's shelters, officials said. All of the city's shelter beds are occupied.
Johnson called it "unconscionable" that the immigrants are being used as a "political football" by Republican governors, including Texas Gov. Greg Abbott, and wielded "as a weapon" against cities run by Democratic mayors, including New York City.
With the city's shelters at capacity, dozens of men, women and children are being forced to sleep on the floor of police stations across the city while they wait for beds, officials said. Immigrants who arrived by plane are also sleeping at O'Hare International Airport.
"What my preferences always will be is a real community process that allows for our response to not just meet the need but also one that includes all stakeholders in solving what ultimately is a crisis that is quite frankly engineered," Johnson said, pledging to work with members of the Chicago City Council.
Ald. Michelle Harris (8th Ward) told WTTW News Tuesday that she opposes the use of the vacant South Shore High School as a shelter and would push for "alternative solutions to ensure our community's safety."
Harris, who endorsed Johnson's rival Paul Vallas in last month's mayoral election, was an ally of Lightfoot and is poised to retain her powerful perch as chair of the City Council's Rules Committee after the mayor-elect takes office.
The roiling debate over the plan to transform the vacant South Shore High School into a shelter is similar to the controversy over Lightfoot's decision to ignore Ald. Jeanette Taylor (20th Ward) and open a shelter in the closed Wadsworth Elementary School in Woodlawn.
Taylor repeatedly told Lightfoot that Woodlawn residents were angry that her administration decided to open a shelter in a shuttered school without consulting them or developing a plan to ensure the safety of everyone in the area.
Taylor blamed Lightfoot for exacerbating tensions between Black and Latino Chicagoans by transforming a closed Chicago Public Schools building in a primarily Black neighborhood into a shelter for immigrants from Central and South America and adding an insult to the injury caused by the school's closure.
Johnson said Wednesday he was concerned about that issue as well. South Shore High School closed in 2014, and the building has been used to train police officers since 2020.
"Many communities have been denied for too long basic amenities and resources that can help strengthen those communities," Johnson said. "The stronger our communities are, the better positioned we can be to support those who are struggling."
Closed school buildings represent a "weight" in many communities, Johnson said.
In 2013, former Mayor Rahm Emanuel closed 50 Chicago Public Schools, most on the South and West sides.
"School closings are still very traumatic," Johnson said. "The harm and the pain and the anguish that was caused still is a hardship. I don't want to be responsible for any type of retriggering that trauma. We're going to work with sensitivity, we're also going to work with intentionality."
Lightfoot's office will host a meeting 6 p.m. Thursday at the former high school, 7627 S. Constance Ave., about the plan to open a shelter there. To register for the meeting, click here.
Contact Heather Cherone: @HeatherCherone | (773) 569-1863 | [email protected]
---