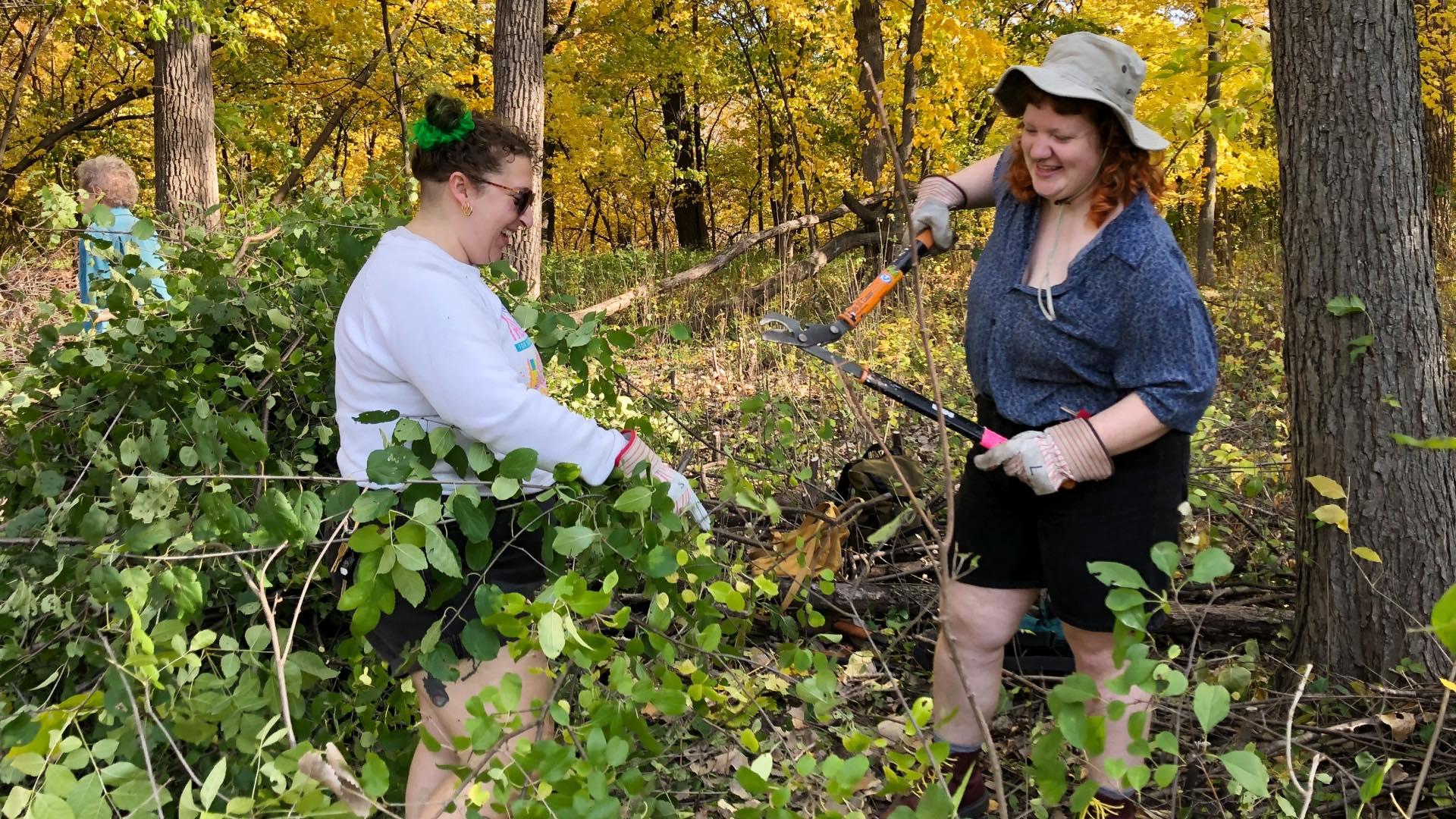 Cousins Alfie Pritzl, left, and Teresa Pritzl chop down invasive buckthorn during a volunteer stewardship day at LaBagh Woods, Oct. 23, 2022. (Patty Wetli / WTTW News)
Recent acts of vandalism have threatened years of ecological restoration work at LaBagh Woods, a Cook County forest preserve situated at the southern tip of the North Branch trail.
More than 50 fencing cages erected to protect plantings of native shrubs have been systematically destroyed since the beginning of October, leaving the plants vulnerable to grazing by deer.
Within a matter of days, tender shrubs were eaten to nubs and more established plants had their leaves and stems devoured, and their trunks broken from bucks rubbing their antlers against them, according to the Chicago Ornithological Society, which has raised more than $85,000 over the years to pay for the shrubs.
Initial repairs were also undone, with zip ties cut.
Despite the blow, dozens of volunteers converged on the preserve Sunday morning, vowing to continue their work.
"It just shows we're not going to give up," said Dennis Marton, who along with his wife Linda has led volunteers at LaBagh for nearly a decade. The couple was recently honored with a "protector of the environment" award from the Chicago Audubon Society for their stewardship at LaBagh.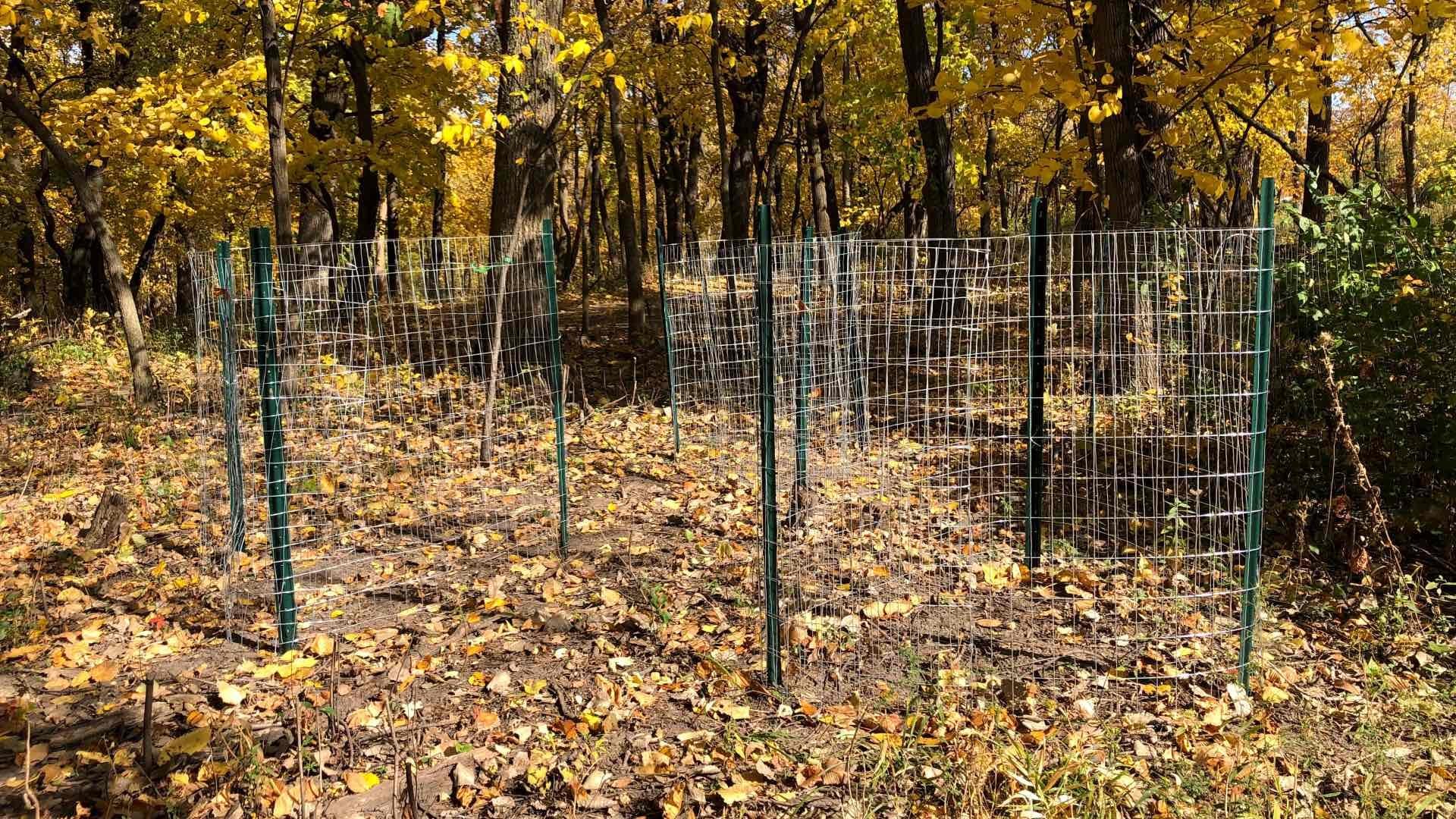 Protective fencing, like these cages pictured Oct. 23, 2022, at LaBagh Woods, is needed to protect native shrubs from grazing by deer. (Patty Wetli / WTTW News)
Native shrubs have been the missing link in many of the region's ecological restoration projects, where the removal of invasive buckthorn has exposed a habitat gap in the space between trees and flowers.
Stewardship at LaBagh has been unique in its emphasis on the understory, said volunteer Katy Krigbaum. Some 4,000 native shrubs have been planted to date, with an eye toward their usefulness to the 200-plus species of birds that either call LaBagh home or use it as a vital migratory stopover point.
It's been a long and involved process, Krigbaum said, starting with the collection of seeds from shrubs native to the North Branch. The seeds are given a start at a local nursery, with fingers crossed for germination, and scrappy survivors are transplanted in LaBagh, where they take years to mature.
The recent losses set the clock back, Marton said. 
"The most expensive cost is time," he said. "I've put eight years of my life into this and someone is destroying it in a manner of weeks."
The plan had been for volunteers to plant 54 new shrub seedlings on Sunday, a plan paused by the vandalism. 
"I'm sort of in mourning," Krigbaum said. "Planting is so joyful. It represents the future. Now one person is undoing everything."
Forest Preserve police have assigned a detective to lead an investigation into the vandalism, which may be spreading to other preserves. Over the weekend, a volunteer at Forest Glen Woods reported that similar fencing had been uprooted and thrown in a dumpster, officials told WTTW News.
A patrol car was seen cruising through LaBagh during Sunday's work day, and officers have been assigned to conduct foot patrols of targeted areas. Temporary signs will be installed at LaBagh Woods and Forest Glen Woods, emphasizing the purpose and importance of the fencing, officials said.
Any motivation for the vandalism is purely conjecture, but Marton speculates it could be the work of a misguided individual who doesn't understand that removing buckthorn is beneficial for a forest's overall health or that deer have plenty of other options when it comes to food.
"Come out here and work with us and learn," he said.
Meanwhile, the collecting of seeds and chopping down of buckthorn continued apace on Sunday. A third project was a late addition to the day's agenda: reinforcing reconstructed fencing.
Volunteer Rich Kreski had rebuilt 20 to 30 cages after hearing about the damage and learning that Marton had injured himself trying to shore up one of the fences.
Marton still bore the signs of the mishap, a purplish-reddish streak running down his right forearm, literally adding blood to the sweat and tears he's given LaBagh, he joked.
After cycling through frustration and anger, Marton had moved onto determination.
"If he (they) takes it down again, we're going to put it back up," he said. "We're going to keep coming back."
To report vandalism in the forest preserves, call Forest Preserves Police at 708-771-1001.
LaBagh Woods has recently seen an alarming string of vandalism targeting the preserve's native shrubs and their protective enclosures. The motive of this vandal is unknown but their actions are swift and malign with plantings often damaged within 24hrs of being put into place. pic.twitter.com/H3k4xKrXNP

— Chicago Ornithological Society (@chicago_birder) October 16, 2022
---
Contact Patty Wetli: @pattywetli | (773) 509-5623 |  [email protected]