Criminal history in Cook County is long and sordid — from Al Capone to Leopold and Loeb to John Wayne Gacy.
The historical figures may be long gone, but the physical documents and evidence pertaining to their cases are still around — as are those in nearly every criminal case going back to the Great Chicago Fire.
WTTW News got an exclusive look inside the Cook County Circuit Court Clerk's massive records storage facility, located in Cicero.
The warehouse just south of Roosevelt Road might not look like much at first glance.
But take a peek inside and you're transported to a world of criminals, court cases and the dark side of Cook County history.
Tens of millions of documents and exhibits tell the stories of nearly every case that has come before a judge since around the Chicago Fire.
"We have millions and millions, I couldn't even tell you the number," said Cook County Circuit Court Clerk Iris Martinez.
There are 260,000 square feet of storage — boxes piled dozens high — and all in need of digitizing.
Let's not forget the recent history of this office. Under embattled former Clerk Dorothy Brown, records would appear tattered or even missing. Digitization was moving at a snail's pace. The current clerk said the task of scanning tens of millions of pieces of paper to a computer server might yet take a while.
"We hope in this lifetime we can, to be honest," Martinez said. "We're going to have to digitize everything eventually as time goes."
Either way, the office must keep paper backups of everything. Indictments. Divorce Records. Chancery cases. Records are constantly shuttled back and forth from the courts because old documents might be pertinent to new cases.
And it isn't just paper files. In one wing of the building, there's a collection of items used as evidence. TV sets. Bicycles. There was an entire police car door with a giant bullet hole preserved in it — evidence in what appears to have been a firearm case.
And on a nearby shelf, a wooden trap door is preserved that once led to a crawl space in the former home of notorious serial killer John Wayne Gacy, where he kept his murder victims.
"He went down into that crawl space and disposed of the bodies," Martinez said. "This is key evidence in the Gacy cases. When I first came here, I said, 'Oh, my god,' and I got goosebumps all over."
The really old case files are handwritten and bound. In one massive book there are indictments representing a 100-year-old case considered then to be the crime of the century: the kidnapping and murder of 14-year-old Bobby Franks at the hands of University of Chicago students Nathan Leopold and Richard Loeb. Take a trip further into history, and another notable Chicagoan's troubling ordeal emerges.
We flipped through a copy of what is straightforwardly termed "The Cook County Lunatic Record" from the years 1871-1875. On page 596 lives the case of Mary Lincoln, aka Mary Todd Lincoln, ruled legally insane at the behest of her son Robert Lincoln and committed to what we would now call a mental health institution.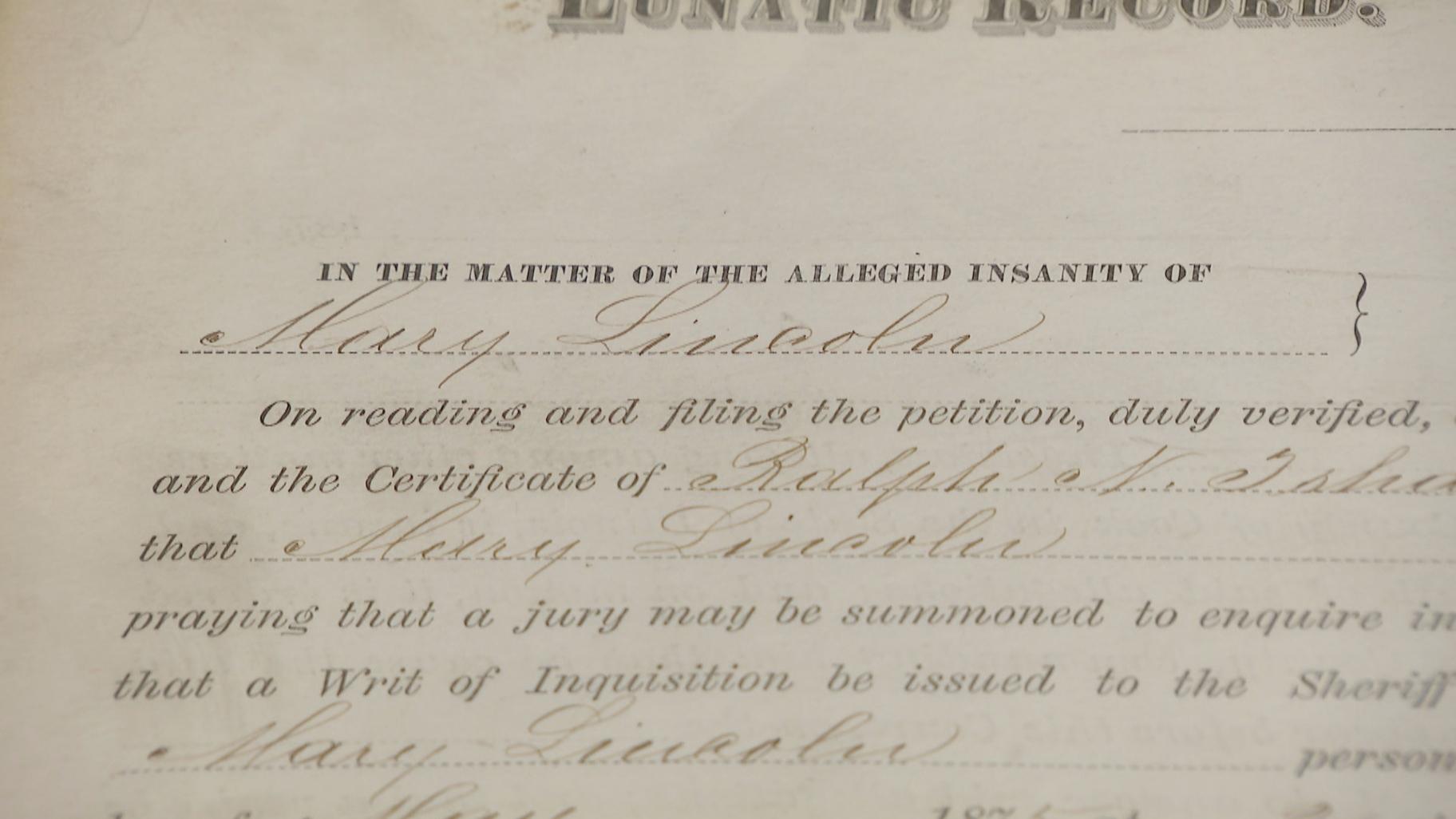 Mary Lincoln, aka Mary Todd Lincoln, was ruled legally insane at the behest of her son Robert Lincoln and committed to what we would now call a mental health institution. (WTTW News)
One might imagine historians like Doris Kearns Goodwin salivating at the living history preserved in just one book. It's just one of a treasure trove of historical documents living in a warehouse in Cicero, Illinois — once home to perhaps the county's most notorious criminal ever.
---