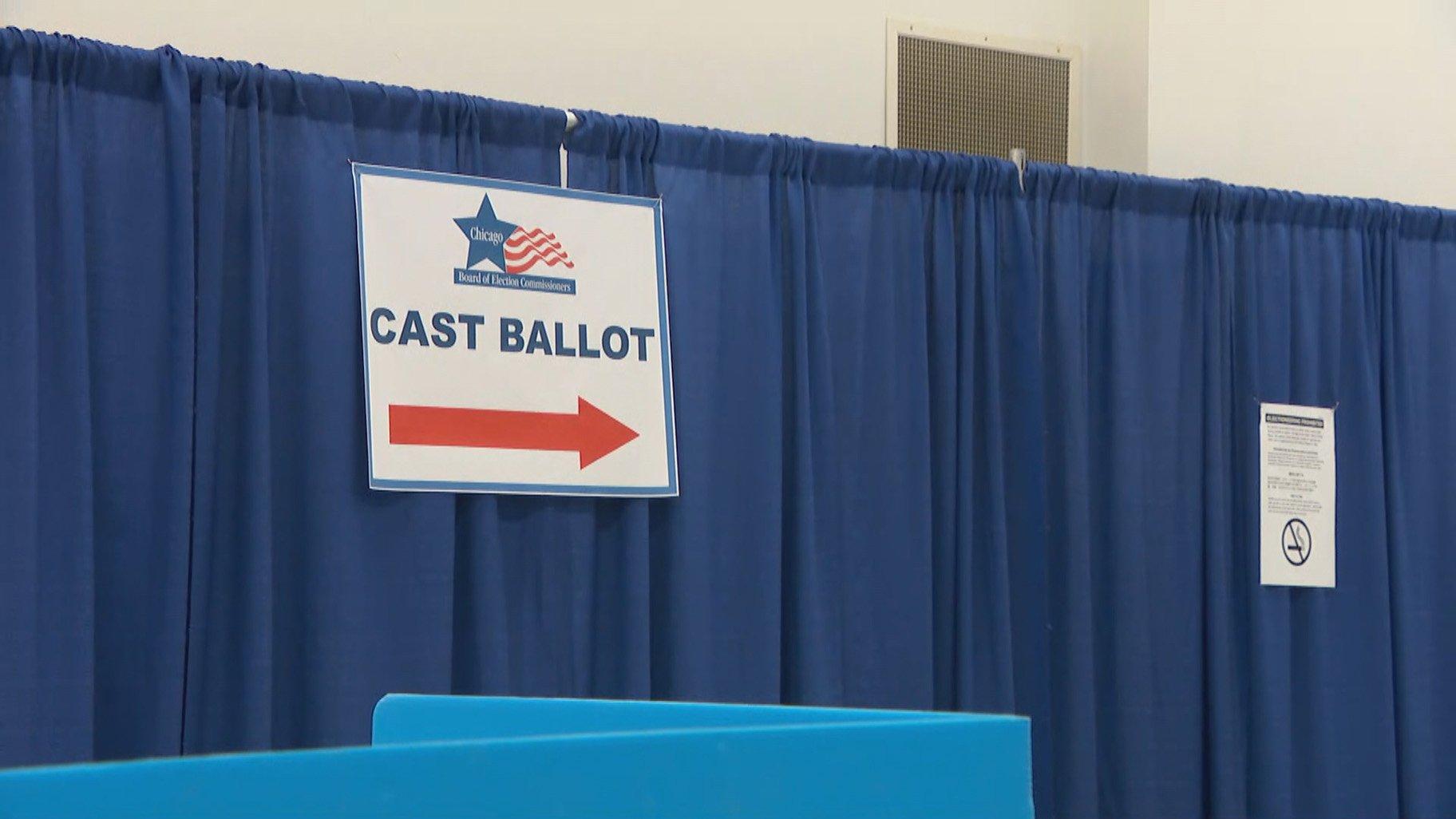 (WTTW News)
With summer in the rearview mirror, candidates hoping to win a spot on the March 19 primary ballot can start hitting the streets Tuesday to collect signatures on nominating petitions.
While Chicago voters just elected a new mayor and City Council, a slate of county and state offices is up for grabs, including state's attorney and circuit court clerk as well as a key seat in the Illinois House to represent the city's Northwest Side.
Illinois voters will also have a chance to weigh in on the presidential nominees for both the Democratic and Republican parties, and elect delegates to the parties' conventions in August.
But with President Joe Biden running for the Democratic nomination and a second term against only token opposition, that race is unlikely to stir the blood of Democratic voters. Meanwhile, the Republican nomination for president will likely be decided by March 5, when voters head to the polls in more than a dozen states and territories as part of the so-called Super Tuesday contests.
Instead, the marquee contest on the ballot is likely to be much closer to home: A nearly unprecedented binding referendum will ask voters to give the Chicago City Council the power to hike taxes on the sales of properties worth $1 million or more to fight homelessness.
The last time Chicago voters passed a binding referendum that applied to the entire city was 1885.
At the time, Chicago was made up of townships — not wards — and each township voted to create the Chicago Board of Election Commissioners to administer citywide elections after a new state law allowed the switch to consolidated election administration as a corruption-fighting measure.
The City Council could vote as soon as October to put the proposal, known as Bring Chicago Home, in the hands of voters, which would slash the real estate transfer tax paid by Chicagoans who sell residential and commercial properties for less than $1 million by 20%, while hiking taxes on transactions of more than $1 million by as much as 400%. The City Council must act by Jan. 2 to qualify the measure for the March 19 ballot.
Mayor Brandon Johnson and his progressive supporters are confident that a comfortable majority of voters will approve the measure and allow him to fulfill a major campaign promise. However, the battle is expected to be fierce, as deep-pocketed leaders of business and real estate groups could spend big to warn voters a yes vote could cause the city's already-struggling commercial real estate market to collapse amid the shift to remote work.
Who Will Replace Kim Foxx?
The highest-profile race on the March 19 ballot is likely to be a knock-down, drag-out contest to replace Cook County State's Attorney Kim Foxx, who announced in April that she would not seek a third term after eight bruising years in office.
The first Black woman to serve as state's attorney, Foxx was one of several prosecutors across the country who was ushered into office on a progressive wave that promised to reshape the nation's criminal justice system.
Whether the changes Foxx made to the county's criminal justice system in an effort to eradicate systemic racism and ensure that Black and Latino people are not disproportionately targeted by law enforcement agencies are enshrined as part of a durable legacy will be determined by her replacement.
Clayton Harris III, an attorney and lecturer at the University of Chicago, pledged to carry on Foxx's work as state's attorney. However, he told the leadership of the Cook County Democratic Party earlier this month that he would launch a "hard reset" of the relationship between the county's top prosecutor and local law enforcement agencies, according to the Chicago Tribune.
Foxx clashed bitterly with former Mayor Lori Lightfoot and former Chicago Police Supt. David Brown, who frequently blamed her policies for fueling the surge in crime that peaked during the COVID-19 pandemic and has yet to fully recede.
Cook County Board President Toni Preckwinkle, who is also the head of the Cook County Democratic Party, supports Harris, who won the party's endorsement over former 1st District Appellate Court Justice Eileen O'Neill Burke.
O'Neill Burke had asked the party to stay neutral in the race.
In the race for circuit court clerk, incumbent Iris Martinez will have to run for reelection without the support of the party, which backed Metropolitan Water Reclamation District Commissioner Mariyana Spyropoulos.
Preckwinkle is backing Eira Corral Sepúlveda, who is also a water reclamation district commissioner.
Martinez won office in 2020 without the support of the party, and has found herself at loggerheads with the progressive political organizations and labor unions that helped elect Johnson mayor. In 2022, Martinez campaigned alongside John Catanzara, the president of the Fraternal Order of Police, Lodge 7, after he compared a requirement that Chicago police officers be vaccinated against COVID-19 to the Holocaust and resigned before he could be fired for making "obscene" and inflammatory social media posts between 2016 and 2018.
Progressives Push to Consolidate Power
Martinez is also expected to campaign for state Sen. Natalie Toro, who Martinez helped appoint to represent the 20th District in the Illinois Senate. Toro replaced Cristina Pacione-Zayas, who resigned in May to become Johnson's first deputy chief of staff.
Toro will face Graciela Guzman, who has the support of the political movement that not only elected Johnson but also notched a series of victories in the 2022 Democratic primaries, winning six of seven contested races.
The outcome of the race between Toro and Guzman will be a key bellwether as those groups push to expand their political power, and seek to oust Martinez and her allies from elected office.
As she runs for another term as circuit court clerk, Martinez is also expected to seek reelection as the 33rd Ward Democratic committeeperson, an unpaid position that makes her the head of the party in the Northwest Side ward that includes Albany Park.
Ald. Rossana Rodriguez Sanchez (33rd Ward), who defeated a candidate in February's aldermanic elections who was supported by Martinez, told WTTW News she will challenge Martinez for committeeperson.
Committeepeople — one each for the Democratic and Republican parties — slate candidates, oversee voter registration, work to boost voter turnout and ensure elections run smoothly. In many wards, the alderperson — or his or her close ally — serves as the committeeperson to consolidate power and operations. The job was much more powerful before federal judges dismantled the city's political patronage system and ended the ability of committeepeople to hand out plum positions.
In addition, Ald. Jessie Fuentes (26th Ward) is running to replace Angee Gonzalez Rodriguez as her ward's Democratic committeeperson. Fuentes, an ally of Johnson, defeated Gonzalez Rodriguez in February.
A similar battle is brewing in the 45th Ward, where embattled Ald. Jim Gardiner also serves as the ward's Democratic committeeperson.
Gardiner did not respond to a request for comment from WTTW News about whether he plans to run for a second term as committeeperson, but if he does, he will face a challenge from Michael Rabbit.
Rabbit lost a narrow race for the Illinois House in 2022 after being endorsed by several progressive organizations and elected officials.
Gardiner was rebuked by Preckwinkle in October 2021 for using "misogynistic, homophobic and obscene language" and verbally harassing another alderperson, a city staff member and his own constituents. Gardiner was stripped of his positions on four Democratic Party committees.
In addition, the city's watchdog found Gardiner retaliated against a frequent critic and political foe by directing a city employee to issue "unfounded citations" that could have forced the Jefferson Park man to pay more than $600 in fines.
The first day for candidates to file their nominating petitions is Nov. 27, and the last day to file is Dec. 4, and their opponents have until Dec. 11 to challenge those petitions.
Mail-in ballots are scheduled to be sent to voters on Feb. 8, the same day early voting is set to start.
Contact Heather Cherone: @HeatherCherone | (773) 569-1863 | [email protected]
---