Americans are discovering family secrets every day thanks to DNA testing and online genealogy. But not everyone learns they have a luminary of Black American history as an ancestor. However, that was the case for author Rachel Jamison Webster. She had been unaware of her Black ancestry until she discovered she was related to scientist and almanac author Benjamin Banneker.
In her new book "Benjamin Banneker and Us: Eleven Generations of an American Family," Webster details how she used genealogical research and collaborated with some newfound cousins to dive into her family's racial history and recreate ancestors' stories. Webster said discovering she was a descendent of Banneker began with a cousin doing genealogical research on an ancestry website.
"She discovered that we had generations of African American ancestors that had been denied in our family line," Webster said. "So she, of course, wanted to look through that line that other people hadn't examined, and when she looked there, she started turning up these incredible stories. So some of our ancestors had come into Ohio and argued for the right for an education for their children. And then going back further, we descended from Benjamin Banneker. … I felt happy about it and interested in it, of course, to find a connection to … someone as brilliant and amazing as Benjamin Banneker."
As the research progressed, Webster was able to connect with Black cousins who encouraged her to continue the pursuit.
"I found these stories, I wanted to write about them," Webster said. "Any writer would, but I also felt that it was problematic for a White woman to be claiming a famous Black ancestor. So I had a pause of a few years where I did research and I really thought about my way into the story. Then my cousin Edie got in touch with me. She saw a little essay that I had written and said, 'We need to talk about our family.' And as soon as Edie and I began speaking, it was like we knew each other and I understood this would be the form for the book — it would have history, but it would also have present-day conversation with my Black cousins. So she introduced me to the rest of the family, and we started talking, and it's been amazing. We're very close. We're involved in projects together still, and it's been wonderful."
The book combines elements of memoir, investigation, oral history and speculative history, an approach Webster said she took because she "wanted to honor different ways of knowing."
"We are very lucky, especially for a multiracial family or a family of Black ancestry, to be able to document this family very far back," Webster said. "At the same time, we have oral histories, and the oral history is so, so important in Black traditions because that was a way to preserve the family memories. I wanted to bring the ancestors alive and have them be filled out. And oftentimes it would just happen that Edie would be talking through the names and the dates and I would be having a feeling of a scene. It was a joy to imagine them."
Webster said there's a lesson for all Americans in her family's experience.
"Most of us have mixed ancestry," Webster said. "I do think that the White Americans need to embrace that and face that a little more. I think that my cousins on the Black side, they already knew that about the ancestry. They had thought about what that means to have mixed ancestry in this country, what that means in terms of history. But now I think it's for all of us, for many family members, not just the Black family members."
Read an excerpt from the book below. 
---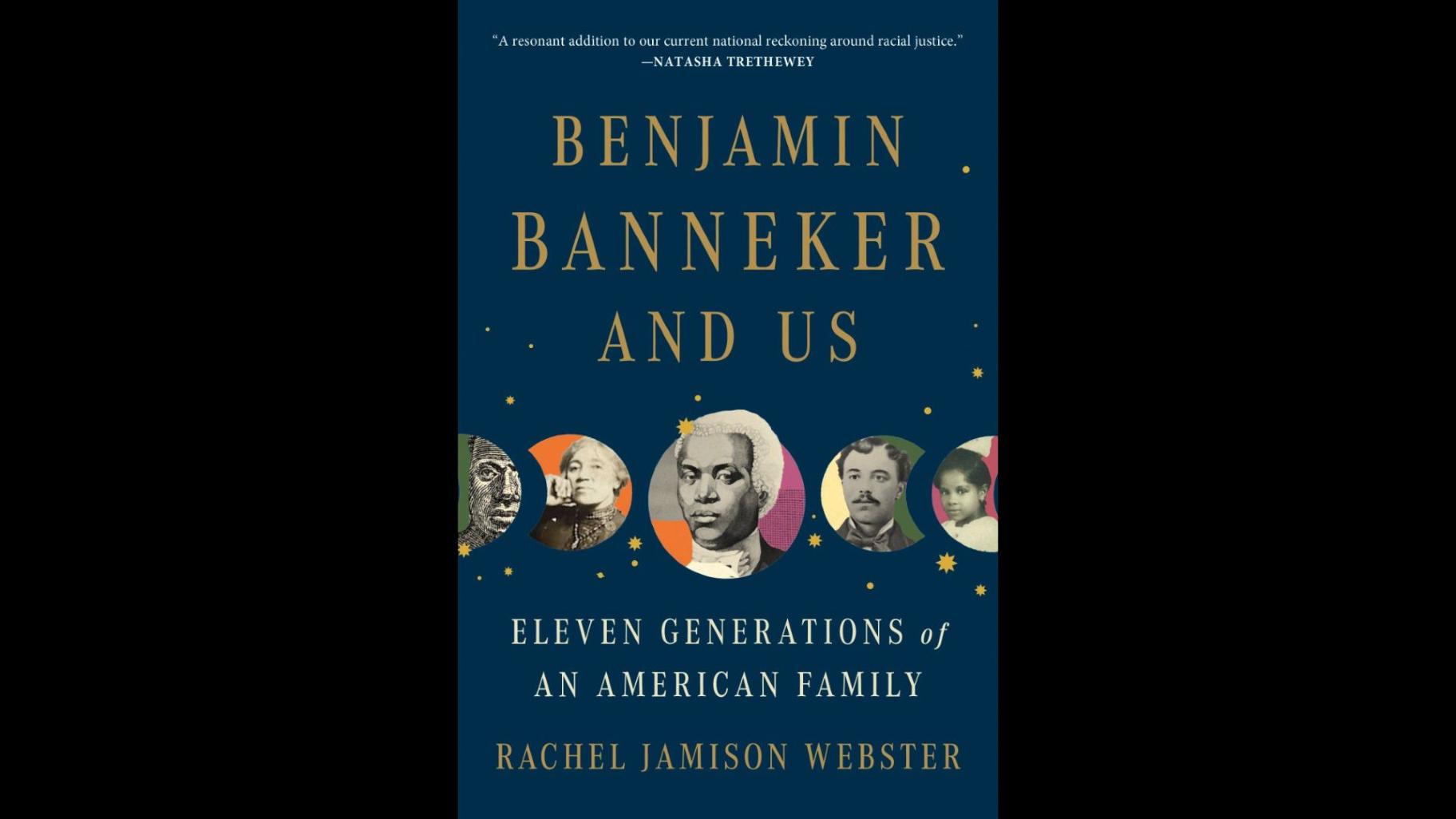 "Benjamin Banneker and Us: Eleven Generations of an American Family" by Rachel Jamison Webster.
Benjamin had always worked best at night, after the world had quieted down, and no one could interrupt him with trifling thoughts about chickens and shovels, bridal clips, and whatnots. Life was way too cluttered with those kinds of thoughts as far as he was concerned. He tried to leave space open in each day for real thinking and discovery. He took long walks and spent hours observing the workings of his bees or a line of carpenter ants, or the vascular patterns on a maple leaf. And through this patient, close attention, the world kept opening up to him, revealing its shapes and harmonies, its repetitions and intelligence.
He loved to watch the moon rise and the stars brighten in their scatters and swaths. He mapped the planets' relations and positions to one another, and he memorized the circular zoo—the zodiac—as it marched its procession of seasons around the skies. He understood that those seasons were cycling into years, and years into epochs that sometimes he could sense the luminous echo of. And he felt intimately a part of this universal dance. Benjamin watched the stars and planets with so much fascination that many nights he fell asleep that way, faceup in the field. He would wake to cool dew on his cheeks and sunlight touching his upturned face. The best way to wake, he thought, the way the starlings and grasses woke.
Benjamin was intensely interested in progress and technology and was known to spend hours in the Ellicott & Co. Store, discussing the news and holding forth on the issues of the day with his characteristic originality and biblical eloquence. He liked the company of other people, but he cherished the solitude that put him in the company of the living earth. In his journals, he noted the layers and relations of the plants, the way life hummed and intersected in webs of pollination and the vast commerce of communicating roots. He watched as the bees took to the flowers and made honey, and as the flowers plumped to fruit because of the bees. The interrelatedness of things was the world's greatest truth, as far as he could see.
Every year of his childhood, Benjamin's father, Robert, had purchased an almanac, consulting its ephemeris for its planting schedules, tide tables, moonrises, and sunrises. An ephemeris was the part of an almanac that included detailed astronomy and kept track of the cycles of the moon, sun, and stars—vital information that allowed seamen to navigate and farmers to determine when to plant and harvest. An accurate ephemeris linked the astronomical with the agricultural, the theoretical with the practical. An almanac, Benjamin knew, was the most useful book a family could own. It was often the only book a family owned—more popular and affordable than a Bible, and essential to the earthly keeping of a household, just as the Bible was essential to its spiritual keeping.
Excerpted from "Benjamin Banneker and Us: Eleven Generations of an American Family" by Rachel Jamison Webster. Published by Henry Holt and Company. Copyright © 2023 by Rachel Jamison Webster.