When artist Rachel Steele first moved to Chicago, it opened up her world.
"I have epilepsy, so I can't get a driver's license," Steele said. "When I moved to Chicago, I was able to suddenly now get around and be super mobile."
The sounds of the city weren't just noise to Steele — they told a story, snippets of conversation and pieces of music and the clatter of the train.
"If we take some time to take out our earphones, we can have some moments of mindfulness and recognize the diversity of things that are around us," Steele said. "Maybe you might hear something that really surprises you."
That's the idea behind the event "Soundpost: Remixing Transit," an audio-visual installation on display at the Chicago Symphony Orchestra on Thursday.
Steele first developed an audio journey around Chicago on CTA buses and trains, ranging from the Loop to Chinatown to Pilsen, mixing sounds she recorded live on public transit and out in neighborhoods with musical instruments reflective of the city's different cultures.
"That then led me to … think about the different ways that transit can create equitable access," Steele said, "and think about how can we use different media to draw people into these ideas and make it interactive, make it fun, but still challenge you to recognize how you think about transit."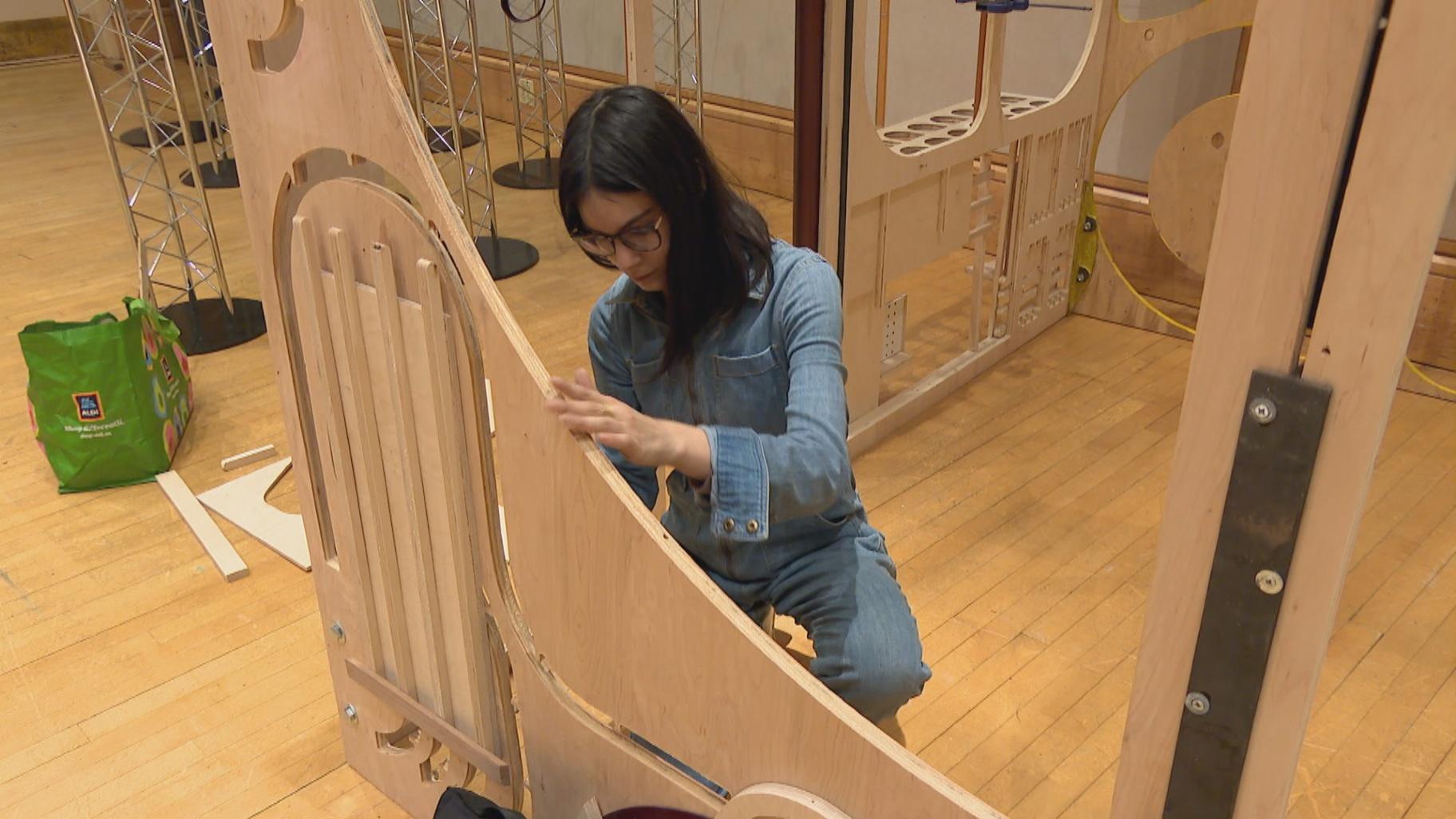 Artist Rachel Steele will present "Soundpost: Remixing Transit" at the Chicago Symphony Orchestra on March 30, 2023. (WTTW News)
For the installation at the CSO, Steele paired different audio elements with three new physical pieces that use found and reclaimed materials. Those components expand on the themes of her work — how the arrival and departure inherent in transit force us reorient ourselves, how historical social struggles often have modern-day parallels.
"It's remixing materials, it's remixing sound … putting different parts of neighborhoods that are historically segregated through highway systems and putting them in the same song, in the same sound, (in the same) image sequence," Steele said.
Steele said the reclaimed elements in her work are a recognition of the threat of climate change — and they also dovetail with her style of producing audio art.
"Why are we bringing new things into the world when things already exist?" Steele said. "We can just repurpose them in another way that can find meaning and value."
"Remixing Transit" is part of the "Soundpost" series put on by the Overture Council, the CSO's young professionals organization. It's aimed at getting Chicagoans 21-45 years old a way to become more familiar with an institution some might find daunting.
"I'm so excited for people to just come out and to experience it," Steele said. "It makes it more accessible and equitable for people to come into the space."
"Soundpost: Remixing Transit" is on view as a one-night only event, beginning at 5:30 p.m. on Thursday, March 30.
Contact Nick Blumberg: [email protected] | (773) 509-5434 | @ndblumberg
---