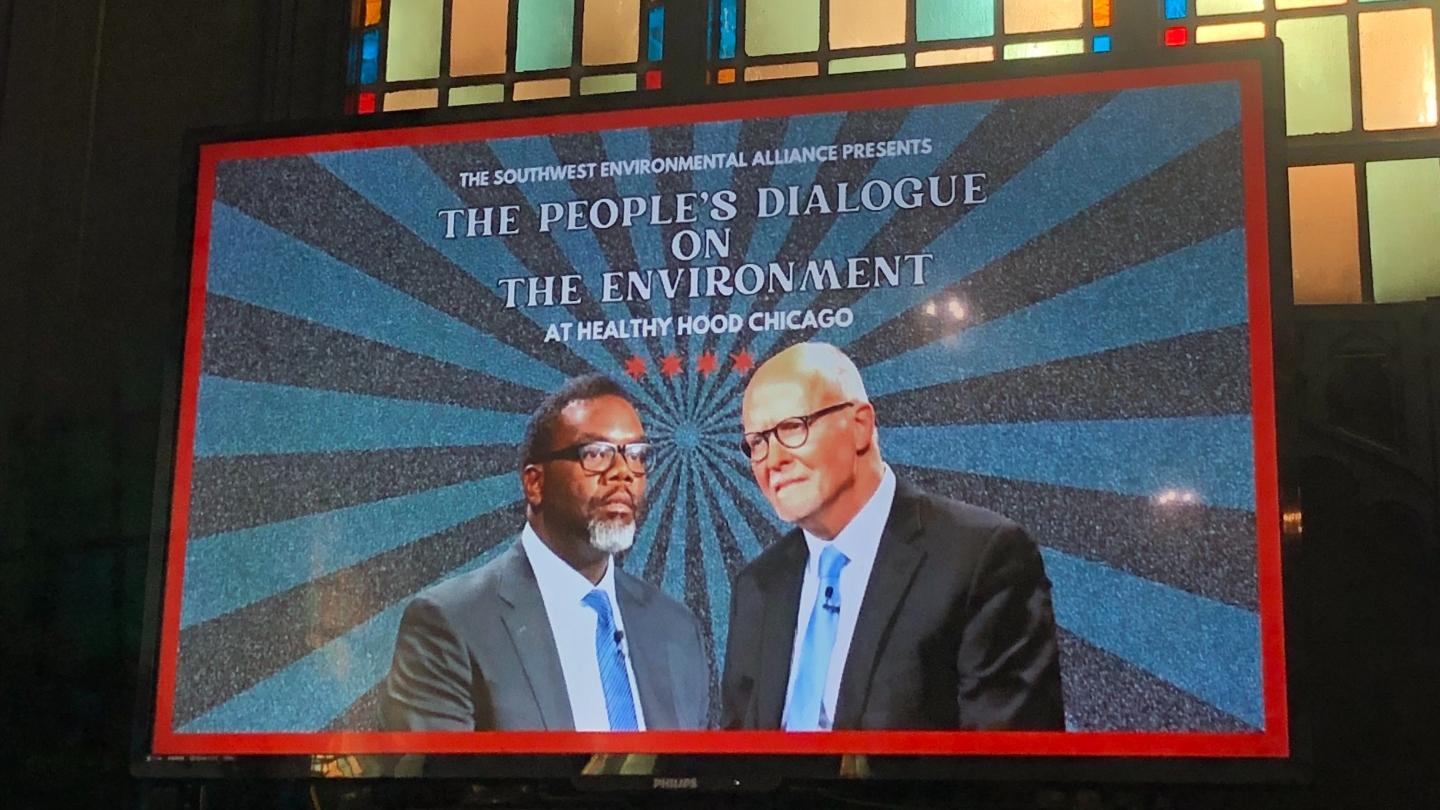 (Patty Wetli / WTTW News)
On Monday evening, mayoral candidates Brandon Johnson and Paul Vallas made their case to voters at a packed forum held in Pilsen, and the words "crime" and "police" didn't come up once.
The only violence people wanted to hear about at this environmental-themed forum was the harm being done to their health due to decades of pollution from surrounding industries.
"We are the ones with the asthma, we are the ones with the heart attacks, we are the ones with the strokes, we are the ones with the cancer," said Theresa McNamara, chair of the Southwest Environmental Alliance.
The alliance represents a coalition of churches and advocacy organizations in communities including Pilsen, Little Village, Canaryville and McNamara's McKinley Park, where neighbors have pitched battles against Mayor Lori Lightfoot's administration over the botched Hilco implosion, Sims Metal Management's shredding and MAT Asphalt. 
But the list doesn't stop there.
"We have the planes, we have the trains," said McNamara. "We have companies burning iron and nickel."
For too long, advocates said, their communities have been treated like dumping grounds. Violations have been swept under the rug, and complaints from residents have been dismissed.
"I'm hoping whoever ends up in office takes this seriously," McNamara said, "and they get their people in line."
The No. 1 issue on the group's agenda is for the next mayor to reestablish the Department of the Environment, which was disbanded in 2011 by then-Mayor Rahm Emanuel. 
"We felt that we had to push, we had to have this forum and ask straight out, publicly," McNamara said.
The format of the event saw each candidate appear on stage individually with moderator Tanya Lozano, co-founder and CEO of Healthy Hood, who put the question about the department to Vallas and Johnson. Both confirmed their commitment, with Vallas promising to involve advocates in the selection process of the department's leader and Johnson outlining ways in which climate and environmental justice could lead to a green economy. 
Video: Paul Vallas on creating a "robust" Department of the Environment. (Credit: Patty Wetli)
Video: Brandon Johnson on his Green New Deal. (Patty Wetli / WTTW News)
---
But the department needs to have teeth. "Follow-through is a big piece," said McNamara. The alliance is calling for more monitoring, more inspections (and inspectors) and more fines. "If they violate, they pay," McNamara said of polluters.
On paper, the two candidates' environmental plans pledge many of the same things, including a vow to take into account a cumulative impact assessment when considering permits for industrial uses.
Tahj McDaniel, of the Near West Side, attended the forum hoping to hear the candidates differentiate themselves with more direct answers about how, specifically, they would clean up pollution — and the streets and sidewalks while they're at it.
"It's not pleasant to walk out the front door" and see all the trash, McDaniel said.
He left disappointed, as did Emani V. (who preferred not to give her last name), who said the problems facing the next mayor seem overwhelming, from education to housing to unemployed youth.
"There's things we know are problems, and they need to be fixed. … There's just so much," she said. "Chicago should be better than this."
Video: Brandon Johnson on integrating climate goals into the broader conversation. (Patty Wetli / WTTW News)
Video: Paul Vallas proposes issuing environmental "report cards" to guide permit process. (Patty Wetli / WTTW News)
---
The worry of organizers like McNamara, who's been door-knocking twice a week, is that people will throw up their hands in defeat and stay home on Election Day. Which is why Monday's forum also hammered home a get-out-the-vote message. 
"We know our (communities') numbers are low when it comes to voting," McNamara said. "You heard us: 'Vote, vote, vote.' You gotta get involved."
And stay involved, McNamara said. Candidates have made promises, and members of the environmental alliance intend to make sure the candidates keep them.
"We're hoping now that we're getting all this momentum," McNamara said. "We're going to have a crowd, big enough to go downtown."
Johnson, for one, has said that if elected, he'll have a cumulative assessment prepared within his administration's first 100 days.
"When that 100th day comes, we want to see that report," McNamara said.
Contact Patty Wetli: @pattywetli | (773) 509-5623 |  [email protected]
---