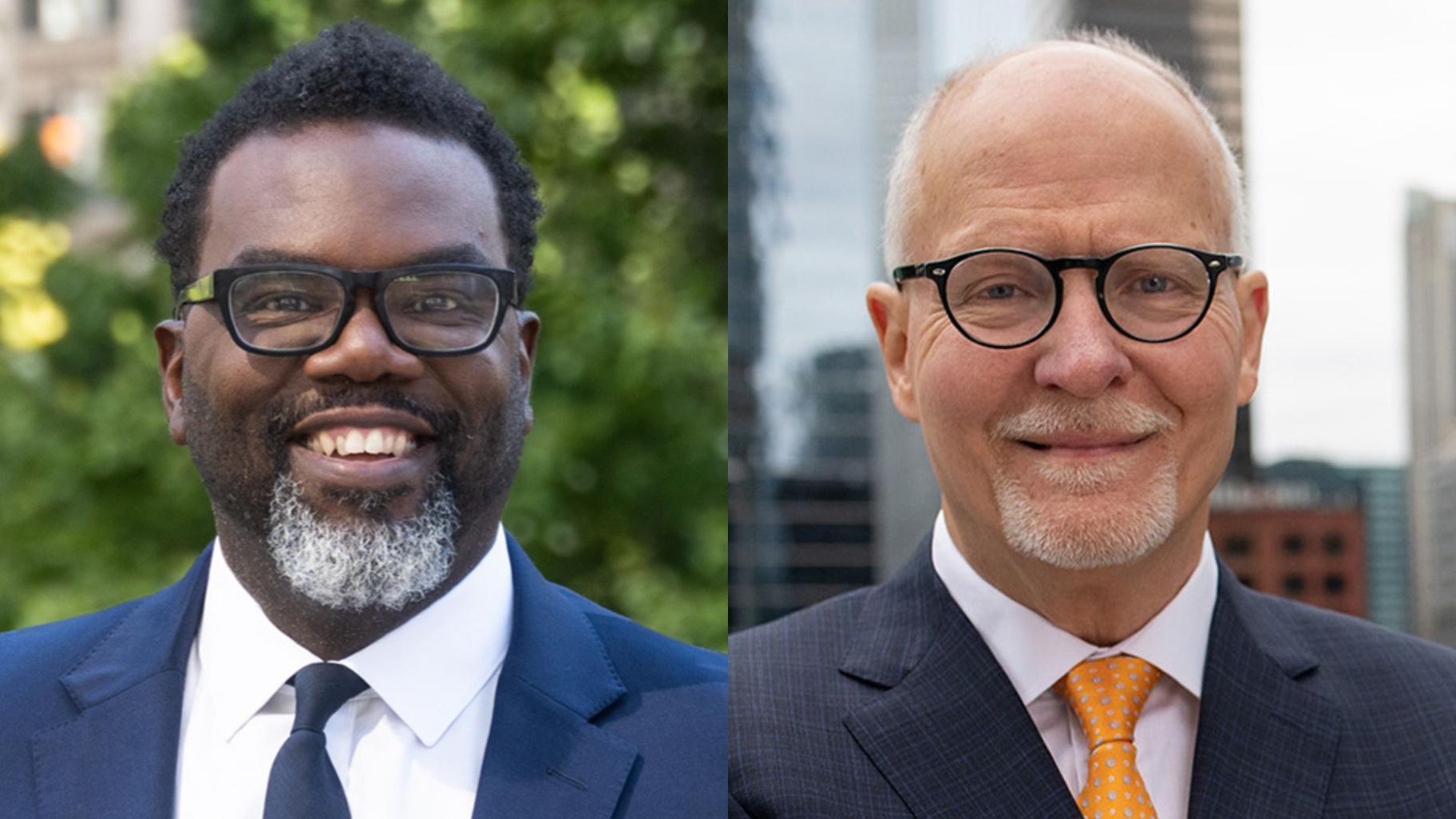 Chicago mayoral candidates Brandon Johnson and Paul Vallas. (Provided)
With a little more than a week to go until Chicagoans head back to the polls to choose their next mayor, much of the focus has been on the candidates' public safety plans.
But whoever emerges victorious on April 4 will also inherit environmental and climate-related challenges, whether it's confronting the city's legacy of industrial pollution or charting a course to meet emission reduction targets. 
Brandon Johnson and Paul Vallas have released environmental plans, both of which sound similar notes: preparing a workforce for green economy jobs; transitioning buildings to cleaner energy; supporting CTA's plan to electrify its fleet by 2040; and the need to speed up the replacement of lead service lines.
---
Read More: Johnson or Vallas: Chicago's Next Mayor Will Oversee CPS During Transformative Period
---
Here's what their plans have to say on key issues: 
Department of the Environment
At issue: Former Mayor Rahm Emanuel disbanded the department in 2011. In her campaign for mayor in 2018-19, Lori Lightfoot pledged to bring the department back, but created an office of sustainability instead. Environmental advocates and council members including Ald. Matt Martin (47th) have pushed to elevate environmental issues to departmental level.
Johnson plan: Vows not only to bring back the department, but to "improve" and "robustly" fund it; appoint a strong and "influential" commissioner; hire staff with subject matter expertise to direct programs and policy; hold inter-agency meetings with partners including CDOT, Water, Buildings, etc.; and beef up the number of inspectors, who will be encouraged to "issue meaningful citations" against polluters.
Vallas plan: Would relaunch the department in fiscal year 2024, consolidating existing operations from various departments offices under one roof. Would also appoint a separate citywide environmental advisory council to "incorporate environmental considerations into early and ongoing stages of economic and housing development." 
---
Environmental justice
At issue: Community members have mobilized on the city's South and West sides in protest against being treated as "sacrifice zones" for polluting industries, be it metal shredding operations, asphalt plants or distribution hubs that would increase truck traffic. 
Vallas plan: Will end the practice of locating "environmentally-challenged" industries in poor communities of color, and undertake an environmental cleanup.
Johnson plan: Within first 100 days, will complete a study on environmental hazards on the South and West sides and will then develop new regulations to reduce and mitigate pollutants.
---
Cumulative impact assessment
At issue: Environmental advocates want permits for potential polluters considered in a larger context, rather than in the vacuum of what an individual business or industrial facility might emit.  
Johnson plan: Will pass a cumulative impact ordinance that takes into account what pollution is already present before approving a permit; will require an environmental impact assessment of any planned development. 
Vallas plan: Will gather existing conditions and vulnerability assessments and making them a part of all infrastructure, economic development and public health decisions and strategies. Base decisions on cumulative impact analysis when considering permits for major industrial and commercial operations.
---
Clean air
Vallas plan: Enforce and strengthen air ordinances, regulations, and practices for private fleets, including localized construction equipment. Deploy network of air quality monitors and gather data to inform the enforcement and policy decisions. Institute a robust inspection program for all facilities with air permits. Assess new, large-scale distribution facilities to determine the impact of truck traffic.
Johnson plan: Will "pump the brakes" on the permitting of additional industrial facilities in communities already overburdened by pollution.
---
Stormwater management
At issue: Chicago's infrastructure hasn't proven up to the challenge of handling storm runoff, and climate change is expected to bring more frequent, intense storms.
Johnson: Stricter requirements on new construction to include stormwater management systems; will work with commercial building owners to develop retrofitting plans to reduce runoff from buildings and parking lots; and will invest in new stormwater management systems to capture runoff.
Vallas: Open a long overdue dialogue and engagement with the Metropolitan Water Reclamation District; incorporate best practices to improve conservation and stormwater management, including green infrastructure.
---
Each candidate's plan also addresses issues and needs that the other's does not.
Vallas plan:
— Waste reduction: Will use the city's economic and political muscle to coax businesses to reduce waste in production and packaging; will build on existing grassroots re-use/swap programs and compost pilots; will boost enforcement of the city's recycling ordinance.
— Trees: Would resume treatment of city trees for emerald ash borer; would develop a more proactive approach to management of the city's urban canopy, including diversifying species, properly planting trees and taking the politics out of tree trimming and pruning.
Johnson plan:
— Utilities: Would explore municipalization of ComEd.
— Green New Deal for education: Would retrofit school buildings to remove toxic materials, improve ventilation and upgrade to renewable energy; create a comprehensive climate justice curriculum; and fund STEM and technical training needed for the green economy.
Contact Patty Wetli: @pattywetli | (773) 509-5623 |  [email protected]
---