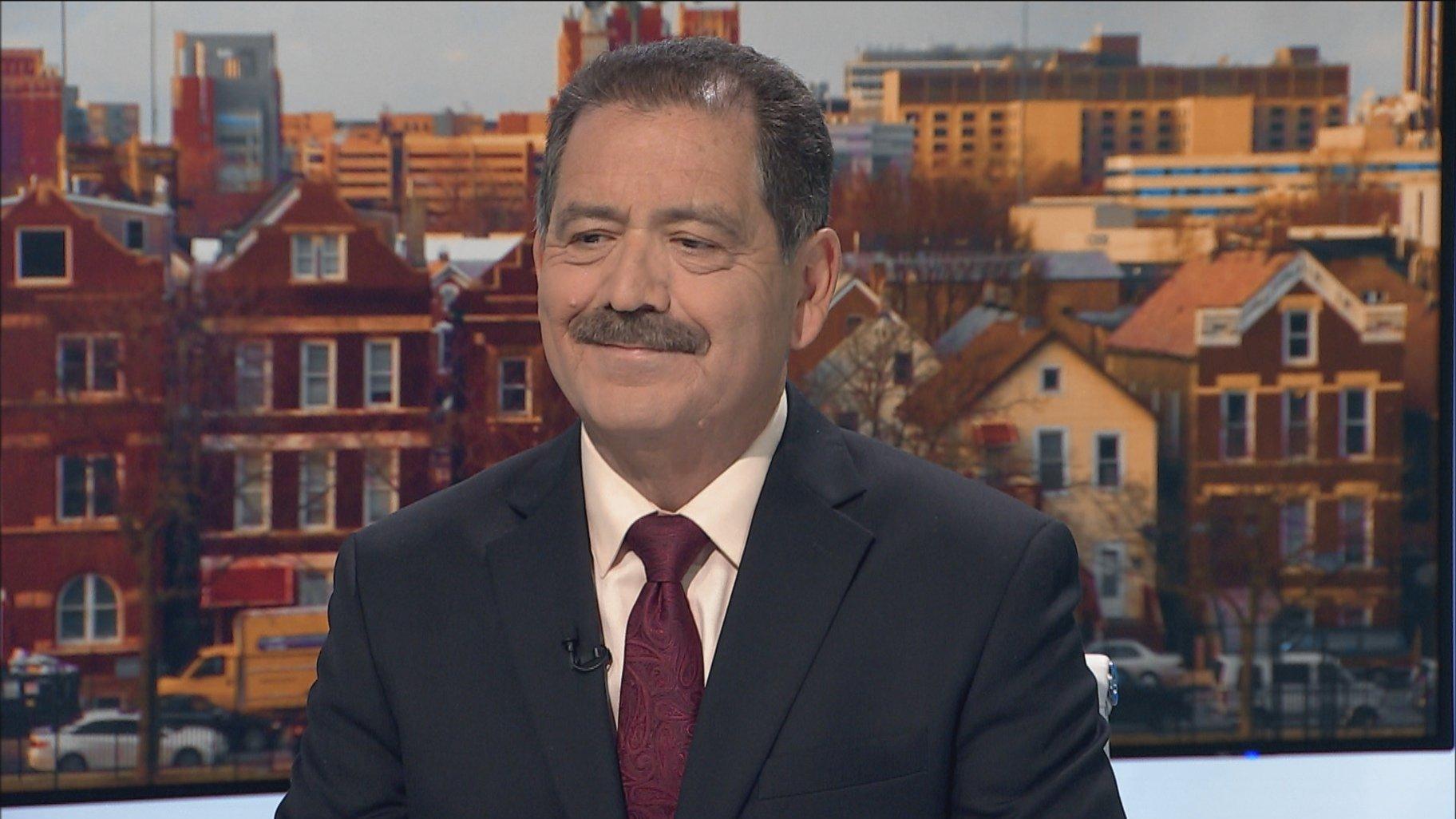 U.S. Rep. Jesús "Chuy" García appears on Chicago Tonight" on Nov. 22, 2022. (WTTW News)
U.S. Rep. Jesús "Chuy" García (D-Chicago) endorsed Cook County Commissioner Brandon Johnson for mayor of Chicago on Friday, urging Chicago progressives to unite behind his former rival to defeat former Chicago Public Schools CEO Paul Vallas.
"I see Brandon Johnson as the right choice," García said.
A coalition of progressive groups in Chicago began working in early 2022 to lay the groundwork to defeat Mayor Lori Lightfoot and launched an effort to unite behind a single candidate. Led by the Chicago Teachers Union and ward organizations, the coalition endorsed Johnson, who had been on the frontlines of the fights against former Mayor Rahm Emanuel and then Lightfoot.
But García's decision to enter the mayor's race in mid-November after winning another term in the U.S. House of Representatives scuttled those plans and touched off a fierce campaign that left bruised feelings and raw emotions. Johnson accused García of "abandoning the progressive movement" in Chicago, while García suggested that Johnson, an organizer for the teachers union, might not be "impartial" when negotiating the next contract with the labor organization.
"The next four years will see Chicago become a world-class city once again," García said. "We need a leader that is committed to equity, to inclusion and coalition building. And that's Brandon." 
García's endorsement is designed to unite the city's progressives behind Johnson, a critical part of Johnson's path to defeating Vallas, who has consolidated Chicago's conservative political establishment under his banner. Along with García, Ald. Mike Rodriguez (22nd Ward) and state Sen. Celina Villanueva, D-Chicago, endorsed Johnson.
The runoff is April 4. Ballots will start hitting mailboxes next week, and early voting starts across the city Monday. Several recent polls show the race is essentially tied.
Vallas finished first on Feb. 28, earning approximately 33% of the vote, followed by Johnson, with 22% of the vote. García finished fourth, behind Lightfoot, with approximately 14% of the vote. García won six wards, most concentrated around Chicago's Near West Side, the heart of Chicago's Latino community.
"It is time to renew and expand our coalition," García said. "United we rise, divided we fall." 
In 2015, the Chicago Teachers Union tapped García — then a Cook County commissioner — to challenge Emanuel's bid for re-election after CTU President Karen Lewis had to drop out of the race for mayor after being diagnosed with brain cancer.
García lost to Emanuel, but not before forcing him into a runoff and supercharging Chicago's progressive political movement. García was elected to the U.S. House of Representatives in 2018, and since he took office in 2019, has been a leader of the progressive wing of the national Democratic Party.
But once García launched his campaign, it failed to withstand an onslaught of attacks from Lightfoot about his links to the now-indicted co-founder of crypto exchange FTX, Sam Bankman-Fried.
García also failed to separate himself from Lightfoot on the race's key issue: public safety. His plan was not significantly different from the policies pursued in recent months by Lightfoot, although he promised to lead more collaboratively and with less rancor.
García was slow to air commercials touting his campaign on television, and had to edit his first spot after it sparked complaints that it violated rules that prohibit officers from engaging in political activity while in uniform.
Contact Heather Cherone: @HeatherCherone | (773) 569-1863 | [email protected]
---