Video: The WTTW News Spotlight Politics team breaks down the biggest headlines of the day. (Produced by Alexandra Silets)
---
U.S. Rep. Jesús "Chuy" García released a new version of his first television advertisement in the race for Chicago mayor on Wednesday, hours after the presence of two uniformed officers in the 30-second spot promising to get tough on crime triggered a probe by Chicago Police Department officials.
A spokesperson for the García campaign told WTTW News the ad was revised out of an "abundance of caution" after WGN-TV reported that it likely violated police department policy that prohibits officers from engaging in political activity while "wearing a uniform or any part thereof which would identify the individuals as Chicago Police Officer, or use property of the Chicago Police Department."
Representatives of the Chicago Police Department confirmed that the two officers were under investigation.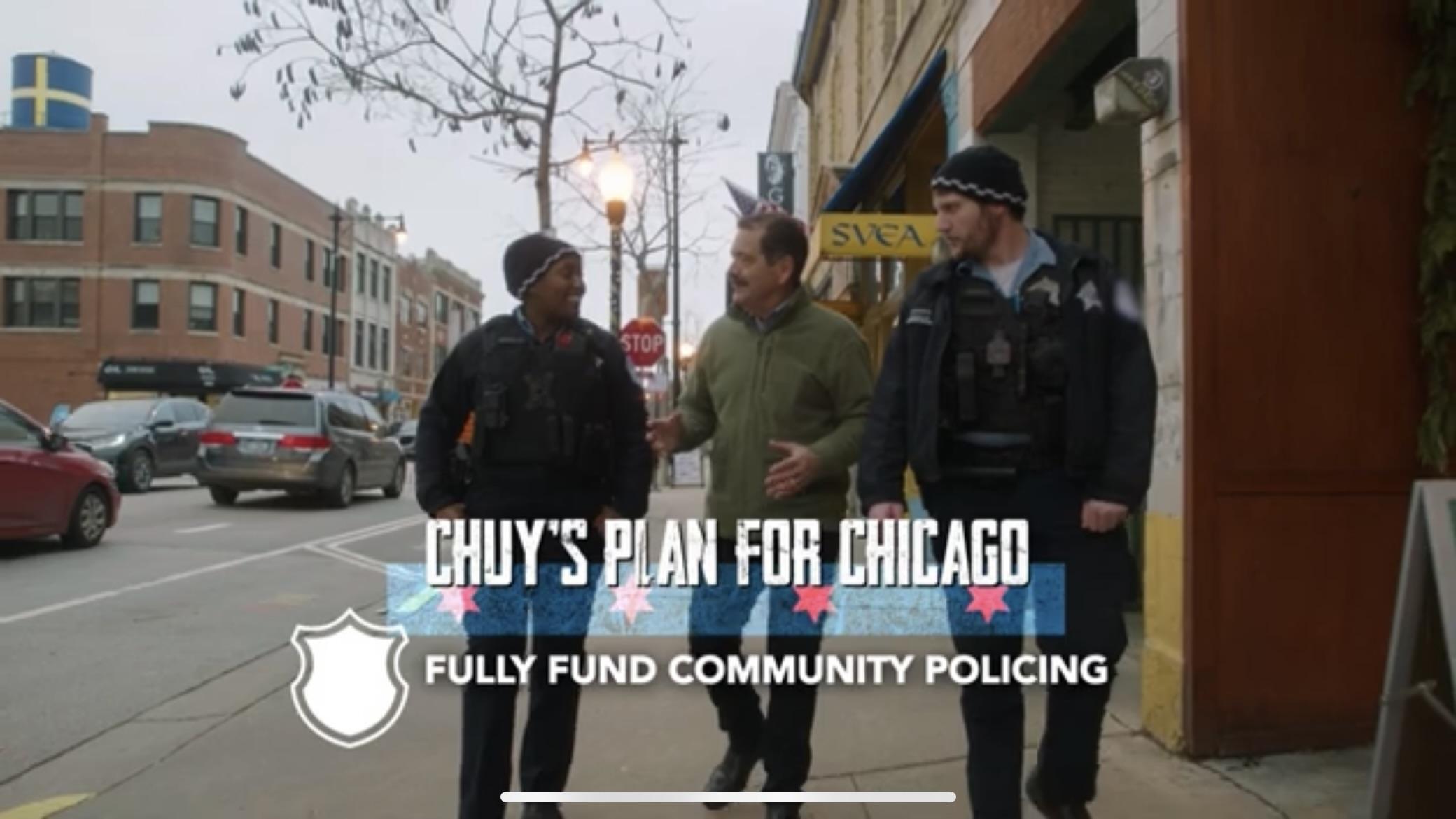 An image from the original version of the ad released by Jesús "Chuy" García showing uniformed Chicago Police Department officers. (YouTube / Chuy for Chicago)
Both versions of the spot juxtapose images of Chicago's "L" rumbling by a colorful Northwest Side mural, two-flats and the skyline with images of Chicago neighborhoods cordoned off with yellow police tape, sirens and injured people being loaded into ambulances.
García, who represents Illinois' 4th Congressional District, vows to crack down on crime "by getting more cops on our streets and illegal guns off of them" as upbeat music plays.
The original version of the ad showed two officers walking and talking with García. One officer, a Black woman, smiles as García speaks, as the second officer, a White man, looks on. The trio appear to be walking along Clark Street in Andersonville.
The revised version replaces that segment with generic images of a police cruiser driving down Michigan Avenue near the Art Institute, the back of a police officer's uniform and images of Chicago police officers from a distance conferring at a crime scene.
As García is shown chatting over coffee with three women, including a Black woman and an older white woman, he vows to expand "community-based violence prevention programs" and to "tackle the root causes of crime by investing in left-behind neighborhoods."
García's spokesperson said the campaign had consulted with the Chicago Board of Ethics before releasing the ad Tuesday, and was confident that the campaign had not violated the city's Government Ethics Ordinance.
Both Mayor Lori Lightfoot and former Chicago Public Schools CEO Paul Vallas have used images of themselves with uniformed police officers and firefighters in their campaign materials. However, since those images appear not to be staged for the benefit of the campaign but captured as part of other events, they likely do not violate Chicago Police Department policy.
The Chicago Board of Ethics voted unanimously Monday to ask both the Chicago inspector general and the Chicago Public Schools inspector general to probe whether Lightfoot's campaign violated the city's government ethics ordinance.
The call comes after the Lightfoot campaign sent emails to CPS teachers and City Colleges of Chicago faculty seeking student volunteers to help her win reelection in return for credit. The discussion that led to the vote by the members of the Chicago Board of Ethics took place in closed session and the board's action did not name Lightfoot, in keeping with the board's rules.
Contact Heather Cherone: @HeatherCherone | (773) 569-1863 | [email protected]
---