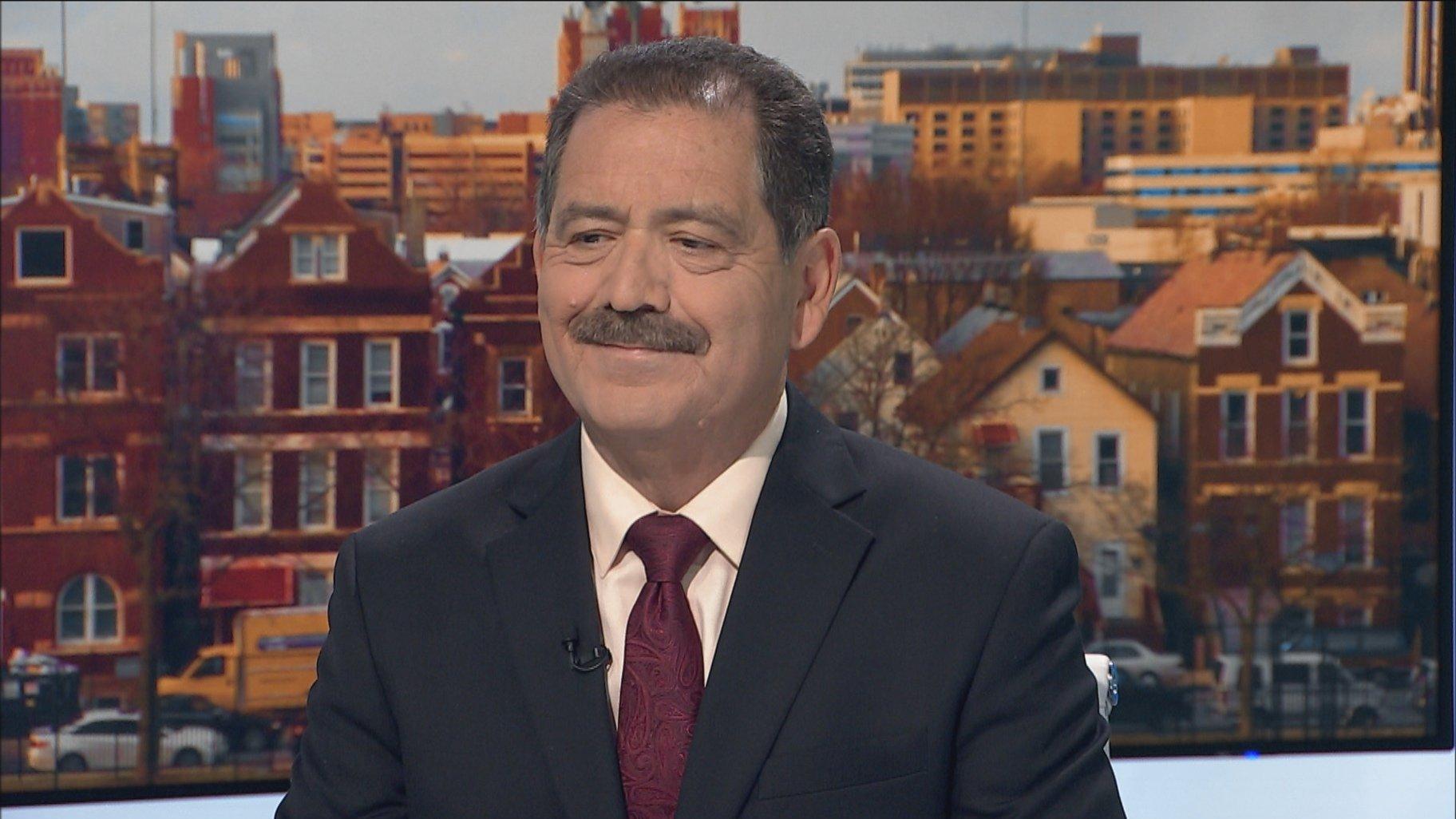 U.S. Rep. Jesús "Chuy" García appears on Chicago Tonight" on Nov. 22, 2022. (WTTW News)
Mayoral challenger U.S. Rep. Jesús "Chuy" García took direct aim at Mayor Lori Lightfoot Friday, blasting her for failing to prevent a tide of crime and violence from washing over the city and turning her back on efforts to reform the beleaguered Chicago Police Department.
Instead of stopping the violence in Chicago that claimed 695 lives in 2022, Lightfoot focused on "pointing fingers and hurling insults," García said during a City Club of Chicago speech on Friday to a room packed with Chicago's most politically active and influential business and nonprofit leaders.
"A mayor who cannot keep us safe is a mayor we cannot afford to keep," García said.
The surge of crime and violence that peaked during the COVID-19 pandemic has yet to recede. Lightfoot has said the 15% drop in homicides in 2022, as compared with 2021, is evidence her policies are paying off. However, 2021 was the most violent year in Chicago since the mid-1990s, with more than 800 people killed.
More than 70% of voters rated crime and public safety as their No. 1 or No. 2 most important issue, with no other issue coming close, according to a recent poll paid for by the International Union of Operating Engineers Local 150, which has endorsed García.
"I'm not going to sit back and watch Chicago fail because of incompetent leadership," said García, adding that he regretted endorsing Lightfoot in the 2019 mayor's race.
García used his City Club speech to unveil his first official campaign policy, more than two months after entering the race to deny Lightfoot a second term in office. Also running are activist Ja'Mal Green, Ald. Sophia King, state Rep. Kam Buckner, businessman Willie Wilson, Cook County Commissioner Brandon Johnson, former Chicago Public Schools CEO Paul Vallas and Ald. Roderick Sawyer.
The six-page plan promises a "fully funded, modern police department." García has said the Chicago Police Department's $1.9 billion budget in 2023 is "sufficient."
García also vowed to increase the number of Chicago police officers by improving their working conditions.
Lightfoot's campaign immediately responded to the fusillade of criticism from García, accusing him of aligning himself with calls to "defund the police" during the summer of 2020 after the police murder of George Floyd but now likening him to "opportunists who stick their finger in the wind and pander to the crowd" and calling him "a second-time mayoral candidate who lacks even five minutes of executive experience."
Lightfoot had never held elected office at any level before her 2019 election.
García promised to fire Chicago Police Supt. David Brown and replace him with someone from Chicago. Brown, who took over the department in April 2020, is from Dallas.
Vallas, who has been endorsed by the Fraternal Order of Police, Lodge 7, the union representing more than 8,000 rank-and-file officers in the Chicago Police Department, said García should have done more to fight crime and violence as a member of the U.S. House of Representatives, Cook County commissioner and member of the General Assembly.
"Chuy Garcia has been in elected office for over three decades and he's done little to nothing in any of those roles to make Chicago safer," Vallas said in a statement.
The specifics of García's plan are not significantly different than the policies pursued in recent months by Lightfoot. García said he would redeploy officers from citywide units to patrol neighborhoods, and assign nonsworn members to administrative tasks while freeing up officers to fight crime, all efforts backed by Lightfoot.
García also said he favored sending counselors and social workers to calls about Chicagoans experiencing mental health crises and would make sure street outreach programs and violence prevention efforts in Chicago's most violent neighborhoods were fully funded and backed by city officials. Those policies have also been embraced by Lightfoot.
While García's new plan may not be significantly different than Lightfoot's public safety agenda, he vowed to implement it in a vastly different way, by collaborating with other elected officials.
In a recent ad, Lightfoot's campaign dismissed criticism of her public safety plans as coming from "haters."
That brought an incredulous response from García.
"Instead of moving us forward, she calls us `haters.' Really? `Haters.' That's what she calls everyone who does not think the city is doing all it can to make us safe," Garcia said. "She's not serious. I am serious. And it's time to stop blaming everyone and to start doing the job."
García also blasted Lightfoot for failing to fulfill her 2019 campaign promise to ensure "full and swift compliance" with the consent decree, a federal court order that requires the Police Department to stop routinely violating the constitutional rights of Black and Latino Chicagoans.
However, García stopped well short of endorsing the policy dubbed "treatment not trauma" backed by Johnson, which calls for the Chicago Police Department's budget to be reduced to allow publicly run mental-health clinics to be reopened and for social workers, not police officers, to respond to 911 calls for help from those experiencing a mental health crisis.
"Rep. Garcia's plan is inadequate, and fails to reimagine public safety in Chicago," Johnson said in a statement. "We need to try new approaches, and not continue failed policies like tweaking patrol procedures or making unrealistic recruitment promises."
Contact Heather Cherone: @HeatherCherone | (773) 569-1863 | [email protected]
---