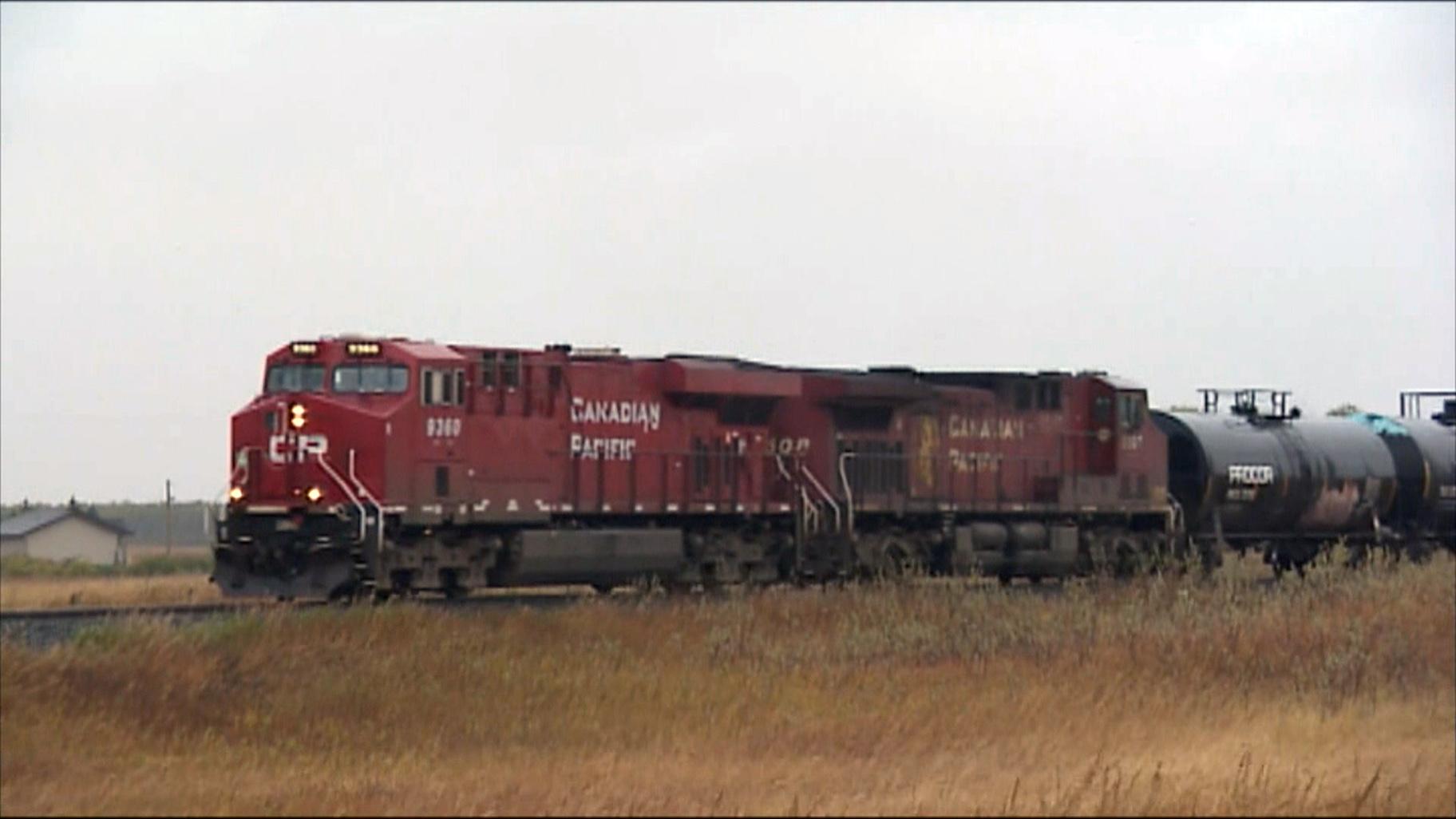 (WTTW News)
A federal agency tasked with overseeing the merger of two massive rail companies approved the decision to the dismay of the leaders of some northwest suburban communities.
Surface Transportation Board Chairman Martin Oberman discussed the approval in a news conference Wednesday morning.
The $31 billion merger of Canadian Pacific and Kansas City Southern would be the first railroad network to extend from Canada through the U.S. to Mexico. The number of trains and amount of hazardous cargo are expected to increase following the merger, which creates the country's smallest Class I railroad.
Oberman, former Chicago city council member and chair of the board of directors at Metra, said he believed the merger would increase competition in the rail market.
In its decision, STB said, "(O)nly eight additional trains per day are expected in the Chicago area, the busiest rail terminal in the nation, which already hosts approximately 1,300 freight, commuter, and Amtrak trains per day."
Those trains will pass through DuPage County communities once the merger is complete, as well as through Chicago. Members of the Coalition to Stop CP/KC expressed what they view as problems with the merger, including noise, potential disruptions in emergency services and hazardous materials in the wake of the Norfolk Southern derailment in Ohio.
The timing of the decision was not affected by the events in East Palestine, Ohio, Oberman said.
Coalition communities include Bartlett, Bensenville, Elgin, Itasca, Hanover Park, Roselle, Wood Dale and Schaumburg.
"The factual data shows the merger will increase safety in communities," Oberman said. The approval passed by a majority decision of the board with one member voting against it.
In that dissent, STB Board Member Robert Primus wrote, "If it all sounds too good to be true, we are in agreement. Not only do I not share Applicants' optimism, but I disagree with the Board's approval of this transaction."
Primus pointed to rail consolidation not being followed by improved service to customers, saying it did not "adequately guard against merger-related service disruptions."
Primus also focused on the impact of the merger on surrounding communities, including air and noise pollution, traffic and the environmental effect on marginalized communities along rail lines.
In documents filed as part of the approval process, Metra said the merger could delay commuter travel. In the decision, STB said it will issue orders following the merger to address capacity issues and disruptions to commuter rail service. This is the first major rail merger since the 1990s.
Reporting by WTTW identified at least 272 hazardous materials incidents involving trains in 70 Illinois communities over the past decade. Records also showed between 1998 and 2021, there were 148 derailments involving a hazardous materials release in Illinois.
"If there is a problem in this country about the safe transportation of hazardous materials by rail ... it is a problem nationwide," Oberman said. "It is not a problem caused by this merger."
"We have to be very realistic when we talk about, 'What are these hazardous materials?'" Oberman said. "Many of them are the foundation of our economy."
Both U.S. senators and two representatives from Illinois previously expressed opposition to the merger, which was announced in 2021.
In a joint statement, Illinois Democrats U.S. Rep. Raja Krishnamoorthi, U.S. Rep. Delia Ramirez, Sen. Dick Durbin and Sen. Tammy Duckworth said, "We are deeply disappointed that the Surface Transportation Board has sided with corporations over our constituents in the Chicago region. As we have repeatedly reminded the STB, the merger will have dramatic impacts on freight traffic in Illinois that will undoubtedly impact the safety, congestion, and livelihood of Illinois communities as well as disrupt Metra's commuter rail operations that Illinoisans rely on to access jobs, education, and work."
Krishnamoorthi spoke at a coalition news conference following the announcement of the merger. He characterized the approval as rushed and rubber stamped, and said, "I am not done fighting."
Hanover Park Mayor Rodney Craig summed up his feelings on the merger in one word: "Disgusting." Coalition leaders called for Congressional hearings on rail safety, and highlighted issues with pollution, increased costs and response time for local public safety agencies.
Speaking on emergency response times, Itasca Fire Protection District Chief Jack Schneidwind said, "This merger should not be at the cost of the lives in our community."
Shawn Collins, an environmental attorney in the Chicago area, said safety and transparency are key to rail safety, and found fault with STB relying on information from the train companies.
"This decision is far too trusting of the railroads. You don't take the polluter's word for anything that is important," Collins said. "What the railroads say has to be considered, but you don't stop there. This is the worst time to be rushing a decision allowing more freight rail cars rumbling through Chicago and the suburbs."
Petitions for reconsideration of this decision must be filed by April 4, 2023.
The board has established an oversight period of seven years for the merger, a move that Oberman characterized as "unprecedented." The merger could be extended by STB if needed, Oberman said.
The average train length is expected to decrease following the merger, Oberman said, though there is a projection of longer trains going through Chicago suburbs.
---