The billows of black smoke rising above a derailed train in East Palestine, Ohio, last month drew national attention to just how often hazardous chemicals are transported by rail. 
Illinois sits at an important shipping crossroads, and the Chicago area is a main transportation spoke with about $3 trillion in goods moving through northeastern Illinois each year, according to the Chicago Metropolitan Agency for Planning. 
While trucks carry a large portion of the goods that move through the region, according to CMAP, the other common manner for freight transportation is rail.
In light of all that freight traffic, how likely is it that Illinois will see a disaster like the one in Ohio?
WTTW News analyzed state and federal data to paint a picture of how often trains derail in Illinois, and how many of those derailments involve what the government terms hazardous materials. 
There have been at least 272 hazardous materials incidents involving trains in 70 Illinois communities over the past decade, according to data from the Pipeline and Hazardous Materials Safety Administration, the agency within the Department of Transportation responsible for monitoring and enforcing transportation of energy and hazardous materials.
Illinois tied for the third highest total of hazardous material incidents in the nation in 2022, according to the data.
Trains and trucks commonly carry hazardous substances across the country. In fact, trains are required by law to transport hazardous materials, and have lower accident rates than trucks, according to records.
Despite recent attention on rail travel in light of the Ohio derailment, there have been a greater number of hazardous materials incidents involving trucks than trains in the U.S. and Illinois, according to federal data. In fact, according to records from the Illinois Commerce Commission, less than 10% of hazardous materials releases involving trains since 2017 were derailments.
Between 1998 and 2021, there were 148 derailments involving a hazardous materials release in Illinois, according to records from the Illinois Commerce Commission, with more than 43% of those occurring in Cook or the collar counties. The most common substance involved is diesel, according to state records. 
While Illinois ranks high in total hazardous materials incidents, state records indicate the number of derailments where hazardous materials were released were cut in half from the previous decade. 
Despite that reduction, when derailments do occur, the fallout can be costly. 
Recent Illinois Derailments
A 2015 derailment in Galena, Illinois, saw 218,000 gallons of crude oil spilled near the Mississippi and Galena rivers, according to records. Fires burned for three days following the crash.
The Illinois attorney general's office announced a court order requiring BNSF Railway, the company that operated the train, to pay for cleanup and ground water monitoring. BNSF spent more than $10.5 million, including reimbursements to state and local authorities, according to the attorney general's office.
The Illinois Environmental Protection Agency helped clean following that spill. The state EPA becomes involved in these incidents when chemicals are released to the environment and contaminate the land, air or water, spokesperson Kim Biggs said. 
The Illinois EPA Office of Emergency Response helps coordinate the agency's follow-up response including technical information, monitoring or testing, evacuation recommendations, oversight and documentation.
Pools of accumulated crude oil around develop around one of the derailed tank cars as pictured on March 9, 2015, after a derailment in Galena, Illinois. (Environmental Protection Agency)
The Illinois attorney general announced a lawsuit following a 2021 release of sulfur dioxide emissions from vented tank cars from a Phillips 66 refinery in Madison County, and was involved in a number of other lawsuits and orders connected to trains and hazardous materials.   
A Christmas Eve derailment in Dixon, Illinois, was one of two in 2020 involving sulfuric acid. In that case, nearly 200,000 pounds of the corrosive material were released, according to state and federal records. 
There are seven rail companies reporting about 82% of all hazardous materials incidents via rail in Illinois since 2014, according to federal and state records. 
The company with the highest total in Illinois was BNSF Railway with 66 total documented hazardous rail incidents, according to federal records. Union Pacific, CSX Transportation, Alton & Southern Railway, Illinois Central Railroad and Norfolk Southern all registered 25 or more hazardous materials incidents since 2014.
Alton & Southern is owned by Union Pacific. Illinois Central is owned by the larger Canadian National Railway. Union Pacific, Norfolk Southern, CSX, BNSF, Canadian Pacific and Canadian National, the largest companies operating in the country, have all registered a derailment release in Illinois since 2017, according to state records.
Some working in the field believe less oversight on the industry and greater demand for productivity increases the odds of a serious incident like the one in East Palestine.
Locally, Illinois passed a law in 2019 requiring freight train crews to be at least two people. This is law in at least six other states, and seven more have proposed legislation, according to a report from the Washington Post.
Train staffing became a focus in the U.S. following a crash in Quebec province. A train carrying more than 2 million gallons of crude oil with one crew member derailed and exploded in 2013, killing 47, forcing 2,000 people from their homes and destroying the downtown core of Lac-Mégantic, according to the Canadian accident investigation.
Norfolk Southern, Union Pacific and CSX were united by responses that highlight the overwhelming percentage of hazardous materials that are delivered without incident. Companies pointed to the decline in accidents and decreases in injuries. 
"CSX moves more than two million carloads annually in your state," CSX spokesperson Sheriee Bowman said. "That would be more than 20 million in the past decade, with only 35 incidents." 
Big rail companies operating in Illinois spent more than $12.4 million on federal lobbying activities last year, according to OpenSecrets data from the Senate Office of Public Records.
Off the Tracks
The Norfolk Southern train that derailed in Ohio departed from Madison, Illinois, with a final destination of Conway, Pennsylvania.
An initial report by the National Transportation Safety Board attributed the Feb. 3 derailment to an overheated bearing. The derailed equipment included 11 tank cars carrying hazardous materials that ignited, including multiple cars carrying 115,580 gallons of vinyl chloride.
Vinyl chloride, a petrochemical used to make polyvinyl chloride, burned for several hours in East Palestine, according to the report, and led to an evacuation zone that stretched 1 mile by 2 miles.
While the cleanup remains ongoing, Norfolk Southern announced an improved safety plan following the NTSB report. A second Norfolk Southern train derailed in Ohio without releasing hazardous materials March 4, according to media reports.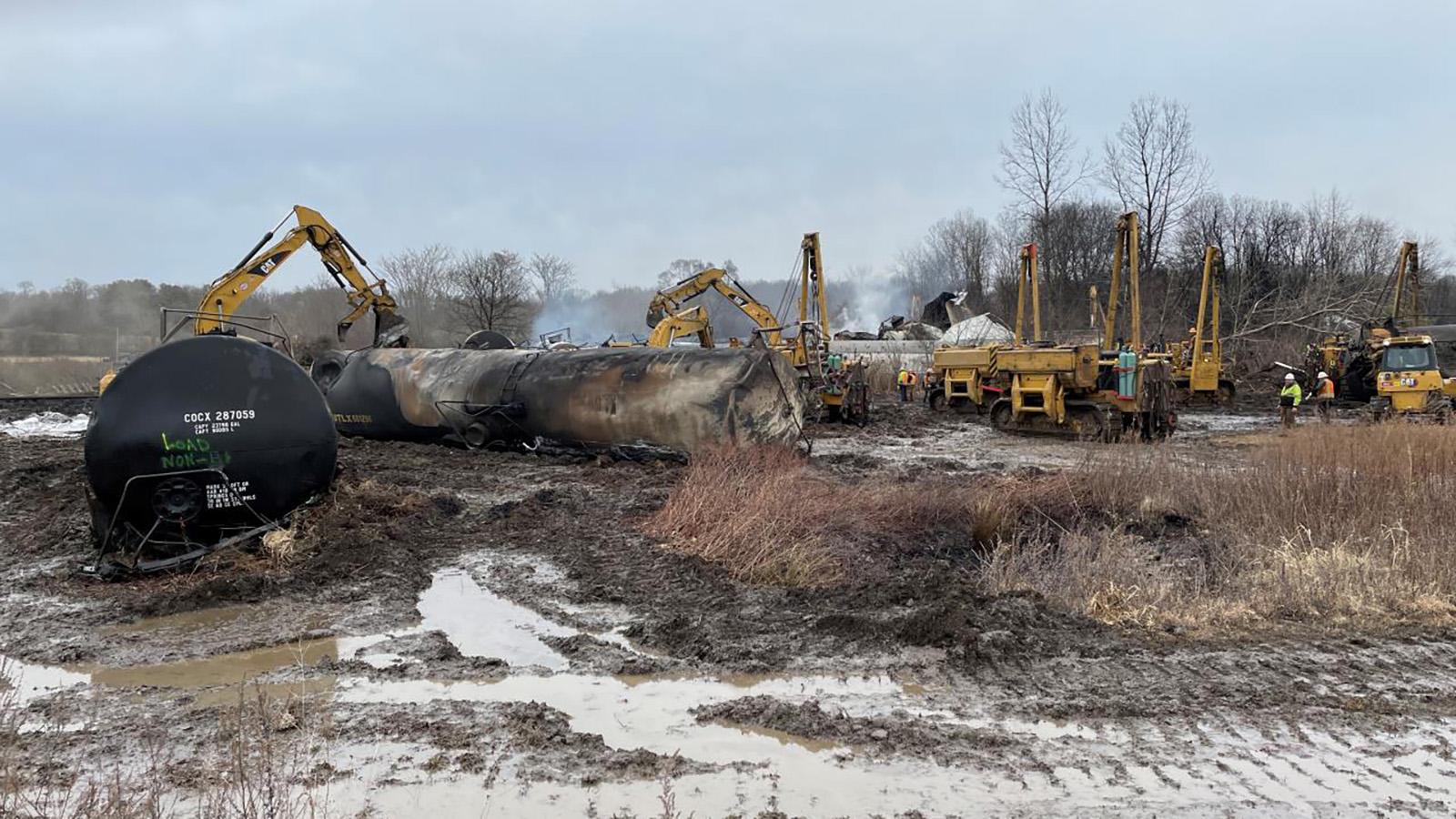 Norfolk Southern contractors remove a burned tank car from the crash site in East Palestine, Ohio. (Environmental Protection Agency)
Federal and state authorities also track the more common incidents where trains leave the tracks but nothing leaks. A train in 2021 left Glenwood with vinyl chloride on board. It came off the tracks in Dupo, Illinois. 
Following a 2019 derailment in the same area, video showed a fire with black smoke burning for more than an hour. Acute exposure to the chemical known as hexone irritates the eyes, causes lightheadedness and vomiting, and chronic exposure has been linked to enlarged liver in humans, according to the EPA.
The U.S. EPA classifies hexone as a dangerous air pollutant.
Another 2022 incident in Clinton County saw the release of about 20,000 gallons of methyl methacrylate, which is used in the manufacture of plastics, according to Illinois Emergency Management Agency records.  
Stop That Train
Local authorities, particularly those near major railways, kept their eyes glued to East Palestine.
That's especially true for some towns in the northwest suburbs where a major rail merger is under review, a development that's only become more fraught after the Ohio disaster.
Some leaders expressed support for the Coalition to Stop CP/KC, an organization opposing federal approval of the union between Canadian Pacific and Kansas City Southern railways by the Surface Transportation Board.
Communities including Bartlett, Bensenville, Elgin, Itasca, Hanover Park, Roselle, Wood Dale, Schaumburg and DuPage County signed letters protesting the approval of the merger, and expressed fear about the problems that would follow its approval. 
"The Village of Bartlett continues to object to the merger of the CP/KCS railway," said Paula Schumacher, village administrator of Bartlett. "The approval of the merger is expected to increase freight traffic on the Milwaukee District West rail line by up to 300% in three years."
The effect on daily life, including delays, vibrations and noise was seen as a drawback of the approved merger. Many expressed frustration with the lack of transparency about chemicals transported by rail. 
Adding to the concern, communities have seen millions of dollars of commercial and residential development along local rail lines. For them, it's tough to overlook how the disaster in East Palestine impacted residents.
"As we have seen with the most recent derailment, train cars carrying hazardous materials pose a significant threat to those living and working adjacent to the tracks as well as to the environment," Schumacher said. "The proposed merger would increase the daily carloads of hazardous material that moves through the village."
Hanover Park Mayor Rodney Craig was dismissive of the Environmental Impact Study of the merger, a position shared by many other coalition members interviewed.
"No impact is what they're saying. Don't agree. The impact's for Elgin along the Fox River, a source of drinking water for many communities," Craig said. "An incident similar to what occurred about 35 miles outside of Pittsburgh, in East Palestine, is just huge. I don't want to see that."
Aurora, the state's second most populous city, Elgin and Sleepy Hollow all use water from the Fox River.
Craig identified towns in the area with fire and police services on one side of the tracks where emergency service could be blocked by trains. The complaint echoed testimony to the STB on the merger from September.
Itasca Village Administrator Carie Anne Ergo, chairperson of the coalition, said nothing put on the table by rail companies mitigated her concerns, and the traffic increase will come with more accidents and fatalities if approved. 
"It's less expensive to get this right first than to go back and fix it," Ergo said. "They should protect the people in these communities over the profits of the company."
Canadian Pacific was encouraged by the STB to negotiate agreements with communities affected by the merger, which would be the first railroad network to extend from Canada through the U.S. to Mexico. They settled with Hampshire and Pingree Grove, according to records. Evan Summers, Village Manager of Bensenville, passed on the settlement offered to coalition communities, which he characterized as "blood money."
In a statement, Canadian Pacific said, "We would like to again thank the Surface Transportation Board's Office of Environmental Analysis for its thorough review of the proposed CP-KCS combination. CP remains committed to working with communities as we advance through this process and looks forward to receiving the STB's decision on the CP-KCS merger application."
Municipalities with major rail yards are the locus for most hazardous rail incidents. Leaders in these communities watched events in East Palestine cautiously.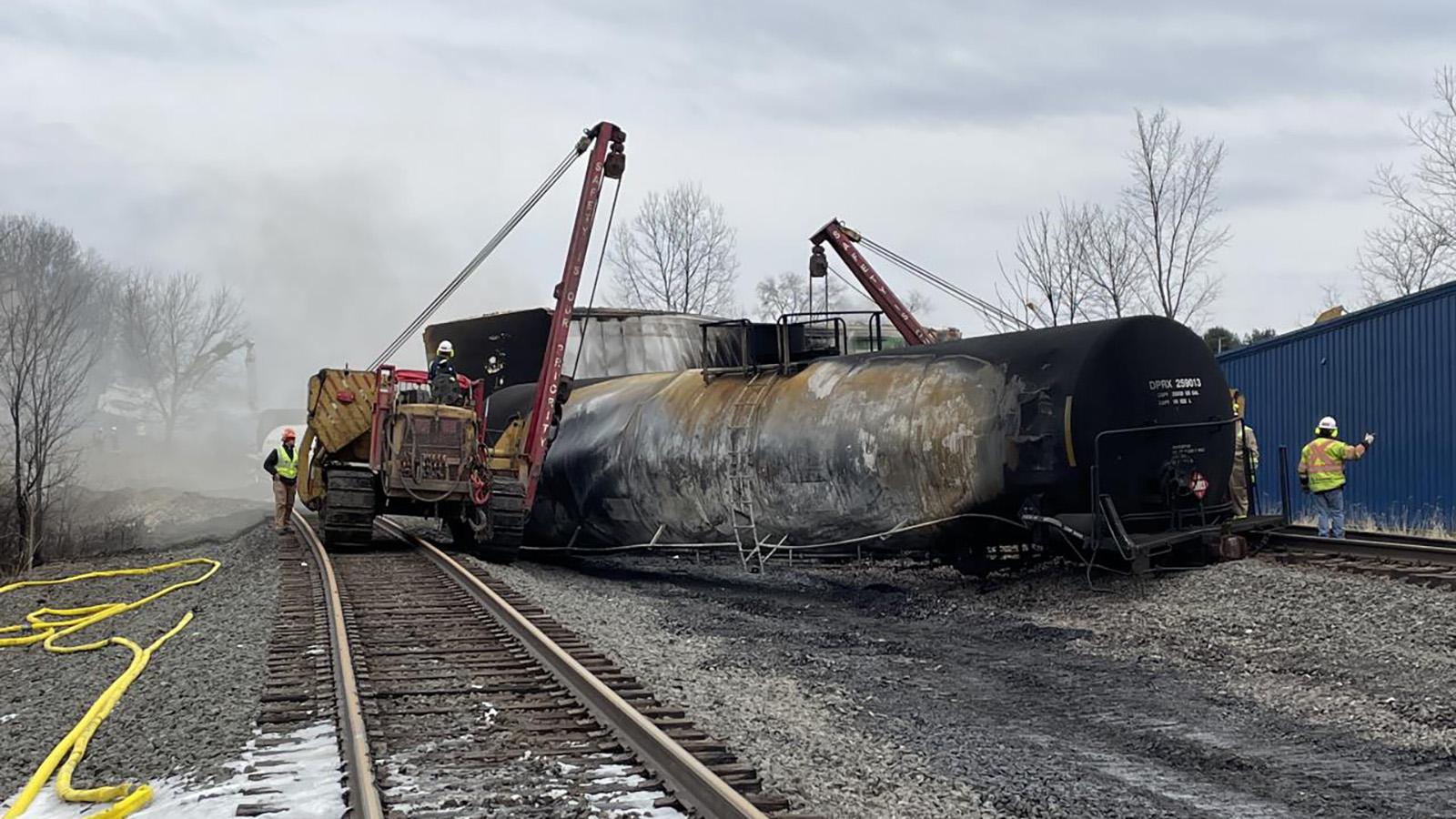 An overturned rail car is pictured at the crash site in East Palestine, Ohio. (Environmental Protection Agency)
For towns used to freight traffic, train companies provide resources, local residents know what to keep an eye on and whom to call for help when anything goes wrong. Local officials say that gives some local municipalities a leg up over other rural communities. 
"In Ohio, or anywhere along the tracks, they don't know where an incident is going to happen. So they can have stuff stationed all over the place," Northlake Mayor Jeffrey Sherwin said. "The training is here because of the concentration that is here with the yards. So that's an advantage that we have over what happened in Ohio or anywhere else in the United States."
Sherwin also worries for local communities further down the tracks.
"As a mayor, I would be more nervous being on a main line of a railroad. I have seen those freight trains barrel through Elmhurst and Glen Ellyn," Sherwin said. "If a train comes off the tracks at that rate of speed, you're going to have a situation like in Ohio. All these towns, their downtown is right where the train track is. The train station, the restaurants, the entertainment venues are right there."
The Congressional delegation for the area also tried to pump the brakes on the railroad merger.
Illinois Democrats U.S. Rep. Raja Krishnamoorthi, U.S. Rep. Delia Ramirez, Sen. Dick Durbin, and Sen. Tammy Duckworth sent a letter to STB Chairman Martin Oberman Feb. 24 asking to delay any final decision until after it completes a review of the increased traffic of hazardous materials that would result from the merger.
The letter expressed concern about the hazardous material passing through Chicago and other densely populated areas.
The danger of contamination in East Palestine and across the country also worries Peter Orris, a professor and senior physician of occupational and environmental medicine at University of Illinois School of Public Health. He identified two different time frames important to measure the damages from a toxic release. First, chemicals and smoke have an acute impact on health as people breathe them in.
The contamination of the environment through residual material not contained in the cleanup, especially if it is carcinogenic or neurotoxic, can also lead to chronic illness, Orris said.
Vinyl chloride, Orris said, is particularly toxic with respect to liver cancer, and can also cause serious health problems when burned because it creates dioxins, a toxic chemical class that contaminates the herbicide Agent Orange. Exposure to dioxins can cause cancer, reproductive and developmental problems, damage to the immune system, and can interfere with hormones, according to the EPA.
Smaller releases happen all the time, he said, and sometimes we don't learn about them until years later. Orris said more could be done proactively to monitor hazardous discharges before they create health problems.
"The concern about people seeing bodies on the streets in the next few days from this is a concern that is misplaced," Orris said about the time following an emergency response. "On the other hand, the amount of disease that will be caused in the next few years, and then certainly over the next 30 to 40 years, is something we should be concerned about, because we ought to be preventing those."
---