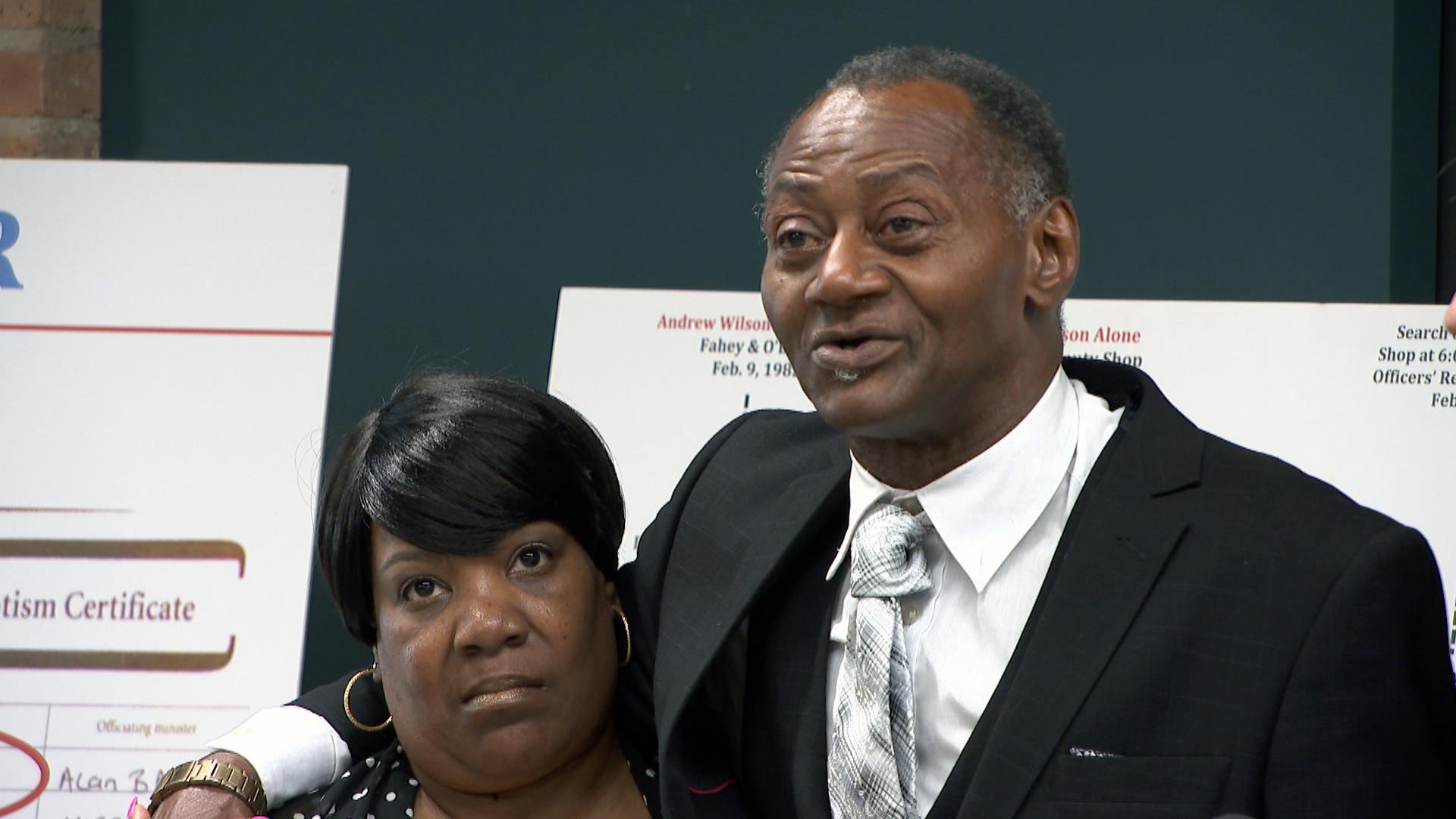 Jackie Wilson responds to a question from the media at a news conference announcing a lawsuit filed on his behalf on Wednesday, June 30, 2021. (WTTW News)
A man who was wrongfully convicted for the murder of two Chicago police officers and spent decades in prison is suing a host of current and former police, state's attorneys and city officials, alleging they conspired to convict him for crimes they knew he did not commit and to cover up the acts of torture that lead to his confession.
Former Mayor Richard M. Daley, notorious police Commander Jon Burge and two former Chicago police superintendents are among those named in a federal lawsuit filed Wednesday by Jackie Wilson, who wrongfully spent more than three decades behind bars for the 1982 murders of police Officers William Fahey and Richard O'Brien.
"After 39 years, it is time for Defendants to be held civilly accountable for their egregious misconduct that caused (Wilson) to nearly die imprisoned for crimes he did not commit," Wilson's attorneys from Loevy & Loevy and the People's Law Firm wrote in a 67-page complaint.
The lawsuit alleges a conspiracy took place to cover up the torture of Wilson by Burge and detectives under his command at the Area 2 station following Wilson's arrest for the murders of Fahey and O'Brien.
According to the complaint, Wilson was repeatedly beaten and electroshocked by Burge and others as they demanded a confession. Wilson eventually relented and falsely confessed because, according to the complaint, he believed "the only way he would leave Area 2 alive was if he gave a statement."
That statement was taken by an assistant Cook County state's attorney and a court reporter, who allegedly knew that Wilson had been tortured into confessing.
Wilson was found guilty and sentenced to life in prison in 1983. But that conviction was overturned by the state Appellate Court in 1987, and a second trial took place two years later.
The complaint states that during the 1989 trial, prosecutors and police continued "fabricating additional false evidence and withholding exculpatory evidence." That included former Assistant State's Attorney Nicholas Trutenko, who allegedly conspired with a jailhouse informant, William David Coleman, to "fabricate a false story that falsely implicated" Wilson.
This led to a second conviction in O'Brien's murder, but an acquittal for the killing of Fahey. Even so, Wilson was again sentenced to life in prison, where he remained for the next 29 years until 2018.
That's when Cook County Judge William Hooks ruled that Wilson's confession had been coerced out of him.
"There is more than enough to surmise what happened in the investigation and interrogation of Jackie Wilson was not good — instead, very bad and ugly," Hooks said, according to the complaint. "The conduct of those involved in this most serious of investigations, which involved attempting to discover and ethically prosecute the murderer or murderers of two Chicago police officers, required more. Much more was required of the Chicago Police Department, the Office of the Cook County State's Attorney, our courts, the private and public defense bar, and indeed, our federal government."
Hooks tossed out Wilson's conviction and granted him yet another trial, but this time, his false confession could not be used against him.
Special prosecutors brought in to handle this third trial again relied on Coleman's story implicating Wilson. But after two weeks, those prosecutors abruptly dropped all charges against Wilson after it was revealed that Trutenko had allegedly lied on the witness stand by suppressing the fact that he had an ongoing "illicit relationship" with Coleman.
Hooks has since granted Wilson a certificate of innocence.
"To say I'm hurt is an understatement," an emotional Wilson said during a press conference Wednesday before breaking down in tears.
Just this month, Cook County Judge Alfredo Maldonado ordered a special prosecutor to investigate the state's attorney's office, Trutenko, Coleman and others for alleged misconduct.
"The unparalleled nearly 39 years of unconstitutional misconduct was not an isolated occurrence," Wilson's attorney wrote in the complaint. "Rather, it was part of several interrelated patterns and practices of systemic torture and physical abuse of African American suspects at the Area 2 and, later, at the Area 3 Police Headquarters under Defendant Jon Burge's command and supervision."
Contact Matt Masterson: @ByMattMasterson | [email protected] | (773) 509-5431
---