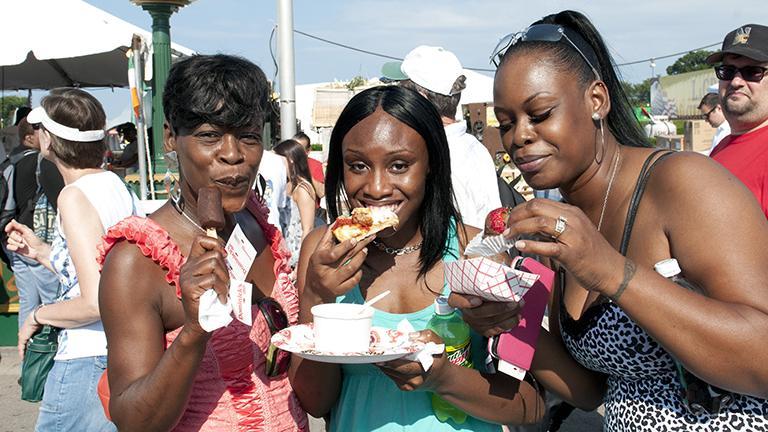 Taste of Chicago. (Courtesy City of Chicago)
With concerts and a NASCAR race set to close at least some of Grant Park nearly every day between May 18 and Aug. 13, the fate of Chicago's beloved summer festivals, including the Taste of Chicago, are hanging in the balance.
In all, at least part of the 300-acre Grant Park – known as Chicago's front yard – will be closed to Chicagoans for 83 days this summer, including every day except June 2, June 3, June 4 and July 16, according to a schedule released Tuesday by the Chicago Park District that was first reported by Block Club Chicago.
A spokesperson for the Chicago Park District told WTTW News officials are "committed to balancing the needs and interests of all park users" and officials will work to maintain "as much public access" to the park as possible while ensuring "the safety of our park patrons and employees in the park."
At least a portion of Grant Park will be closed every day between June 5 and July 15 to allow NASCAR to stage a street race through downtown Chicago as a part of its championship series, according to the schedule released by the Park District.
That will make it impossible for the Taste – started in 1980 – to return to its traditional home in Grant Park. In 2022, the festival featured more than 30 vendors and three stages at an event that has yet to return to its size and prominence since being canceled in 2020 and 2021 because of the COVID-19 pandemic.
Instead, officials with the city's Department of Cultural Affairs and Special Events, known as DCASE, asked the City Council's Special Events committee on Tuesday to approve a plan to move the Taste to the park in front of Navy Pier on July 1 and July 2 as part of the routine ordinance green lighting special events in Chicago.
That effort stalled amid opposition from Ald. Brendan Reilly (42nd Ward), who has been a fierce critic of Mayor Lori Lightfoot's plan to bring NASCAR to Chicago.
"This was a planning disaster," Reilly told reporters. "So to give a blank check to the administration for the special events for this year without these explanations, I think would be irresponsible. I think the next mayor should make this decision, not the lame duck."
Paul Vallas and Brandon Johnson will face off on April 4 in the runoff to replace ousted Mayor Lori Lightfoot.
A DCASE spokesperson declined to answer a question about plans to move the Taste to a park near Navy Pier, which is much less accessible by public transportation or on foot than Grant Park, telling WTTW News only that the Taste will take place this summer.
"We are finalizing details for 2023 and will be announcing dates and locations for DCASE's signature summer events in the coming weeks," said spokesperson Madeline Long.
Portions of Grant Park will also be closed from May 18 to June 1 to allow the Sueños festival to take place on May 27 and May 28. Lollapalooza, which takes place Aug. 3-6, is also scheduled to close portions of Grant Park starting July 17 through Aug. 13, according to the Park District schedule.
No plans have been announced to hold the annual Chicago Blues Festival or Chicago Jazz Festival, according to the city's website. However, the annual Chicago Gospel Festival is set to take place on June 3, according to the city's website.
Contact Heather Cherone: @HeatherCherone | (773) 569-1863 | [email protected]
---