As the largest land owner in Lake County, the Lake County Forest Preserve District faces constant development pressures on its holdings. 
"I'm sitting here every day saying 'no,' fighting things off," said Ty Kovach, executive director of the forest preserves. "You never hear about it when we say 'no.'"
But it does stir up controversy when the district says "yes" or "maybe," and that's been the case with a proposal from the Waukegan Port District to buy 52 acres of forest preserve land to accommodate construction of a new airport runway.
In late February, the Lake County Board of Commissioners voted 16 to 3 in favor of signing a non-binding memorandum of agreement with the Port District, providing the general framework for the sale, should it take place. No dollar amounts have been attached to the land yet.
With a length of 7,000 feet, the proposed airstrip would be 1,000 feet longer than Waukegan Airport's existing primary runway, which airport officials say has "reached the end of its useful life." Considered a "reliever" airport for O'Hare, Waukegan in recent years has earned a reputation as a hub for "Chicagoland's Fortune 500 flyers."
The 744-acre Waukegan Savanna, owned by the Lake County Forest Preserve District, sits at the western edge of the airport. Though the airport has enough room on its own property to build the new runway proper, it needs additional acreage at both ends to fulfill the Federal Aviation Administration's requirements for "runway protection zones" — essentially buffer areas in case a plane misses its mark on takeoff or landing.
The airport's $186-million runway plan, dubbed the Safety Improvement Project, has the support of leaders of several surrounding communities, including the mayors of Waukegan, North Chicago and Beach Park. The airport is "one of Waukegan's most essential assets" and is a "critical part of our economy," George Bridges Jr., chief of staff for Waukegan Mayor Ann Taylor, said at a recent public hearing.
The plan has its detractors as well, among them trustees of the village of Wadsworth — who are concerned about the potential for larger planes and increased noise pollution — and environmental advocates, who object to the sale of land considered preserved and protected. 
Mary Mathews campaigned for a $185 million bond referendum, passed by Lake County voters in 2008, designed to raise revenues for forest preserve land acquisition.
"So here we are discussing selling the land," Mathews said. "The mission is not to acquire and maintain land until someone else wants it."
The crux of the matter is that the Waukegan Port Authority isn't just "someone," said Kovach.
"We're a unit of government and this (the Port Authority) is another government organization," he said. "We're all children of the state. We work with other units of government."
Transportation safety is one area where the forest preserve district is most likely to make concessions, after every other alternative has been exhausted, Kovach said.
"We're a public agency and we have to consider, 'How does this fit with the public good?'" he said.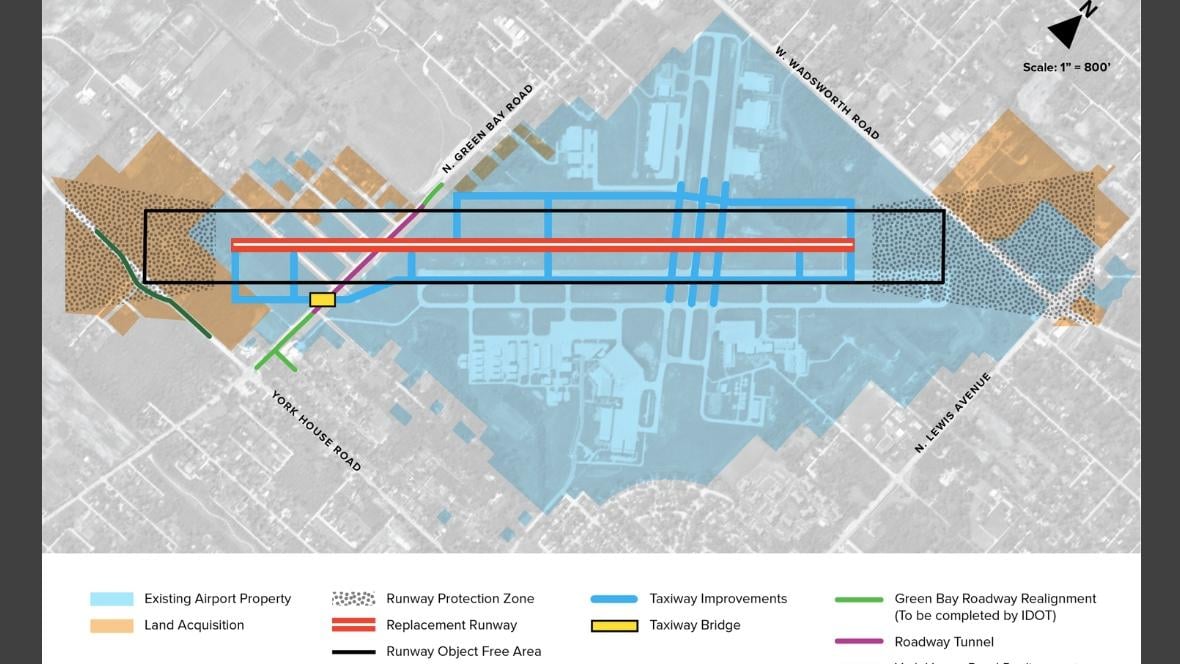 Proposed configuration of new runway at Waukegan Airport. (Waukegan Airport)
Opponents are asking the same question: What's the public good?
"This is not for public use," said Doug Ower, an area resident and chairman of the local Sierra Club chapter. "The only reason, in my opinion, that runway needs to be extended is to bring in larger jets. They're promoting this as a safety issue, I think it's more of a larger jet issue."
While airport officials have repeatedly stated the 7,000-foot runway length is required by the FAA, Ower said that characterization is misleading.
There is no standard runway length dictated by the FAA in the manner of X-sized airport calls for Y-sized runway, Ower said. "There's all kinds of factors that go into (runway) design. What would lead them to a 7,000-foot runway is larger jets," he said.
Ower pointed to a master plan developed for the airport back in 2011, which spells out the process used to arrive at 7,000 feet. The report references the FAA's "guiding principles" to determine recommended runway lengths, the first step being to identify the types of planes that will use the runway. 
While plenty of smaller private planes (think Cessnas) fly in and out of Waukegan, a growing amount of traffic is expected to consist of long-range charters such as Boeing Business Jets, a version of the 737 modified for the corporate market. 
Airport officials said there are no plans for expanding service to cargo planes and passenger jets. 
Lake County Commissioner John Wasik was one of the three votes against the memo of agreement, citing the potential environmental impact of larger, more numerous jets. 
"There's a lot of people outside breathing this air," he said, citing the schools, churches and parks all located near the airport. Waukegan is an environmental justice area where asthma rates are already "off the charts," said Wasik. "We should be planting more trees, restoring more wetlands" rather than increasing air traffic.
Opponents have also suggested the longer runway may be part of a strategy to eventually lure cargo carriers, something airport officials have emphatically denied.
"There is no change anticipated in airport operations," said Skip Goss, general manager of Waukegan Airport.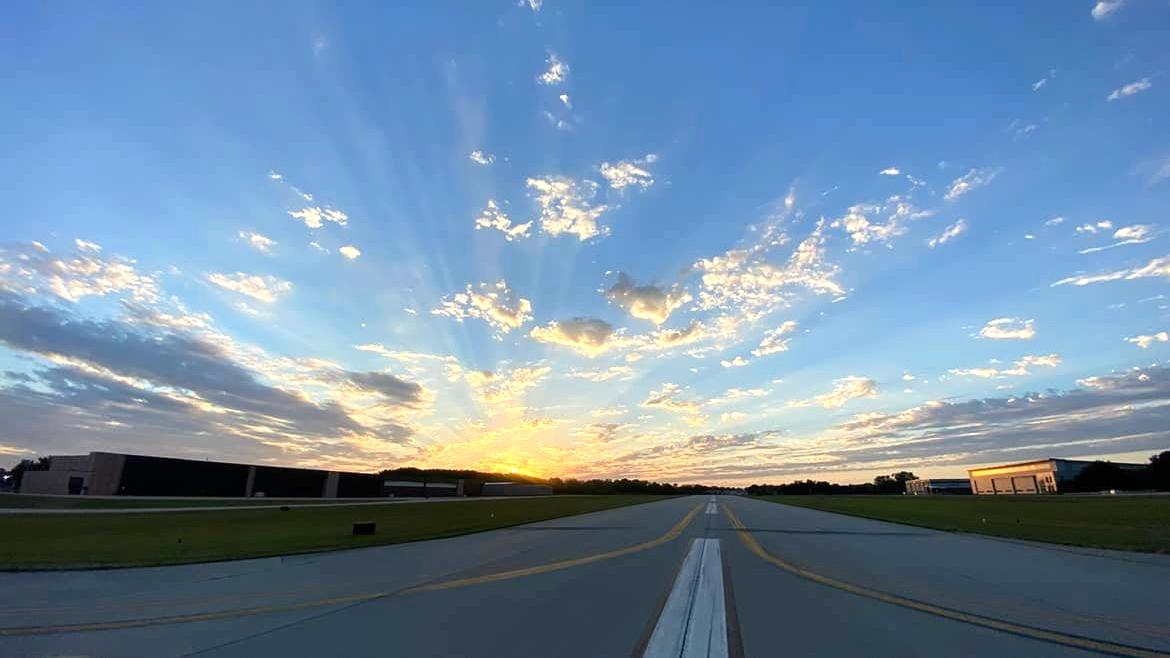 (Facebook / Waukegan Port District - Waukegan National Airport)
Environmental advocates are disinclined to trust the airport's pronouncements or motivations.
An eagerly anticipated Draft Environmental Assessment of the runway's impact, called for under the National Environmental Policy Act (NEPA), has yet to be released. This is the document — prepared by the airport — that should provide detail on what kinds of jets will be using the runway; their anticipated emissions and proposed mitigations; and noise impacts, among other issues.
The project's opponents wanted Lake County commissioners to hold off on signing the memo of agreement until they had seen the assessment but, in a puzzling bit of business, commissioners were told the agreement needed to be in place before the document could be shared.
During the public discussion held in advance of commissioners' vote, Goss clarified that the signed agreement was not being mandated by the FAA but was strongly desired.
There was some confusion in the room, an airport spokesperson later told WTTW News. Kovach said he didn't think there had been any intention on the part of the Port District to mislead commissioners.
The vote proceeded despite the objections of attendees like Barbara Klipp, executive director of the Midwest Sustainability Group, who told commissioners: "You are about to take an action opposed by the entire environmental community. We are losing faith in you over this issue."
With the agreement now approved, commissioners await the results of the assessment, a situation critics of the vote likened to signing a mortgage and then scheduling an inspection.
But any declarations that the land sale is a "done deal" would be premature, said Commissioner Ann Maine.
"A 'yes' vote today is not a 'yes' down the line," said Maine.
Corrections: A misspelling of Skip Goss has been corrected; Boeing Business Jets are modified 737 aircraft, not 747.
Contact Patty Wetli: @pattywetli | (773) 509-5623 |  [email protected]
---