There's a lot still unknown about the makeup of the next Chicago City Council, but one thing is for certain: Big change is coming. There were a record number of retirements this term, which means a number of first-time alderpeople will be joining the City Council. Some are in runoffs, and some have already won their races outright.
Julia Ramirez won the 12th Ward in what was her first run for public office. She unseated newly appointed Ald. Anabel Abarca, winning 56.5% of the vote, according to unofficial results from the Chicago Board of Election Commissioners. The seat was previously held by longtime incumbent George Cardenas, who stepped down to take over the Cook County Board of Review.
Ramirez said that sharing the loss of her brother to gun violence with her constituents made voters who hadn't cast a ballot in a long time see her as one of them.
"[Gun violence] is deeply rooted in the ways in which we don't have opportunities," Ramirez said.
Ramirez noted that more public schools may shut their doors in 2025: "How are we providing opportunity for kids to prosper? For people to thrive? I want to make sure that we're investing in working class families in the 12th Ward."
Aldermanic winners Julia Ramirez (12th Ward) and Bennet Lawson (44th Ward). (WTTW News)
Bill Conway is another first-time alderperson who was elected to serve the newly created 34th Ward, covering parts of downtown Chicago. Conway defeated Jim Ascot with 66.8% of the vote, according to unofficial results from the Chicago Board of Election Commissioners. A veteran and former prosecutor, Conway said public safety is the most important issue affecting Chicago right now.
"People are saying mostly the same thing: They're focused on public safety," Conway said. "And because of that, we have to make sure that our police officers have the resources they need."
Conway said it's crucial the next superintendent of police embraces a community-based policing model. His comments come on the heels of CPD Superintendent David Brown's resignation announcement.
During the last two years, Chicago's downtown has seen an exodus of businesses after the pandemic and violent protests. Conway said it's important to make it as easy as possible for businesses to go back to downtown.
Jessie Fuentes is the first openly gay alderperson to take over the 26th Ward. She is also the ward's first new alderperson in 14 years, taking over for Ald. Roberto Maldonado. She took 54.4% of the vote, according to unofficial results from the Chicago Board of Election Commissioners, defeating Julian Perez and Angee Gonzalez Rodriguez. Fuentes said she wants to make sure there is more affordable housing in Humboldt Park. She also said the historically Puerto Rican neighborhood deserves more investment.
"We want to make sure that Paseo Boricua becomes a designated cultural district, and it gets the investment it deserves," Fuentes said.
Fuentes said businesses in Humboldt Park need culturally competent lending programs so that they can be sustainable across the Puerto Rican community for decades. Fuentes echoed Ramirez's call for more opportunities for young people through public schools and youth programs.
"There's no reason why we don't have full-time counselors and social workers to provide the resources that our young people so deserve," Fuentes said.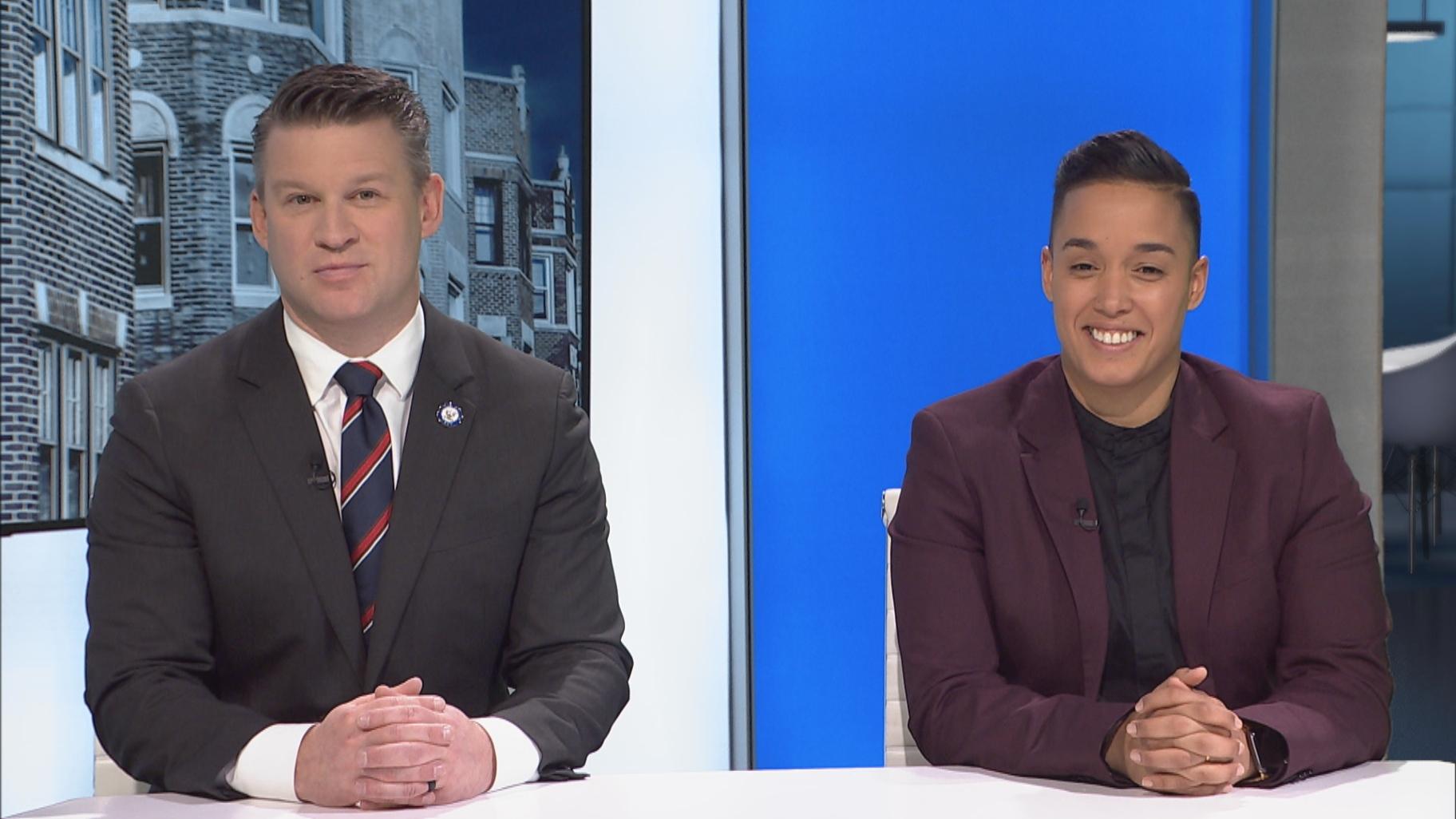 Aldermanic winners Bill Conway (34th Ward) and Jessie Fuentes (26th Ward). (WTTW News)
Across town in Lakeview, Bennett Lawson was elected alderman of the 44th Ward. He ran unopposed, replacing his longtime boss, Ald. Tom Tunney, after serving as Tunney's chief of staff.
Lawson said the age difference between him and Tunney is what makes him a different leader for the community.
"It's true I have a different life experience, I have a different outlook on things," Lawson said. "I'm not afraid to embrace technology when needed to forward our mission in the ward."
Lawson said he believes it's important to preserve Northalsted (Boystown), the largest LGBTQ entertainment district in the Midwest.
"It's about visibility," Lawson said. "It's about being there when issues come up."
One major concern that Lawson plans on addressing during his term is the violence against transgender women of color. Lawson said he wants the community to come together to bring an end to the violence.
---