The future of the Discount Mall in Little Village remains clouded in uncertainty as the property's owner has granted vendors another short-term lease extension.
On Tuesday, Ald. Byron Sigcho-Lopez (25th Ward) hosted a meeting Tuesday with vendors to reassure them he will be fighting to keep the retail hub open. Novak Construction, the mall's owner, extended vendors' leases until the end of March.  
"The Discount Mall is an economic engine," Sigcho-Lopez said.  "It's clear to us that we will do anything it takes legally, including legal action, to make sure we preserve the right of our community to stay in the Discount Mall."
It's been nearly three years since Novak Construction purchased the mall. The company has yet to release detailed plans for its future. Vendors have feared displacement since their contracts expired last year.
"What is clear, we are not going to allow one developer to put at stake the livelihood and the future of over 200 small businesses," Sigcho-Lopez said.
Vendors say they have tried multiple times to set up a meeting with Novak but their requests go unheard.
Irais Miranda has owned a business inside the mall for the last 15 years and says he is hoping Novak has the vendors' best interests at heart.
"Like we've said multiple times before, we want to be part of the process with the community and the city," Miranda said. "We just can't be dismantled as a culture. We really want to stay united but we want better conditions and to stay here in Little Village."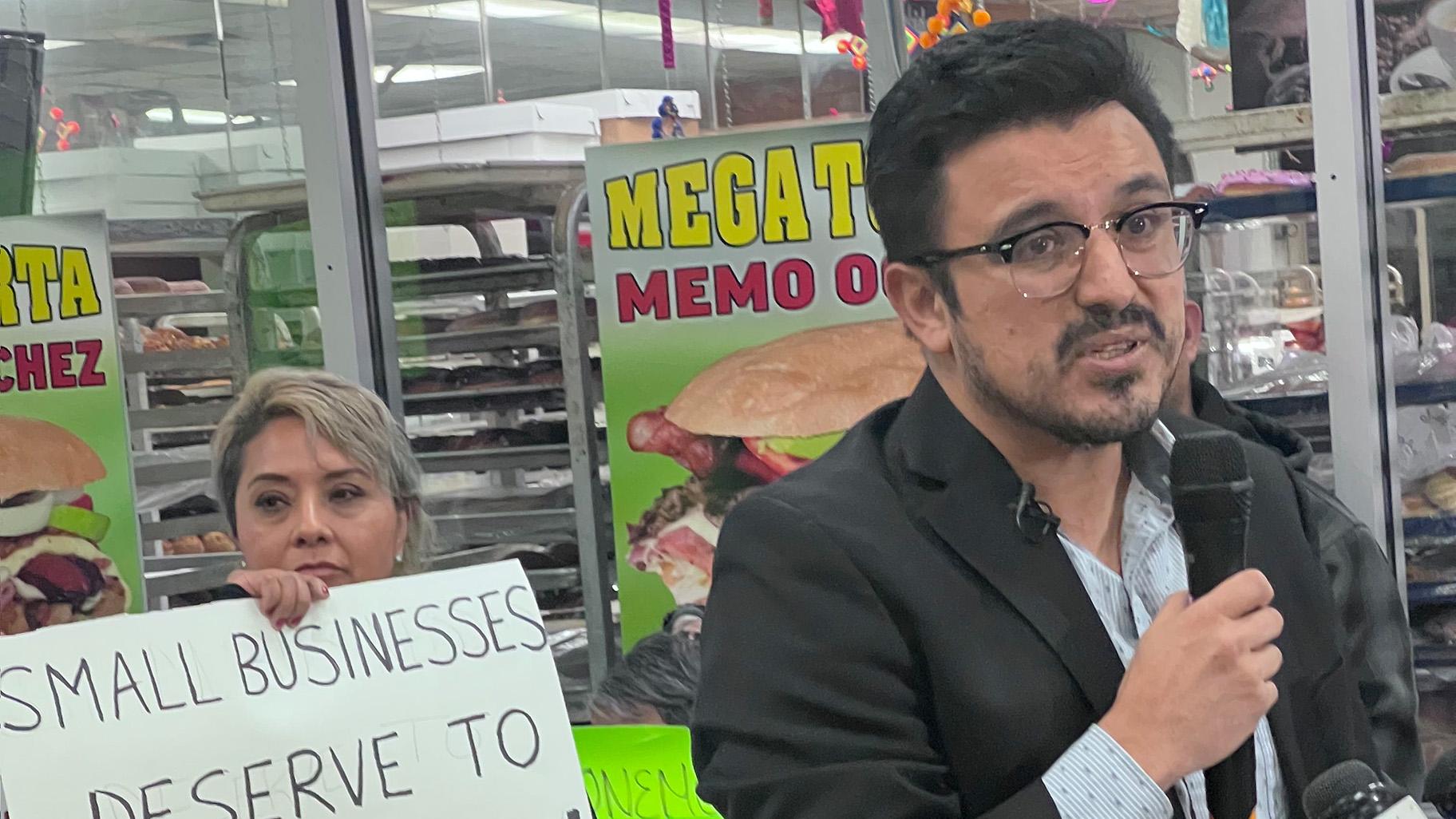 Ald. Byron Sigcho-Lopez (25th Ward) speaks to vendors at the Discount Mall. (Joanna Hernandez / WTTW News)
Sigcho-Lopez is set to meet with city departments and Novak Construction on Feb.16 to discuss next steps.
"We are going to present a cooperative system, lines of finance to assure permit solutions for the vendors of the Discount Mall," Sigcho-Lopez said. "We want to come together with an agreement with multiple benefits."
Sigcho-Lopez is running for reelection against challenger Aida Flores. 
In the meantime, a Novak spokesperson says the firm is looking toward the future.
"Novak looks forward to sharing plans for improvements to the mall and correcting recent misrepresentations. Our goal is to benefit the Little Village community and continue the traditions that attract shoppers and visitors to the Discount Mall," the statement reads. 
---