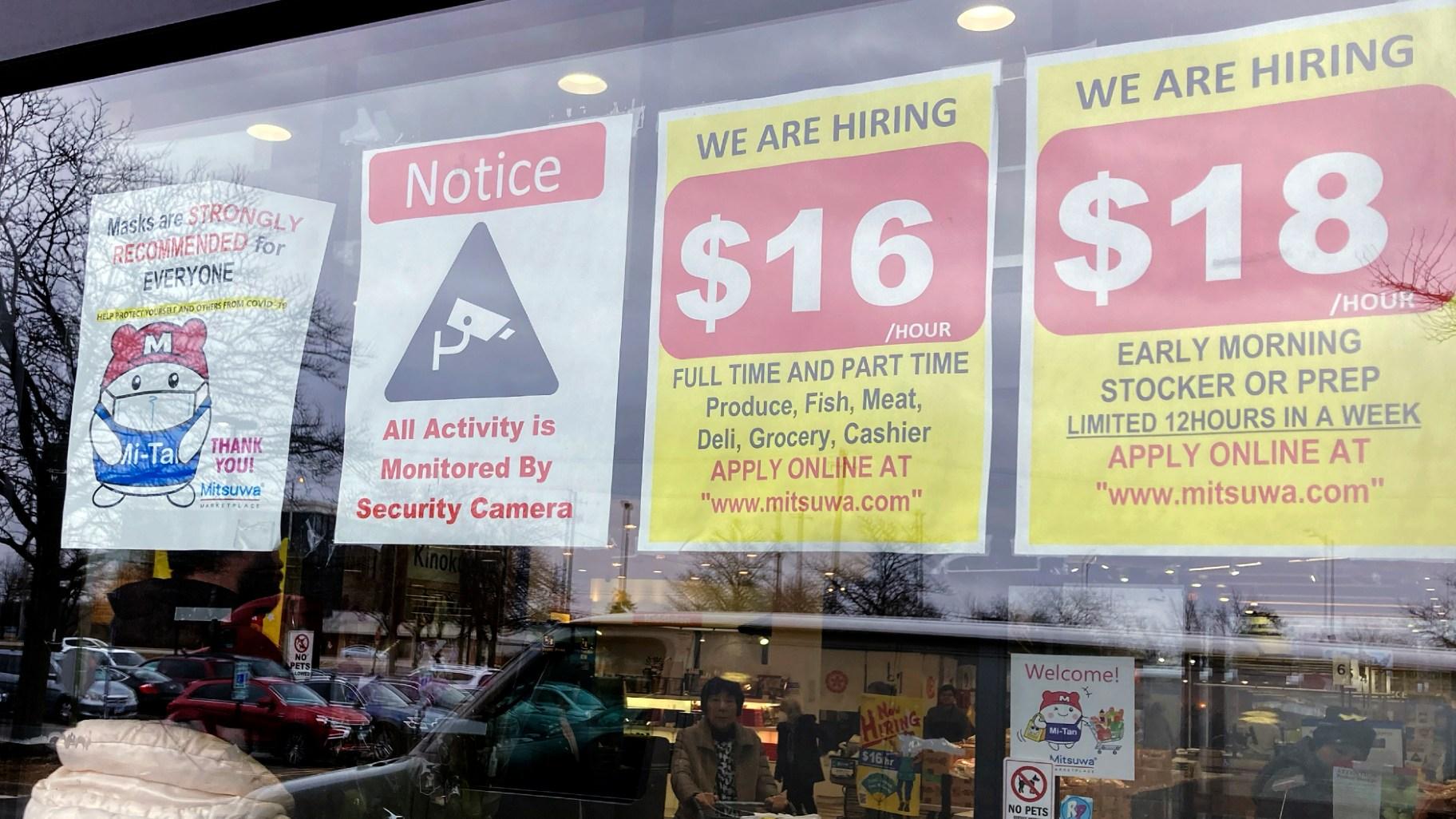 Hiring signs are displayed at a grocery store in Arlington Heights, Ill., Friday, Jan. 13, 2023. (AP Photo / Nam Y. Huh, File)
WASHINGTON (AP) — Pay and benefits for America's workers grew at a healthy but more gradual pace in the final three months of 2022, a third straight slowdown, which could help reassure the Federal Reserve that wage gains won't fuel higher inflation.
Wages and benefits, such as health insurance, grew 1% in the October-December quarter compared with the previous three months. That marked a solid gain, though it was slower than the 1.2% increase in the July-September quarter.
Fed Chair Jerome Powell and economists consider the data released Tuesday, known as the employment cost index, to be the most comprehensive gauge of labor costs. Powell last year cited a sharp increase in the index as a key reason why the Fed accelerated its interest rate hikes.
Powell has said that he sees rapid wage gains, particularly in the labor-intensive service sector, as the biggest impediment to bringing inflation down to the Fed's 2% target. When restaurants, hotels, veterinary clinics and other services companies raise pay, they often pass along those higher costs by charging their customers higher prices.
In last year's first quarter, total worker compensation had jumped 1.4% — the most on records dating to 2001. Before then, quarterly compensation growth had rarely topped 1%.
On an annual basis, wages and benefits grew 5.1% in the fourth quarter compared with a year earlier. That matched last year's April-June figure as the strongest such figure in the roughly two decades that the data has been tracked. With the unemployment rate matching a 53-year low, businesses rapidly raised pay to try to attract and keep workers.
But now, evidence increasingly suggests that the robust pay growth of the past year is slowing.
Strong wage gains, though beneficial for workers, tend to fuel high inflation. Unless companies achieve greater worker efficiencies or are willing to post lower profits, they typically pass their higher labor costs on to their customers by charging more. Those higher prices, in turn, elevate inflation.
Tuesday's report of slower-growing labor costs, though the latest sign that inflation could continue to ease, won't likely alter the Fed's plans to further tighten credit in the short run.
"The Fed is still likely to keep raising interest rates at the next couple of meetings, but we expect a further slowdown in wage growth over the coming months to convince officials to pause the tightening cycle after the March meeting," said Andrew Hunter, an economist at Capital Economics.
Last quarter, Hunter noted, wage growth slowed particularly sharply for restaurant, hotel and entertainment workers, a group that has enjoyed some of the biggest pay gains. With many companies in those industries struggling to fill jobs, pay and benefits grew 0.9% in the fourth quarter — exactly half its pace of the previous quarter. That suggested that labor demand is declining even in areas of the economy that remain most eager to fill jobs.
On Wednesday, Powell and his Fed colleagues are set to raise their benchmark interest rate by a quarter-point to a range of 4.5% to 4.75%, their eighth straight rate hike. But as inflation has cooled, the central bank has been boosting rates by smaller increments. Last year, the Fed raised its key rate by three-quarters of a point four times.
Overall inflation is steadily cooling, having eased to 6.5% in December compared with a year ago. That is down from a 40-year high of 9.1% in June. Powell's concern, though, is that fast-growing wages will cause inflation to plateau at around 4% — still twice as high as the Fed's target.
---