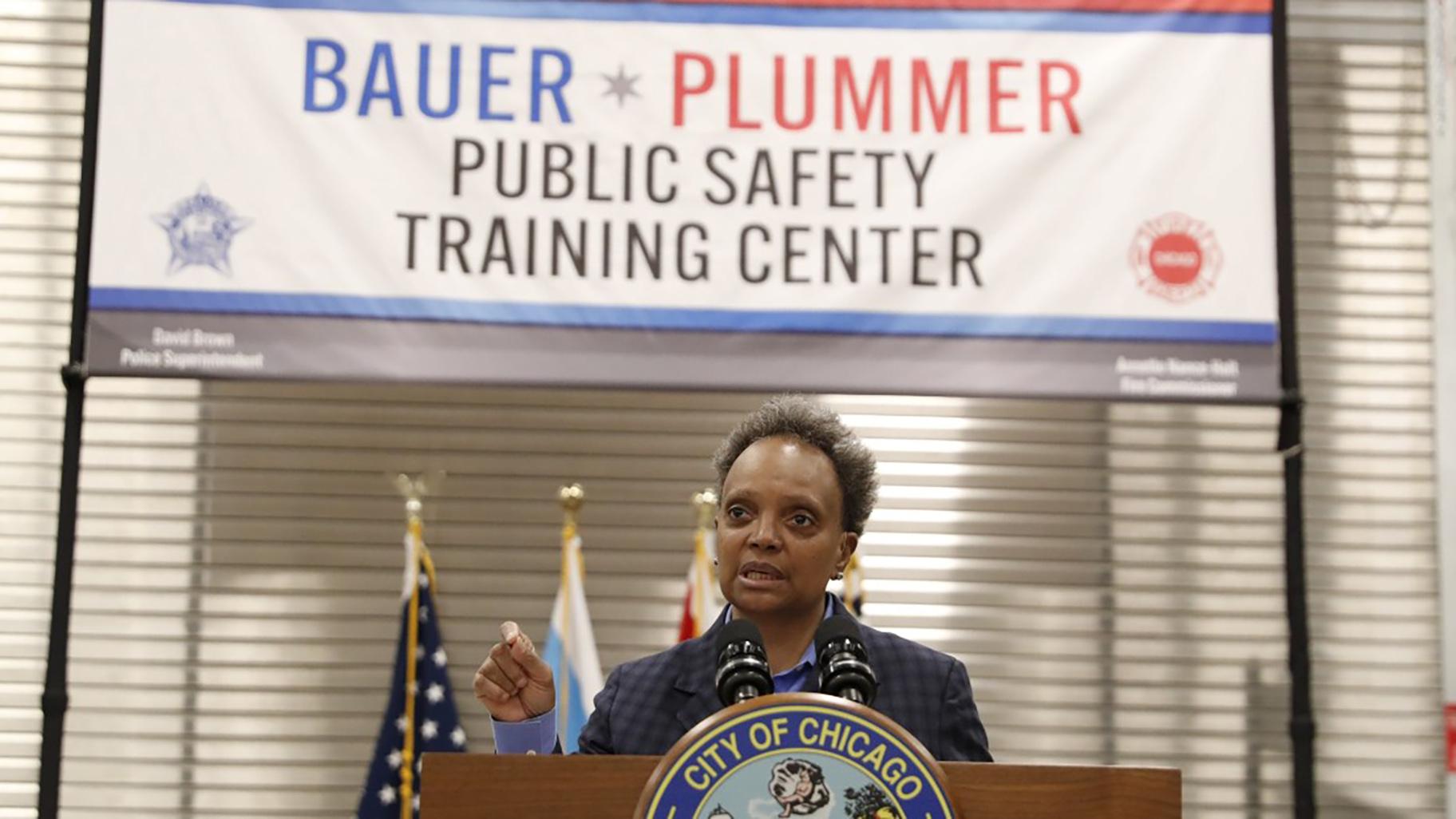 Mayor Lori Lightfoot celebrates the opening of the new public safety training facility in West Garfield Park, which has been named in honor of slain Chicago Police Commander Paul Bauer and Firefighter MaShawn Plummer, who died while battling a fire. (Chicago Mayor's Office)
In the thick of her reelection bid, Mayor Lori Lightfoot stepped off the campaign trail Wednesday to celebrate the opening of a new West Garfield Park facility that she said will offer state-of-the-art training to Chicago police officers, paramedics and firefighters that she opposed during her first bid for office.
"This is a great day for the West Side," Lightfoot said to applause. "This is a great day for our first responders."
The facility was named in honor of Chicago Police Commander Paul Bauer, killed in 2018, and Firefighter MaShawn Plummer, who died while battling a fire. 
Chicago Police Department Supt. David Brown said the facility, which he called the "best in the nation" should reassure officers that they have the support of Chicago's people and leaders.
Brown said the department would use the facility to learn how "do things the right way" and put "COPA out of business," referring to the Civilian Office of Police Accountability, the agency that is charged with investigating misconduct by Chicago police officers.
As Lightfoot and other officials extolled the facility's amenities – a six-story tower to allow firefighters to be trained on how to fight different kinds of fires, a fake city block and a gun range – there was no indication that the facility was built over the vehement objections of the massive "No Cop Academy" protest movement, which swelled to include hundreds of protesters in 2019. They demanded that the facility's original $95 million cost be used instead to restore cuts made to Chicago Public Schools' budgets and to reopen public mental health clinics closed in 2011.
Nor did Lightfoot credit former Mayor Rahm Emanuel, who proposed the facility in July 2017 and pushed it through a divided City Council two months before he left office – or mention that he proposed building the facility after a 2017 investigation by the Department of Justice found Chicago police officers were graduating from the department's five-month academy "unprepared to police lawfully and effectively."
That probe found officers routinely violated the constitutional rights of Black and Latino Chicagoans, and led to a federal court order – approved four years ago this month – that requires the Chicago Police Department to reform the way it trains, supervises and disciplines officers.
When Emanuel unveiled the proposal for the new training facility, Lightfoot was president of the Chicago Police Board and told the City Club of Chicago that while a new training facility was "desperately needed," the former mayor's plan was "ill-conceived."
"Putting this edifice to policing in this high-crime, impoverished neighborhood where relations between the police and the community are fraught, without a clear plan for community engagement, is a mistake," Lightfoot told the City Club at the time.
Lightfoot made several significant changes to the training facility proposal approved by the City Council, which has a final price tag of $170 million, officials said.
That included $33 million to build a "scenario village" that features multiple two- and three-flat residential brick buildings complete with fences, curbs, alleys, sidewalks, yards, back stairways, porches, basements and garages. A multi-story building will have fake stores on the ground floor with apartments above.
The facility will also include a new 18,000-square-foot location Boys & Girls Club and two restaurants, Peaches and Culver's. Emanuel added those eateries — both owned by African Americans — to the facility as opposition rose to the proposal.
The club and restaurants are scheduled to open this summer, officials said.
Lightfoot said the "proximity" of the teens who come to the club will "break down barriers" between them and Chicago police officers, who will be able to "see these kids as they are" as they interact in a facility designed to be pedestrian friendly.
Ald. Emma Mitts, whose 37th Ward includes the new facility, said she was delighted to have so much new investment in a part of her West Side ward "where we don't have nothing."
"I think this is a win-win for the city," Mitts said. "It didn't come easy. We had to take some bumps. We had hills to climb. We were bruised. But bruises heal."
The facility was built on a 30.4-acre former rail yard that had been vacant for more than 40 years before the city bought it in 2017 with some of the proceeds from the sale of a city maintenance yard on what is now the Lincoln Yard development on the Northwest Side.
The facility replaces the police training academy at 1300 W. Jackson Blvd., built in 1976; the fire prevention training facility at 1010 S. Clinton St., built in 1950; and the Fire Academy South at 1338 S. Clinton St., built in 1965, officials said.
Contact Heather Cherone: @HeatherCherone | (773) 569-1863 | [email protected]
---