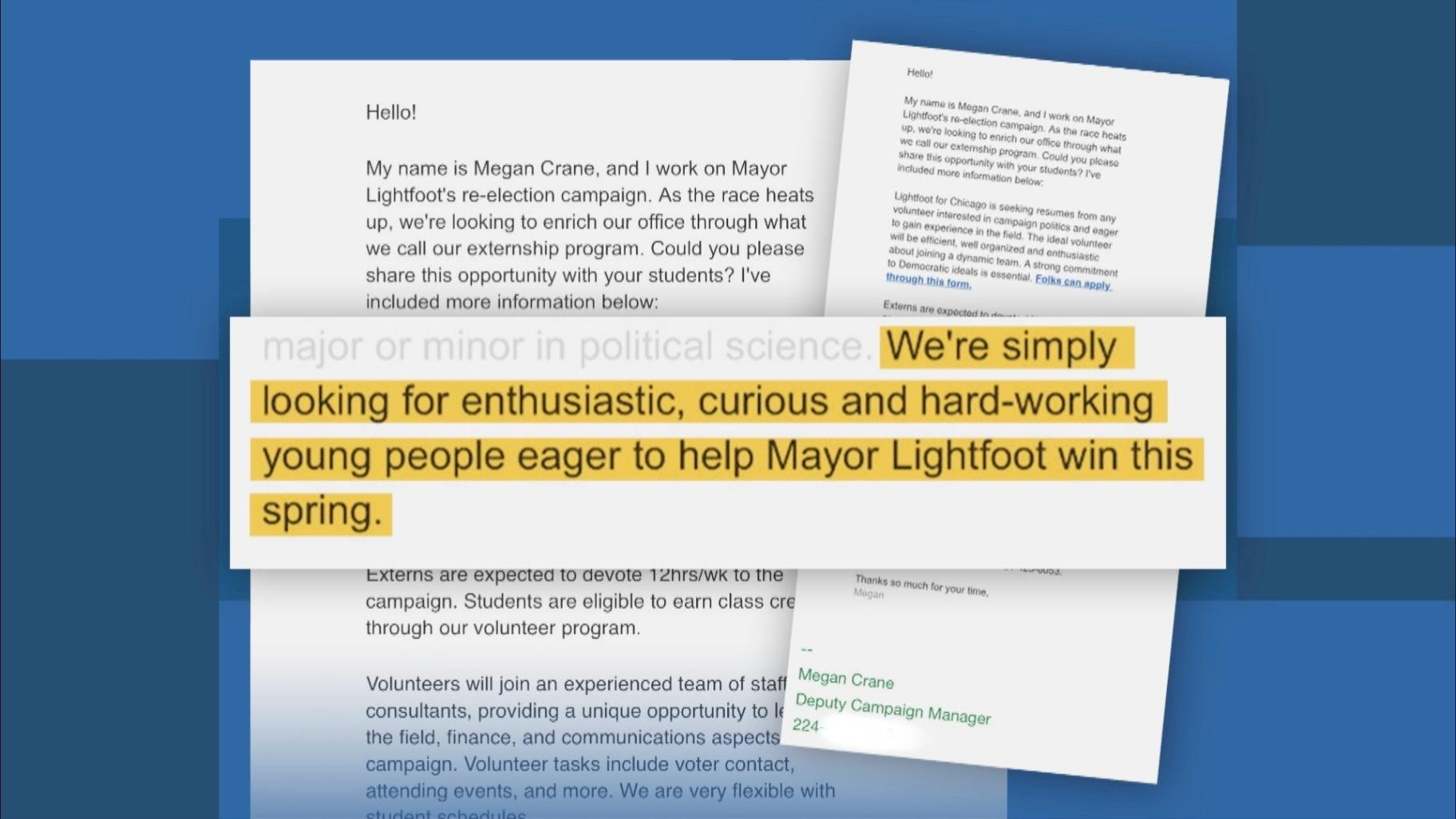 An illustration of an email sent to an unspecified number of CPS teachers from the Lightfoot campaign. (WTTW News)
The Chicago Board of Ethics voted unanimously Monday to ask both the Chicago inspector general and the Chicago Public Schools inspector general to probe whether Mayor Lori Lightfoot's campaign violated the city's government ethics ordinance.
The call comes after the Lightfoot campaign sent emails to CPS teachers and City Colleges of Chicago faculty seeking student volunteers to help her win reelection in return for credit. The discussion that led to the vote by the members of the Chicago Board of Ethics took place in closed session and the board's action did not name Lightfoot, in keeping with the board's rules.
All members of the board were appointed by Lightfoot and confirmed by the Chicago City Council.
Lightfoot told reporters on Jan. 12 that the emails, first reported by WTTW News on Jan. 11, were a "well-intentioned" "mistake" approved by her "young" deputy campaign manager, a staffer that Lightfoot has declined to fire.
Eight candidates are running to deny Lightfoot a second term as mayor of Chicago. Early voting starts downtown Thursday, and Election Day is Feb. 28. If no candidate gets more than 50% of the vote, a runoff between the top two vote-getters will take place April 4.
However, Ethics Board Chair William Conlon warned all candidates for city office to "immediately and thoroughly scrub their email lists and remove any governmental email addresses," Conlon said.
"The board also advises candidates, and those associated with those candidates, that emails and other forms of solicitation may be considered coercive if directed to city employees and, or those employed by sister city agencies," Conlon said.
A spokesperson for the Lightfoot campaign could not immediately be reached for comment.
CPS Inspector General Will Fletcher announced Jan. 12 his office "has opened an investigation into this matter and we are currently gathering information to determine which, if any, policies have been violated."
A spokesperson for Inspector General Deborah Witzburg told WTTW News on Jan. 12 her office is "gathering information" about the emails and are in contact with the inspector general for Chicago Public Schools.
After those probes are complete, the board could find probable cause that Lightfoot's campaign violated the ordinance – a determination that could trigger fines of up to $20,000 for each violation. The Lightfoot campaign has not said how many improper emails were sent.
But that determination could not happen until the board's meeting scheduled for March because of changes to the city's ordinance, demanded by Lightfoot, to the way the Board of Ethics investigates elected officials suspected of violating the law.
While the board refers complaints that require a probe to the city's inspector general, it can act in cases that do not require a "factual investigation" and where an ethics violation is apparent and based on publicly available records. The board's rules require the elected official's name be kept confidential throughout the process.
The revised ordinance requires the board to notify the elected official in writing at least 10 days before the Board of Ethics could find probable cause that they violated the law, giving them a chance to refute the allegation and avoid public embarrassment. 
Lightfoot demanded those changes before she endorsed the package, crafted by former Ald. Michele Smith (43rd Ward). She defended them as a way to ensure that those who have found themselves in the crosshairs of the Chicago Board of Ethics would ensure "due process" for those facing sanctions.
Lightfoot said she demanded the changes because she wanted "to make sure that the board is viewed with legitimacy, not as judge, jury and executioner before they even get the other facts from the person who's the target of the complaint."
Since Lightfoot took office in 2019 after campaigning on a platform promising to root out corruption at City Hall and toughen the city's ethics regulations, the Board of Ethics has found probable cause that four of Lightfoot's City Council allies violated the city's ethics ordinance.
While Ald. Nicolas Sposato (38th Ward) was not fined, indicted and retiring Ald. Carrie Austin (34th Ward), retiring Ald. Howard Brookins (21st Ward) and Ald. Derrick Curtis (18th Ward) were fined. Only Curtis, who is running for reelection, paid the fine.
Contact Heather Cherone: @HeatherCherone | (773) 569-1863 | [email protected]
---