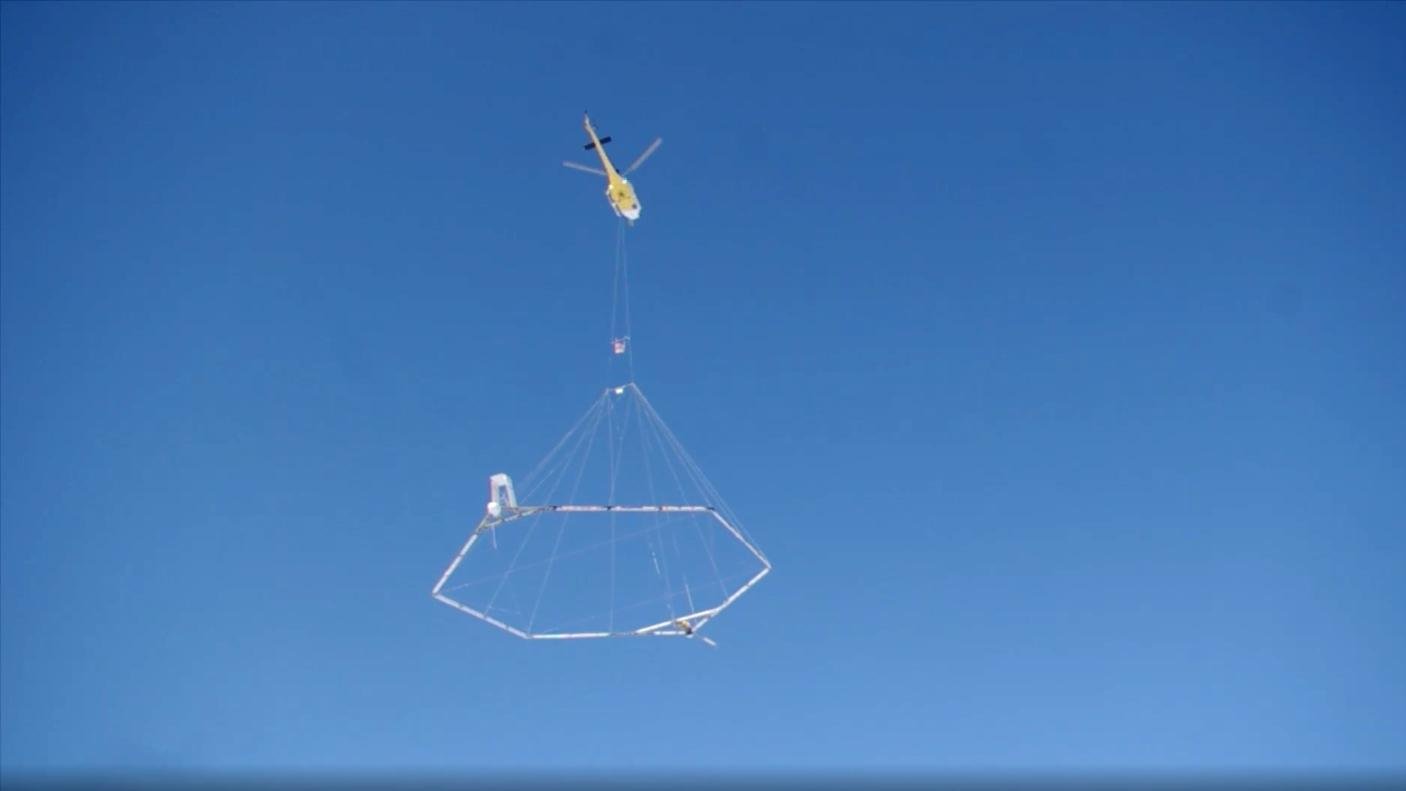 A helicopter hauling the type of sensor that will be seen flying over parts of Illinois, including the southern portion of the greater Chicago region. (U.S. Geological Survey)
Prepare for some "What the heck?" sightings in the air, Illinoisans, as a low-flying helicopter, towing what looks like a giant hula hoop, is set to pass over a wide swath of the state's midsection into Northwest Indiana. 
Turns out, the contraption is an aerial divining rod of sorts.
Beginning this week and continuing into February, the chopper and the hula hoop — actually a sensor, measuring electromagnetic signals — will be collecting data for a U.S. Geological Survey study of the Illinois River Basin, which extends into the southern portion of the Chicagoland region. The study is part of a broader project to map water availability and quality in watersheds and their underlying aquifers across the country.  
Surveys will not occur directly above populated areas, according to USGS. 
USGS is planning to intensively study 10 basins to better understand water availability under a wide range of conditions and landscapes. This info will, in turn, help the agency make decisions regarding reservoir management, flood forecasting and emergency responses, the agency said.
The Illinois River Basin is the third one chosen for the project, following the Delaware River Basin and the Upper Colorado River Basin. Each basin gives USGS a chance to study unique challenges that have wider implications.
In the Delaware River Basin, for example, researchers are exploring the impact of drought and demand restrictions; in the Upper Colorado, the conditions include cold-region processes of snow, ice and frozen soils.
Water quality is among the primary challenges in the Illinois River Basin, where phosphorus runoff continues to contribute one of the highest loads of nutrients to the Gulf of Mexico despite conservation efforts. Water quantity is becoming an increasing concern, as well, due to accelerated drainage and growing demand.
Next week, a helicopter towing a large hoop from a cable will make low-level flights over the Illinois River Basin. The geophysical measurements are part of a USGS project studying groundwater in the Illinois River Basin. For more: https://t.co/owt2zsfKfH pic.twitter.com/1x1rUM7ckr

— USGS Illinois (@USGS_IL) January 20, 2023
---
Contact Patty Wetli: @pattywetli | (773) 509-5623 |  [email protected]