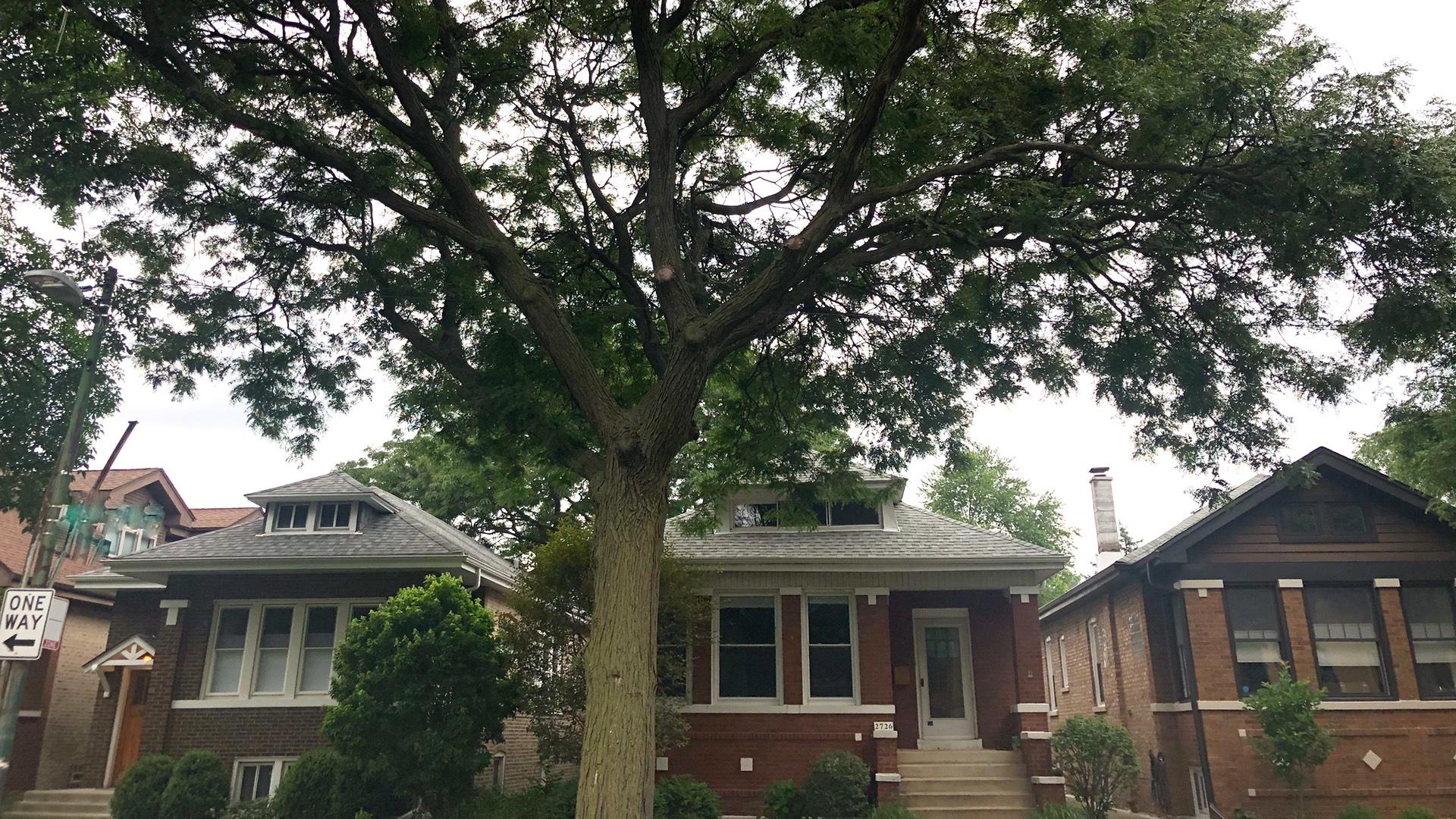 (Patty Wetli / WTTW News)
It took 18 months for Chicago Mayor Lori Lightfoot to announce her appointments to the newly created Urban Forestry Advisory Board, but less than two weeks for Chicago City Council to push the nominees through the approval process.
The six appointees are now full-fledged board members following a unanimous "yes" vote during Wednesday's meeting of the full council. An initial forestry board session could take place as soon as February, officials said.
"I'm ecstatic," said Ald. Scott Waguespack (32nd Ward), who spearheaded the move to create the board.
"The first members of this board will really effect change in a way we haven't seen before: cooperating with department heads, with other officials and really focused on making sure that our tree canopy not only grows but that we sustain and maintain the trees we have for generations to come," Waguespack said.
Trees are considered vital to mitigating the worst impacts of climate change, whether it's through their ability to absorb stormwater, cool urban heat islands, store carbon or scrub pollutants from the air.
Yet Chicago has been losing, not gaining, trees in recent years, as highlighted in a 2020 tree census published by the Morton Arboretum. Chicago's overall canopy cover of 16% is among the sparsest of any major U.S. city and, more concerning to experts, represents a 3% decline between 2010 and 2020.
A host of factors contributed to the drop in tree cover, ranging from pests like the emerald ash borer to utility projects that tear up the city's parkways. Trees stressed by heat, drought and other conditions have also proven more vulnerable to damage during strong storms like 2020's derecho/tornado, in which more than 10,000 trees were lost.
To get the needle moving in the right direction, Lightfoot's administration has earmarked $46 million toward a five-year goal of planting 75,000 trees at a pace of 15,000 trees per year, a benchmark that was met in 2022.
The role of the advisory board will be to promote policies and investments that ensure the survival of those new trees, along with the continued health of the existing canopy.
The board is also expected to help educate the public about trees, including busting myths — like the popular misconception that tree roots create cracks in sewer pipes — which have left many Chicagoans reluctant to plant trees.
"We want to engage more of the community members in this conversation about why replacing and renewing our tree canopy is so important," Lightfoot said.
The six appointed board members have a combined 100-plus years of urban forestry experience.
"They know what they're doing, they are dedicated to trees and making sure that our tree canopy is as strong as possible, and we are going to be the better for their involvement and their dedication," the mayor said.
Board members were selected based on recommendations from the Bureau of Forestry, the Chicago Department of Transportation, the Chicago Department of Public Health and the mayor's office, along with feedback from participants in the city's Tree Equity Working Group.
Board members are apppointed for staggered four-year terms, with half of the initial board serving two-year terms:
— Rolando Favela, environmental professional and tree ambassador representing the Southwest Side, 4-year term
— Nuri Madina, director of Sustainable Square Mile for Blacks In Green, 4-year term
— Jessica Vogt, academic arborist from DePaul University, 4-year term
— Daniella Pereira, vice president of conservation at Openlands, 2-year term
— Cindy Schwab, arborist with Davey Tree, leading workforce development-related initiatives, 2-year term
— Jim Semelka, regional tree expert and past president of the Illinois Arborist Association, 2-year term
They'll be joined on the board by ex officio members drawn from city departments:
— Gia Biagi, commissioner of the Department of Transportation
— Andrea Cheng, commissioner of the Department of Water Management
— Maurice Cox, commissioner of the Department of Planning and Development
— Rosa Escareño, general superintendent and CEO of the Chicago Park District
— Angela Tovar, chief sustainability officer
— Malcolm Whiteside, deputy commissioner, Department of Streets and Sanitation
— TBD, chair of City Council's Environment Committee (currently vacant)
Contact Patty Wetli: @pattywetli | (773) 509-5623 |  [email protected]
---